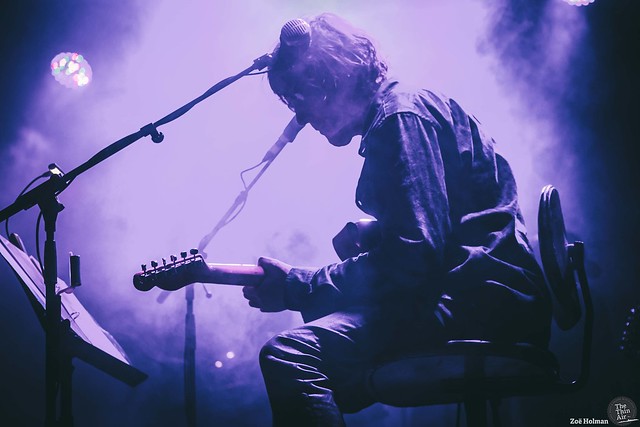 As people begin filtering into IMMA for the final time of the June bank holiday weekend, there is an easiness in the air. The audience is noticeably more mature than those of days gone by and most certainly of a more relaxed disposition. There's not so much a hum of excitement, but rather a coolness- a feeling that says, "take it easy folks, have a nice one".
Easing the crowd into the day on the mainstage is Glasshouse, a chamber ensemble performing the music of Bon Iver, for a moderately sized crowd. Their interpretations of Justin Vernon's work is a welcome sound to those not looking for anything too crazy. A much more wholesome way to get the old festival gears a-turnin'.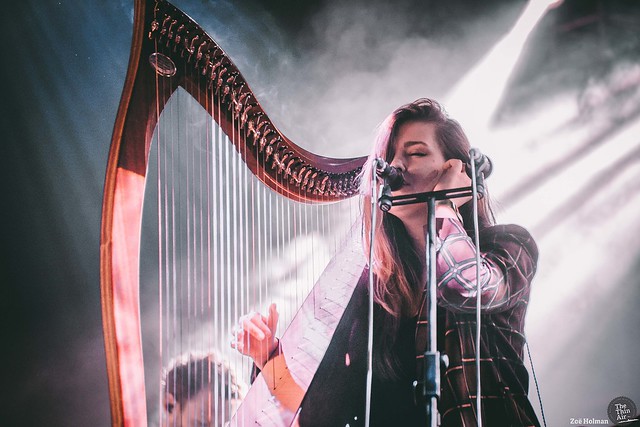 During this gentle wake up call, a very different type of folk group is getting started on the Undergrowth Stage. Northern-Irish act Saint Sister enchant a packed out tent with their unique blend of Downbeat Electronica, Irish Trad and 60s Folk. Undoubtedly one of the island's greatest electronic acts, Morgan MacIntyre & Gemma Doherty are an absolute treat to watch. Juggling numerous instruments, the duo and their backing band create ethereal soundscapes with a combination of harp, electronic drums and earth-shattering sub bass. Although it must be said, at times these sub basses are a bit too much, with one punter stating "the bass is making me burp". Take from that what you will.
Between the Main Stage and the Someplace Else x District tent there are even more displays of exceptional female talents. On the Main Stage, American singer-songwriter Julien Baker is charming a modest crowd with her melancholy Tennesse-tinged stylings whilst doing battle with the elements. At times her vocals are drowned out and distorted by obscene amounts of wind, but regardless; Baker holds her ground.
Meanwhile, on the District Stage, local heroes Pillow Queens play to a packed tent of attentive listeners. Fresh off their tour with Soak, the band try to keep their set as smooth as possible, but to little avail. Between broken strings, missing capos and maybe one too many free drinks, the show is a bumpy ride, but a jovial and high-spirited bumpy ride at that. Despite the technical difficulties, the girls clearly have a blast performing and the crowd are right there with them.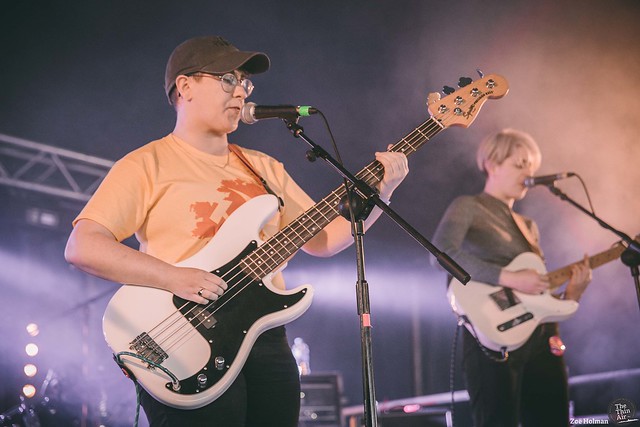 While one crowd enjoys and actively engages with the high spirits of Pillow Queens, another seems completely oblivious to the talent of Ry X over at the Undergrowth stage. The Australian singer-songwriter- dressed like a character from Red Dead Redemption- fills the tent with his blend of electronica and folk… but no one seems to notice. The tent seems to have taken on the role of a public forum for many audience members and at times the chatter surpasses the performer in terms of volume. A bit of a shame considering the intimate nature of much of Ry X's material.
Next up on the agenda, is 90s hero Jason Pierce and his Space-Rock outfit Spiritualized. Performing with an eight-piece band and a slew of hypnotic visuals, the show is undoubtedly of epic proportions. However, it must be said- and it pains me to do so- but the sound quality of the set is not up to scratch. Perhaps the set up of the stage just isn't meant to hold a band of such massive proportions, perhaps it's merely a matter of being stood at the wrong place at the wrong time. It's difficult to say exactly what it is, but the point is something doesn't seem right.
In the meantime, Dublin band Soda Blonde are making their festival debut to a massive crowd in the District Tent. Made up of four members of the recently disbanded Little Green Cars, Soda Blonde's sound is much more relaxed in nature and is grounded in front woman Faye O'Rourke's idiosyncratic style of delivery and tone. An impressive turn out and an impressive set from a group that is sure to go far.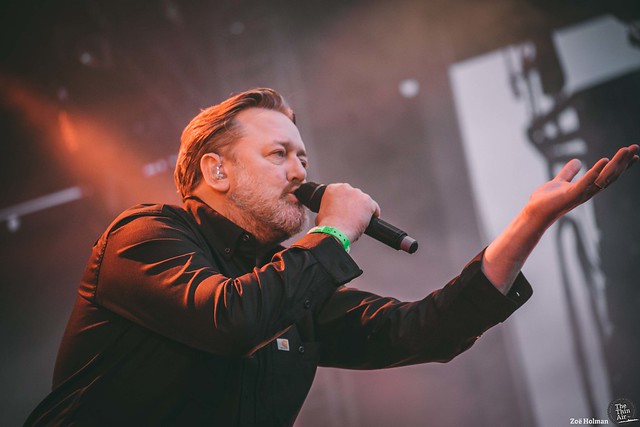 Before you know it, it's time for headliners Elbow to take to the Main Stage. The band have done their fair share of Irish headline slots in recent years and somehow it never seems to get old. Singer Guy Garvey's charisma always brings a smile to audience members' faces. Between his expressive stage persona and jokes regarding the classic Irish downpour, he's something of a classic front man.

Just like that, it's done. A weekend that has brought a diverse range of acts and equally diverse crowds; Forbidden Fruit is a force to be reckoned with. It's bizarre to think that just two days previous, these fields were flooded with the sounds of screaming teens and the rumbling grimey beats of Skepta. Now taking their place is a mature crowd singing back the closing lines of 'One Day Like This'. Through and through, Forbidden Fruit has proven itself to be a festival that caters to many, if not all forms of festival-goers. Jack Rudden
Photos by Zoe Holman