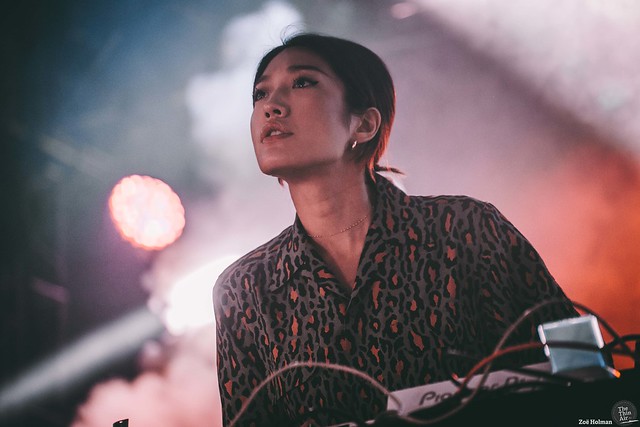 For the second time this weekend the grounds of IMMA are flooded by crowds upon crowds of festival-goers. Already it can be said that the second day of Forbidden Fruit will bear little resemblance to its opening day. There is less of an edge in the air and a jovial atmosphere covers Kilmainham like a warm blanket. As punters funnel into the fields surrounding the art museum it finally feels as if there is a level of cohesiveness to the festival's crowd.
The very earliest of ticket holders are greeted by the gentle pulsing rhythms of Irish Electronic artist Fehdah. Stood in the centre of the Main Stage, the Sierra-Leone-born artist fills the grasslands surrounding her with electronic grooves that hint to her love of Wassoulou music. The delicate blend of synthesized and natural sounds is the perfect way to start the day, both for those arriving at the festival for the first time and those on a roll-over from the night before. Members of both groups lie sprawled across the hill, allowing Fehdah's Afrofuturist beats to wash over them, easing them into the festival spirit.
Shortly after, another popular name from Ireland's electronic scene makes an appearance on the Someplace Else x District Stage; Wastefellow. The Dublin native and member of Soft Boy Records is known for his deeply nuanced production style, cerebral lyricism and proficient musicianship. All of these qualities translate perfectly to the artist's live set. Stood behind a table littered with synthesizers, vocal effects and MIDI controllers, Watstefellow bombards his moderately sized- yet undeniably engaged audience- with a barrage of glassy electronic cuts and boldly experimental beats. Holding his ground strongly and dominating a league completely of his own, Wastefellow is undoubtedly one of Dublin's brightest-shining virtuosos.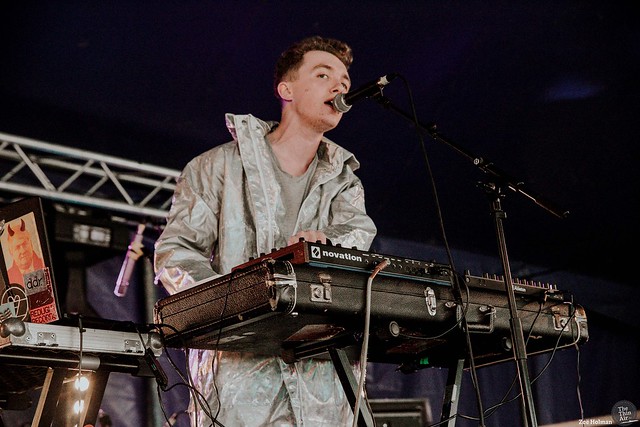 Ross From Friends is due to take to The Undergrowth Stage around the same times as Wastefellow's set. However, the notoriously unlucky producer is delayed due to a mishandling of music equipment earlier in the day- thus Sim Simma Soundsystem fill the gap until French duo Polo & Pan begin their set. The two producers have brought with them a wall of Drum Machines, Synthesizers and Turntables, all of which they use to create their unique blend of Disco and Ambient Music. It's difficult to pin their sound exactly, but it lies somewhere with the likes of Air, only much more animated and with a degree of self-aware goofiness. A very wholesome affair altogether.
Just across the way- in The Lighthouse Tent- Joy Orbison is delivering a DJ set. Here, the last remnants of Saturday's slight edge is dying out, with each violent pump of a kick drum driving it further into the ground. Although Orbison's skills at the deck are irrefutably tight, he does not pack out the tent in the manner that many had predicted.
Over at the far end of the site, Elderbrook has taken to the Main Stage while JyellowL and his band have packed out the Someplace Else x District Stage. These two stages and the space between them is a shining example of what Forbidden Fruit is capable of. There is a truly euphoric atmosphere in the air and although it is windy as high hell, it finally feels as though something of a festival hivemind has been achieved. It doesn't feel as though there is any sort of divide amongst the clientele of the crowd; a feeling that was very much prevalent at this time on Saturday.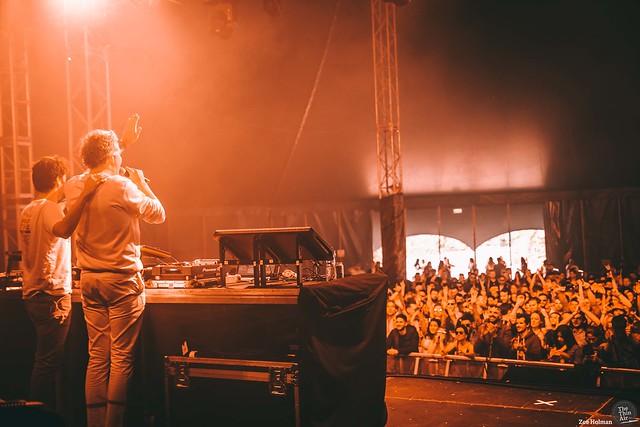 Back over at Undergrowth, Polo & Pan have finished their set. As the two French men wave goodbye to an ecstatic crowd a new riser holding two turntables is wheeled on stage. Within seconds Korean DJ and Producer Peggy Gou has started her set. Pumping the tent full of her signature minimal trance sound, the cult hero DJ settles into her electric and expressive style of performing. Signalling drops with elegant flicks of her wrist and occasionally smiling at particularly engaged members of the audience, Peggy's set is an absolute onslaught. From the rhythmically synchronized visuals to the performer's vibrant charisma, the atmosphere could not be heightened to a further euphoric state.
Unfortunately, Ross From Friends' set only begins once Peggy's set is well under way. Having now been downgraded to the smaller District tent and clashing with one of the most highly-anticipated acts of the weekend, it seems all of his bad luck has come at once. Despite all this, the English producer still manages to draw a sizeable crowd.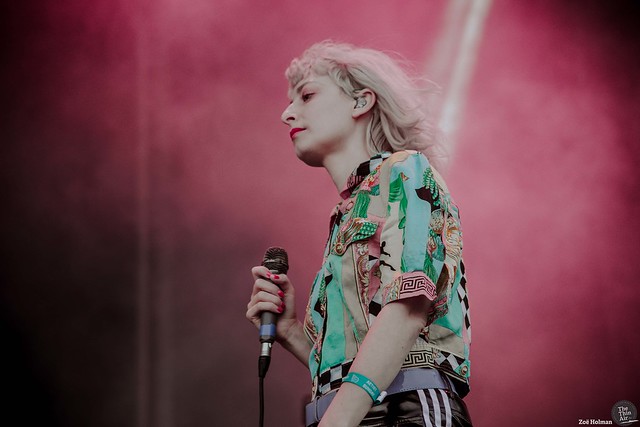 The evening now begins to wind down as Maribou State take to the Main Stage. It's a bit of a mixed set to be perfectly honest, but when they hit the mark they hit it hard and the crowd seem to love it. A light shower sprinkles over the audience, casting a shroud of steam and a rainbow over the hills of IMMA. While a moderate crowd make their way to the front to dance along to the band's infectious grooves, many people opt to sit instead, basking in the golden hour glow; the last few drops of sunlight. It's a remarkably relaxing experience through and through.
With this, we come to the end of Sunday being sent off with a set from Guernsey-born producer Mura Masa. It's been said before, but at times Mura Masa's live sets can seem lacklustre at best. The real stars of the show are guest vocalists Cosha, Fliss and Slowthai, all of whom add huge amounts of energy to a set that can be at times repetitive or lacking in personality.
Let's not get bogged down in that though, because Mura Masa's set is only a small part of a whole day. A day of fantastic music that has been drenched in atmosphere and rife with positivity. Let this be an example to all the festivals that have yet to come this Summer. Jack Rudden
Photos by Zoe Holman