Galleries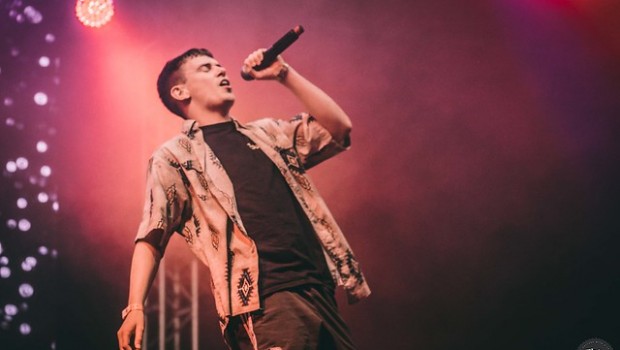 Published on June 2nd, 2019 | by Jack Rudden
0
Forbidden Fruit 2019 – Day One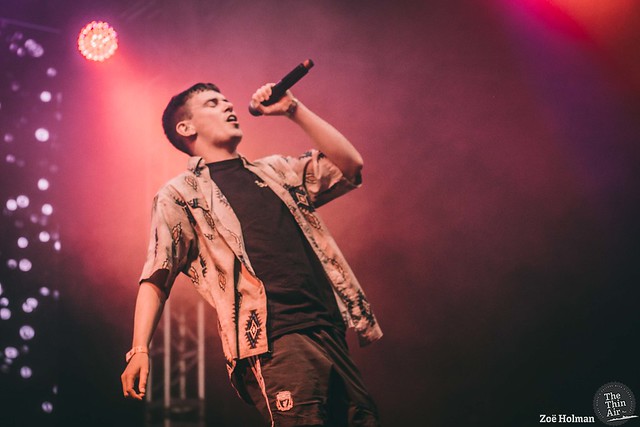 It's about two in the afternoon and the sun is peeking out from behind a blanket of clouds to kiss the grounds of Kilmainham with intermittent drops of light and heat. The first few punters are entering the fields surrounding Ireland's Museum of Modern Art for Forbidden Fruit, a weekend festival that showcases local and international talent for thousands amongst the idyllic surroundings of the IMMA grounds.
Opening up the festival on the District Stage is a local artist: April, an RnB-inspired singer-songwriter from County Kildare. Being the first act of the weekend is always a daunting task, it is your responsibility to warm people up for the rest of the day. You are in essence punters' first impression of the festival. It's a huge responsibility and with this being the singer's first ever festival performance the weight of said responsibility is doubled. With all this being said, April's performance really isn't half bad. Although it is clear that she is nervous, April holds her ground with her strong vocals and clever lyrics, but forgets to introduce herself until the end of her final song. There is no real audience interaction, showing that while April is an accomplished vocalist, she has yet to transcend to the role of performer.
Then there is a small lull which probably lasts in and around an hour. The Trinity Orchestra butchers ABBA, people sink a few pints and have a go on the fairground rides yada yada yada.
As the day moves along and the venue starts to fill up the first inklings of real crowds begin to develop. One such crowd is one that gathers at the Undergrowth Stage for English artist Mahalia. Without being in any way derogatory or slanderous to young concert-goers, it has to be said that the crowd are noticeably young and noticeably excitable. To one side of the stage a teenager is asking a twenty-something year-old how he found the leaving cert, and to the other a young girl is flipping over the security barrier almost knocking a photographer to the ground. This is of course in no way a criticism of Mahalia's performance. The twenty one year-old singer nails her performance with little to no sign of a falter with latest release 'Grateful' being a strong highlight.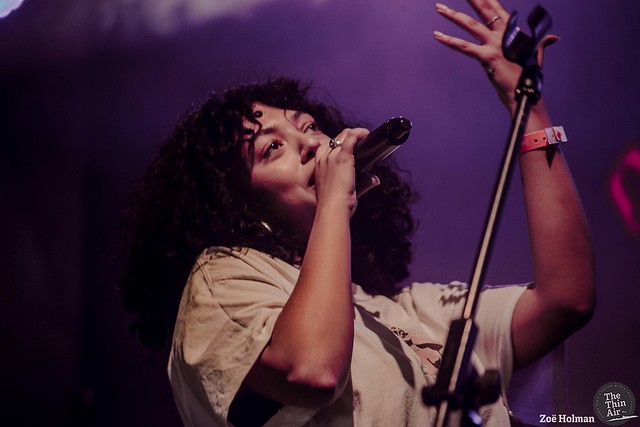 Immediately after Mahalia is Dublin native Kojaque, who's name has become a mainstay on festival line ups across the country. The tent is packed out with ease as DJ Kean Kavanagh warms up the crowd with a few tracks before welcoming Kojaque to the stage. In a somewhat controversial, or maybe unorthodox move, the rapper begins his set with an unreleased track leaving more than a few audience members scratching their heads. On top of this there appears to be some difficulty with sound. There is definitely a distinct lack of thump to the instrumentals and Kojaque seems to notice it himself asking for more of the beat in his monitor. However, always the showman, Kojaque manages to pull it back and gives it socks as he always does.
Meanwhile at the Mainstage, far away from Kojaque's 'Love and Braggadocio', there is a much different affair underway as Montreal's HOMESHAKE begin their set. With laid back beats, warbly synths and gorgeous falsettos gliding across the hills of Kilmainham, you would think that HOMESHAKE would easily draw the crowd into their uniquely chilled atmosphere, but this sadly isn't the case. It isn't even the band's fault, it's rather just an organisational error. On a stage this big, the band's signature ambient ooze is lost in translation, they've got the type of sound that requires a degree of intimacy, in other words: they are swallowed by the stage. On top of this there is an important question to be asked: where's the crowd? As a matter of fact this question could be applied to many of the sets so far. Pretty soon this question is answered with the beginning of Daniel Avery's set at the Undergrowth Stage.
From just outside The Undergrowth Stage a mass migration can be seen. Teens can be seen sprinting forth from the black hole that is The Lighthouse Stage and desperately cramming themselves into Undergrowth for Avery's DJ set. This is the answer to the previously asked question: the festival seems divided. On one side you have the people that have come to see a variety of acts, marching back and forth between various stages to catch them all and on the other side you have the people that have gone into the Lighthouse tent and never come back out. It is for this reason that the quintessential massive festival crowd has yet to appear for the larger acts: many people are here only for the Lighthouse tent.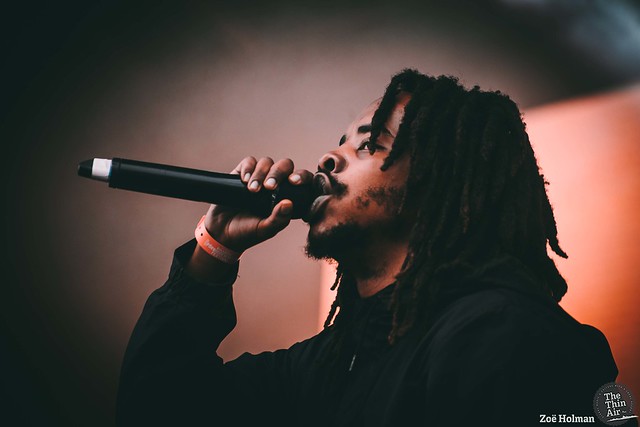 No set shows this more than Earl Sweatshirt's. Having cancelled his set last second at last year's festival, Earl's performance has been highly anticipated for quite some time now. To be completely fair, there is a modest crowd gathered, but it does not correspond to the hype that has surrounded the performance in the lead up to the festival. To top it off, the performance simply does not deliver and as much as it pains this reviewer to say this: it is undoubtedly a disappointment.
Twenty minutes of the hour-long set is taken up by Earl's DJ spinning tracks while trying to warm the crowd up with about as much enthusiasm as a Priest at a funeral. Fittingly enough Earl is like a sedated corpse on stage as he mumbles into the mic while pacing back and forth with seemingly no interest in his own performance. A truly disappointing result for what could have been an incredible show.
While Earl is burying himself Mainstage, Dublin producer and DJ Marcus Woods is delivering an electrifying set to a small but dedicated crowd at The District Stage. A member of Dublin's Burner Records, Woods is known for his sound which is equal parts hypnagogic and nostalgic. Combining samples of PlayStation 2 startup sounds and IDM styled breakbeats, the youngster (who is set to sit his leaving certificate this coming week) proves himself to be a talented producer and performer.
Immediately after Woods is yet another highly anticipated Hip-Hop act from The States: Danny Brown. Known for his wild and highly animated personality, Brown has curated an almost cartoonish image of himself. Despite this, he appears calm and collected onstage and is very much in control. His crowd might be small, but they love every second of his performance as they bounce along and scream lyrics back at him. As the set progresses Brown loosens up, occasionally breaking into a goofy dance or bounce and then without warning screams something along the lines of "THANKYOUDUBLINYOUVEBEENGREATGOODBYEILLSEEYOUSOON" before disappearing offstage.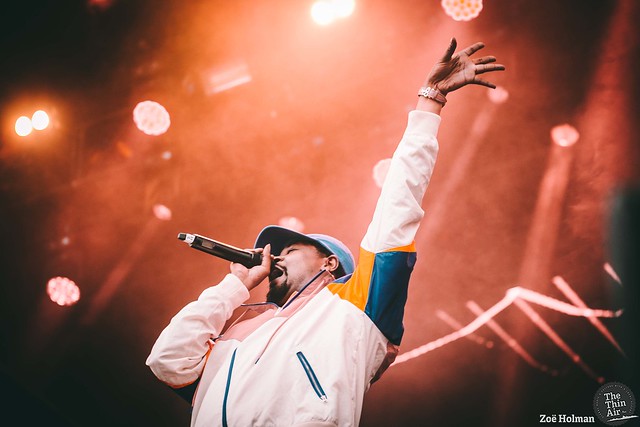 The night comes to a close with a four-way clash between Luka Palm, Honey Dijon, Jon Hopkins and Skepta, who catches a field full of people off guard by starting his set ten minutes early. There is a small stampede as his destructive and sub-heavy Grime beats flood the Mainstage while an impressive visual set up elevates him to a "larger than life" status. A more than apt send off for the opening day of the festival.
Overall, the day is grand. Very strong in certain regards but lacking in others. This is of course no sole person's fault and is in no way meant to slander Forbidden Fruit or it's organizers. The site is laid out beautifully, the facilities are incredible and the atmosphere is generally quite nice. However, I must stress the 'generally' in the preceding sentence, as the area surrounding Lighthouse does not fit this description in any regard. I'd will not go into the details as it would be an unfair representation of such a wonderful festival.
What do I know though? Maybe I'm just bitter over Earl. Jack Rudden
Photos by Zoe Holman