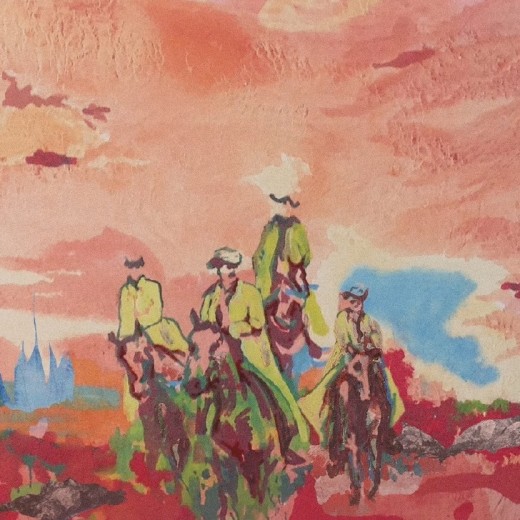 Donegal's In Their Thousands are no overnight story, it's fair to say: brothers Aidan and Declan McClafferty have been playing music with their cousin Ruari Friel since childhood, and have been performing as In Their Thousands, alongside bassist Marty Smyth, for around a decade or so. These years of shared experience permeate through, the band's debut long player. The 13 songs collected within feel distinctly 'lived-in' – from the collective setbacks, small victories and long nights of the soul detailed in their lyrics, to the ease of the band's confident, unshowy playing.
The title track and lead single, a recent runner up in the International Songwriting Competition, encapsulates many of the albums themes and motifs. Its chiming guitar and understated groove is reminiscent of In Rainbows-era Radiohead, while Friel's stark, half-whispered  delivery recalls The National. Taking its title from Greek philosophy, it dwells on morality, a lack of willpower and regret, and builds to a chilling, A capella chorus. "I don't want to was the moment" Friel repeats, harmonising with cousin Declan, shifting an otherwise downtrodden message to one of hope, and defiance.  
The album was recorded in the relative obscurity of Donegal's rural Atlantic coast with Villagers producer Tommy McLaughlin, and there's a fitting sparsity to the arrangements on the record, enhancing the quiet, late-night feeling of much of the songs. It's apparent on the slow-burning album opener 'Faults', which builds from Declan McClafferty's hushed vocal over a solitary guitar, decorated with occasioanal shards of guitar distortion, leads into a soaring vocal showpiece from McClafferty. While Friel and McClafferty share lead vocals througout, it's McClafferty's voice, folksy and vulnerable with the threat of either cracking or soaring to new heights, that gives Acrasia much of its sense of drama and emotional heft.
McClafferty adopts a brittle falsetto on the excellent single 'Water', which transforms from light percussion and occasional guitar into a full War On Drugs style guitar workout. There's more than a hint of country at times too, most obviously on 'Golden Dreams', a track haunted by the ghost of noted inspiration Townes Van Zandt.  It's not just other musicians that stamps it's influence on the record: there is the Fleet Foxes-esque literary ode 'Heaney', whose evocation of a distinctly Northern view of nature is scattered throughout the album's lyrics.
Acrasia benefits no end from years the band have spent gigging and writing songs together: its 13 tracks arrived fully formed, played with a patience and understanding that doesn't leave a guitar note or synth line out of place. A slow-burning, after-midnight record that unveils its songs more and more with each listen. Let's just hope it doesn't take ten years for the next one. Caolán Coleman