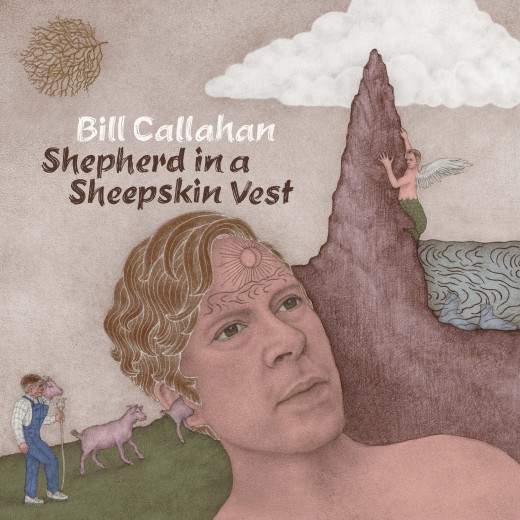 From his extremely ramshackle 1990 debut Sewn to the Sky up until 2013's far more polished Dream River, Bill Callahan – better known for the first half of his career by the alias Smog – managed to maintain a reasonably prolific rate of output. Following a dub remix album in 2014, however, things fell rather silent. Had the man often referred to as the spiritual successor to Leonard Cohen finally run out of ideas after fifteen albums? Well, as it turns out, no – life merely got in the way. As Callahan found himself getting married and fathering his first child, music was forced to take a backseat. Not to worry though, as he's certainly making up for lost time on his return, with 20 track, 63 minute double album Shepherd in a Sheepskin Vest.
While Dream River and its predecessor Apocalypse found their way through a mere 7 or 8 often sprawling tracks in 40 minutes a piece, the longer tracklisting and shorter tracks here suggest a change of approach – perhaps a return to the style of those lo-fi early albums? Indeed, opener 'Shepherd's Welcome' opens with plenty of crackle and hiss, instantly reminiscent of that early work, but the sound of a tape warp midway through gives way to the more polished type of studio production he's more recently become accustomed to. 
Not for the only time on the record, the track references his recent absence in its opening welcome – "Well it's been such a long time/Why don't you come on in?" Later, 'Writing' addresses his return to the creative sphere even more pointedly ("It feels good to be writing again/Clear water flows from my pen"). It's unusual to hear Callahan, who so often deals in character studies and metaphors, address his personal life so transparently, but across the album fragments of his new family life continually raise their head ("I got married. To my wife. She's lovely.") It's certainly a long way from the misanthropy of early Smog – take 'Your Wedding' from 1993's Julius Caesar, which in a mere two repeated lines, paints a richly detailed picture of a man dealing badly with the wedding of an ex ("I'm gonna be drunk, so drunk, at your wedding"). Now, two decades later, Callahan's had his turn and is instead penning tracks called 'Watch Me Get Married'.
Characters haven't been entirely done away with, however, as the titular shepherd rears his head more than once throughout the album's runtime, feeling like a of continuation of the horse breakers and cattle drovers that have populated previous work. Elsewhere, early standout 'Ballad of the Hulk' weaves a tale of sharing a tailor with David Bruce Banner ("that's the Hulk") to lament his own past failures to stand his ground. His witty way with words has also remained intact, as shown in the album's finest line on 'Angela' – "Like motel curtains, we never really met."
Despite the album's structure varying wildly from his last tw0 records, the sound within remains largely the same, the sort of relaxed alt-country he's settled into in his later years. Acoustic guitars are backed up with gentle percussion, double bass and occasional lap steel guitar. From the album's expansive length, it's clear that his creative juices are well and truly flowing again (indeed he assures us he's already begun writing the next record, suggesting a return to his steadily prolific nature of old), though 20 tracks is perhaps a few too many. It's not really an album made up of individual standouts – notably, instead of releasing singles in advance of the album, Callahan opted to release entire sides at a time. Side one remains the strongest, filled with the record's more memorable moments like 'Morning is My Godmother' and '747', while the record's final stretch can begin to feel like a little bit of a chore.
It would be true to say that the sort of gentle songwriting he's settled into in his later years doesn't feel quite as essential as he did at his best – to hear Callahan at the peak of his powers, look back 20 years to Knock Knock, or even 10 years to Sometimes I Wish We Were an Eagle. But that doesn't mean these later records aren't lovely to spend time with. It may go on for a little longer than it needs to, but something about the muted style of Shepherd in a Sheepskin Vest makes it feel like you're sitting on Callahan's porch in Texas as he gently serenades you without disturbing the neighbours.
With renewed interest in his work since featuring on the soundtrack of recent Netflix documentary Wild Wild Country (its title even taken from the chorus to 'Drover'), this feels like an apt time for Callahan's return, and the simultaneous re-emergence of his Drag City labelmate David Berman after an even longer hiatus makes it feel all the more appropriate. 
"It sure feels good to be singing again" Callahan remarks, and it feels good to be hearing it too. Cathal McBride