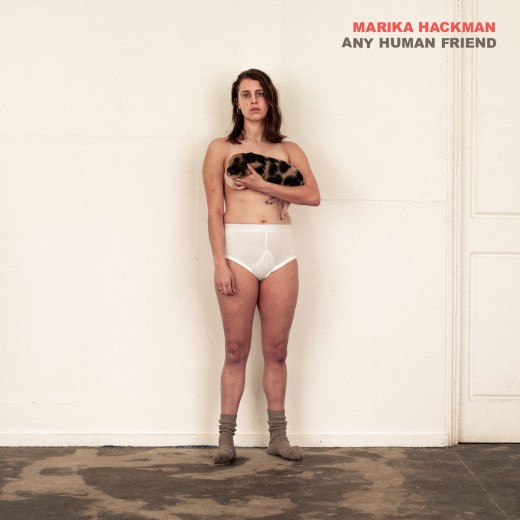 A decade on from Katy Perry's 'I Kissed A Girl',  pop seems to have arrived at a place where girls kissing girls is no longer being treated as provocative or performative, or being fetishised for clout. Queer stars like Haley Kiyoko, Princess Nokia, Janelle Monáe, Christine and the Queens and St. Vincent are dominating the mainstream landscape, going beyond heteronormative boundaries and exploring what it means to be queer in 2019.  Marika Hackman's latest release is a bold and brazen addition to the zeitgeist. Written in the wake of the English singer-songwriters break-up with fellow musician Amber Bain (The Japanese House), Any Human Friend is raw and carnal. It's a sybaritic, stunning record, with a "wank anthem" (Hackman's words), a song about eating out her female partner "all night" and another where she asserts her BDE (Big Dick Energy).
Hackman has dipped her toe into writing about her queer identity before, notably on I'm Not Your Man's 'Boyfriend,' a wry offering about seducing away a straight guy's girlfriend, but this is by far her most explicit, exposing and socially significant work to date. Some of the offerings on Any Human Friend include 'hand solo,' 'blow,' and 'conventional ride,' all of which seek to destigmatise and defetishize such topics as sapphic sex and female masturbation. On indie bop 'conventional ride' she wryly wonders if her partner needs a man ("four hands, two mouths / is that not enough, the feminine touch?") and suggests she may be in need of a more "conventional" sexual night.  The song's commentary on the common trope of being used as an experiment as a gay woman is put on blast as Hackman notes "I've been this girl before / Some fantasy you'd love to adore." 
Later, on punning 'hand solo,' she tackles the taboo of female masturbation in an ode to get oneself off. She makes reference to going blind ("when I go blind..") recalling an old wives tale that suggested one might be punished with blindness if they dared to pleasure themselves. Another clever quip comes in the line "I gave it all, but under patriarchal law, i'm going to die a virgin." The lyric finds itself about halfway through an album from a lesbian songwriter that's been called everything from smutty to filth to downright vulgar. Quite the irony then, Hackman points out, that some would say she's virginal simply because she has not followed a heternormative sexual path. "I just find that an interesting idea," she told Dork Magazine, "does that then undermine every sexual relationship I've ever had? Is that not sex?"
'all night,' presents some pretty vivid sexual imagery: "We go down on one another (We go down on one another) / You're my favourite kind of lover (You're my favourite kind of lover) / With your kissing, fucking (Eating, moaning) / Kiss it, fuck it (Eating) / All night, all night." If you're shocked by its explicit nature, Hackman wonders why – "Why does it sound shocking coming out of my mouth? Women have sex with each other, and it seems to me we aren't as freely allowed to discuss that as men are". She's said the song was purposefully written in an attempt to be overtly sexual, with the aim of reclaiming power from the male gaze which often fetishises and dismisses lesbian relationships as anything more than kinky sexual activity. It subverts heterenormative ideas about female sexuality that misrepresent what it means to be a gay women. Delivered in soft folky tones with gorgeous multi-tracked harmonies, lines like "I'd rather stay and work my way along your spine / we never have to talk you just take your tongue / and press it up against my mind" take on a power scarcely seen in contemporary indie and pop before now.
New territory has also been entered musically for the English songwriter on Any Human Friend. Teaming up with David Wrench (The XX, Jungle, Let's Eat Grandma) to produce the record, there's a more experimental feel to her third full-length release, where synth abounds and jangly guitars meet swaggering bass lines. The contrast between Hackman's vocals works well with the albums grittier, indie-rock tones. Bass led track 'come undone' is a particularly groovy highlight where she sings of non-commital relationships. "I think that I love her / but I am fucking another" she admits in the addictive chorus, while later deciding it's time to settle down "So keep a cradle warm for me / I wanna be somebody's baby." 'the one' fully embraces this more indie-rock sound. Here she plays the role of an egomaniac, suggesting she's "a godsent gift / and all you fuckers want my dick", while a chorus yells back at her such insults as "you're such an attention whore!' It's a song from "the depths of my extraordinary ego" Hackman has said of the track.
Whether it's wanking or narcissism, Hackman isn't afraid to be honest here. "It's kind of every facet of my human character," she's said of the record, "even the bits where I might come across as a complete dickhead". On 'send my love' she explores this, slipping her feet into her ex-girlfriends shoes. "Did you love me tonight, or any night of our lives?" she sings at the song's beginning, before later calling herself a selfish "whore" and spitting "if you loved me tonight, you'd get the fuck out of my sight." The song starts to crumble, a cacophony of sound dissolving into a distortion of vocals near impossible to distinguish any meaning from. Perhaps it's meant to be a metaphor for the relationship, becoming messy and a headwreck as it reaches its end. 
The album comes to a close with 'any human friend,' a beautiful, weightless coda that muses on the appeal of dulling oneself down to come across as cool, aloof or indifferent. "Everybody wants to be made of stone," she sings softly, "We're golden, we're golden." It's a celebration of that spark within us, that golden energy. In Hackman's own words; "It rounds off the record with a really nice sentiment and carries it off into the air. It's like the record is this big weighty experience that you clamber through and get dragged along on this psychedelic ride. And then – you let go of the balloon at the end". Nicole Glennon