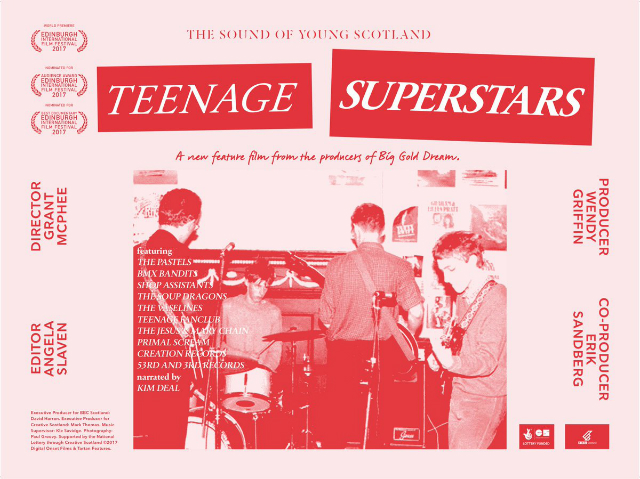 Running (independently) parallel with equally generation-shaping scenes in cities like Washington and Minnesota, Scotland was a singularly fertile ganglion of DIY and indie music throughout the 1980s and into the early 1990s. From Teenage Fanclub and The Vaselines to The Jesus and Mary Chain and Primal Scream, towns like Bellshill and East Kilbride – as well much bigger scenes in Glasgow – gave rise to some of the most influential artists of a generation.
Such a mottled and many-chaptered narrative can't exactly be reeled off or pared down into a précis, which is perhaps why few books – and much fewer films – have dared to take on the task. Thankfully, Grant McPhee's Teenage Superstars is an entirely worthy exception to that rule. Doubling up as the follow-up to 2015's Big Gold Dream – a film that traced the unlikely rise of a couple of Scottish record labels – McPhee's sequel-of-sorts is, from the moment it starts, an impassioned and exceedingly well-researched joy to behold.
Co-written with Angela Slaven, McPhee's exploration is sharp and savvy in equal measure. Leveraging the past not merely via interviews with the likes of The Vaselines' Eugene Kelly, Norman Blake and Thurston Moore, a wealth of archive footage and material, bolstered by narration courtesy of Kim Deal and Stephen McRobbie aka Stephen Pastel, brings the lexicon of the times – and the scene in question – to the forefront.
Thought it succeeds on many levels, McPhee's film really shines in how it manages to effortlessly forge a sense of equivalence between all of the featured acts. In Teenage Superstars, there is no supporting cast. Bands like The Shop Assistants, The Soup Dragons and BMX Bandits command the same amount of fascination and muted reverence as much more established acts including Primal Scream and The Jesus and Mary Chain.
Perhaps more than anything, that truly feels like the point. Doing it – that is, doing it on your own terms, alongside others of a similar mindset – is what defined this scene and a few others like. Anything else was either arbitrary or ill-fitting. In just under two hours, Teenage Superstars goes above and beyond to spell out that this wasn't just important, but vital to Scotland's uniquely independent musical heritage, gall, and and heart. Brian Coney
As part of the Mixtape music doc series throughout the year, as well as Cinema Day 2019, Teenage Superstars screens at Belfast's Oh Yeah Music Centre on Monday, August 26th from 4-6pm Go here to buy tickets