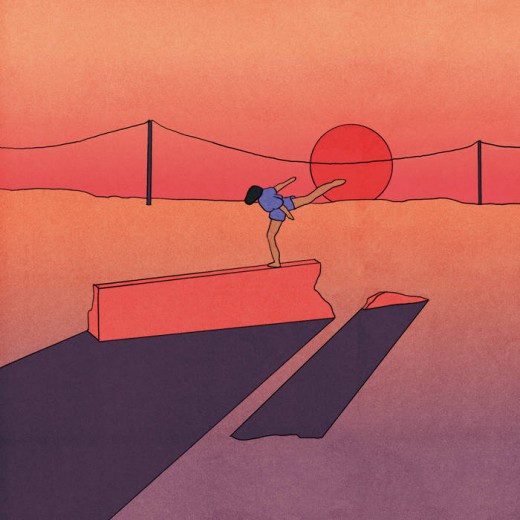 Depending on how you want to count them, Anak Ko (released on Polyvinyl) is either Jay Som's second album, or her third. The Los Angeles-based multi-instrumentalist, singer-songwriter and producer gained some traction in 2015 when she released a series of un-named bedroom demos online. These were eventually re-released as an official debut, Turn Into – citing influences including Tame Impala, The Pixies and Yo La Tengo.
Another influence Som – real name Melina Mae Duterte – has cited is her heritage. She is the daughter of Filipino immigrants and Anak Ko is Tagalog for "my child".  Her latest outing, Anak Ko marks an opening up for the artist  – it's more expansive than 2017's Everybody Works, and while the tracks on previous albums were shorter and poppier, on Anak Ko everything is fuller, moodier and packed with complex  instrumental flourishes.
Where her earlier albums had that very definite "bedroom sound", Anak Ko is bigger and bolder, with Som inviting musicians including Vagabon's Laetitia Tamko, Chastity Belt's Annie Truscott, and Boy Scouts' Taylor Vick to contribute; although most of the difference in the sound is due to the artist's own growing confidence and songwriting skill. 
The lyrics are indirect but evocative – almost dreamlike in the way they are hard to pin down: stream of consciousness stuff with the odd clear, distinct image thrown in. There are songs of loss and heartache, and hints of being bored and disenchanted with the music industry, all delivered with Som's ethereal and distinct vocal.
There is a true variety to these nine tracks. Driving electro-style bass propel 'If You Want It' and 'Crown', and these songs chug along with the odd juxtaposition of a discordant guitar solo thrown into the mix. Elsewhere, 'Superbike' and 'Devotion' seem to sit squarely alongside each other, with their jangling up-beat guitar motifs and light, pop sounds. 'Peace Out' is a more rhythmic and low-key affair, as Som allows her vocals to take centre stage. 
Anak Ko is genre-hopping at it's finest. There are obvious jazz references and influences, which appear out of nowhere ('Tenderness') and these can also be gentle and laid-back as on title track. There are surprises galore; the sudden appearance on the album of the country-tinged sounds of 'Nighttime Drive' comes as a shock to the system, albeit a pleasant one. The keys seem to sparkle and dance all over this tune and when, towards the end, the fiddle comes in the track gets lifted even higher.
'Get Well' is a fitting partner to 'Nighttime Drive' – sliding steel guitar and a rhythm backing reminiscent of The Delines at their best; the song is warm and fuzzy but also sad yet optimistic
With Anak Ko, Som moves beyond the confines of indie rock and produces something that is accomplished, while still retaining enough of the lo-fi shoegaze styles that brought her to the attention of the world. Best of all, it just seems like total effortless fun. There are depths to this that repeated listening will uncover – with some of the songs feeling like puzzles that have to be solved; they demand a little bit more attention and investment than most but your efforts will be rewarded.  Michael Barbour