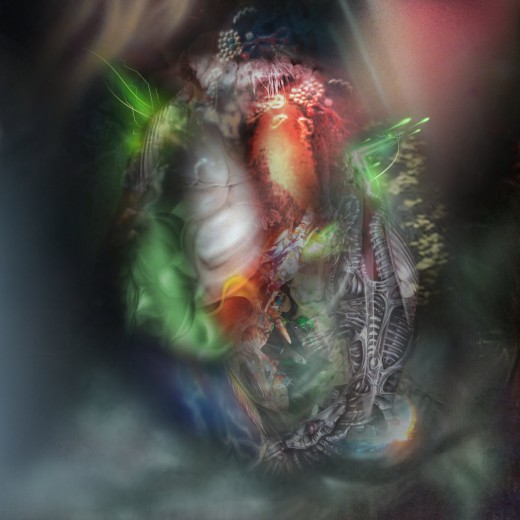 Lighght is no stranger to chaos. The Cork producer's first tape, The Skin Falls Off The Body, was, as its title suggests, an exercise in nasty, bile-dripping body horror. Recorded a full three years prior to its release last December, it represented a direct response to a very specific personal trauma in the artist's life. It's vulgar sound design specialised in unrelenting syncopated drums, unseemly quicksilver whirring, and serrated, industrial buzzing, a pool of emotional sludge. Though impressively visceral and absorbingly unsettling, it ultimately lacked a sense of completeness. 
It also provided no indication of what his future full-length debut would sound like, but you understood one thing plainly: That he is a maniacally talented, considerate and gutsy sound sculptor, one of Ireland's most promising electronic music scions. His self-released debut album, the excellent – and unwieldy-named – Gore​-​Tex In The Club, Balenciaga Amongst The Shrubs, sits more snugly at the nexus of the dancefloor and chin-stroking intellectualism. Here, as with his moribund, twisted tape, he fashions a discernible vision and aesthetic, refusing to merely shroud his music in pretentious, impregnable IDM signifiers. Entropy, then as now, never takes hold. Sure, the pair of projects sound different, but they feel almost unmistakably the same. 
The resulting music on Gore​-​Tex In The Club, Balenciaga Amongst The Shrubs is worshipful and portentous, flooded with big ideas and even bigger sounds. It folds his anxious spirit into something tangible and, frankly, it's unclassifiable; the subtle effect it achieves is neither aimlessly futuristic nor explicitly nostalgic: It simply rips through time, and place, without caution. On his last release, Lighght strove to shock listeners, to remind you that our bodies are exceptionally brittle, vulnerable, decaying. It stank of utter disconsolation. 
Quite conversely, Lighght's debut LP, with few exceptions, seals within its walls a variety of musical thrills, hinting toward bodily and spiritual healing. Toggling between pretty string sections, balming ambient, spoken word, deconstructed trance, and Martian techno, the songs come together cacophonously. Combined, these sounds—his most fiercely focused yet—reckon with the dreaded process of self-healing by way of personal apocalypse and outright dancefloor anarchy. It can be pretty full-on, and it imagines the journey to deliverance as interrupted by fails and falls and moments of relapse. On occasion, the songs here chug violently like Coil's most ugly work; the drumwork smacks of Air Max '97's austere minimalism; and the oft-winding tracks unravel, melodramatically and cosmically, like something from a Vessel album. 
An absurd short story, recited my Lighght himself, opens up affairs with a wink and a blank stare. 'The Temple (Libretto)' invokes a land of "fractured" lizard people, a near-nonsensical tale of misadventure in which the protagonist seeks healing from a splendid-looking temple — maybe something physical like an ointment, or maybe it's a strictly metaphorical ideal, a spiritual relief. "My pain happened for no reason whatsoever," Lighght recounts sadly in an unplaceable Irish brogue, as weeping strings lull and sway. "Or rather, there were reasons it happened, and those reasons are actually quite important for me, at least to get to the root of my bullshit."
Maybe incidentally, but the following track, 'Hyper Masc. Detox', offers some insight into the character's first stop-off in their pursuit of peace-of-mind: Stripping away false pretensions of masculinity from the self. But since it's Lighght, this detox—an exorcism of sorts — is a fucking clattering, four-to-the-floor techno blast. A virtuosic eight-minute lesson in concussive percussion and disorientating vocal splices, it encapsulates what makes the album so special: Lighght excels in the kind of bone-chilling sound design that is equally as capable at blistering foot soles as it is at peering intrusively behind your id. 
The healing narrative, laid out in vocal snippets that are regurgitated throughout the debut, is at times beside the point. 'Dark Rush', another gnawingly tough techno beat that explodes into life, shrapnel shot everywhere, proves this to be the case. And despite the song's disparate compositional elements — a rattling low-end, beefy, jackhammering drums, vocal groans, rushing synths — nothing ever feels thoughtlessly thrown together. Like many of the harder hitting songs, it's inordinately fun, noisily subverting the preconception that clubs should solely be havens for mindlessness. It's freeing to hear. 
Although some of the clubbier tracks gargle like they're misanthropic and haunted, their darkness is tempered by the gorgeousness of other drumless arrangements. Case in point: 'Passion Peace', an inky, unearthly trance reverie that techno titan Paul Woolford recently sought a track ID for it when London-based artist object blue unleashed it in a DJ set. It builds artfully with every crystalline synth until it approaches what can only be described as Seventh Trance Heaven. The movingly chintzy pads ramp up, uproariously so, like they're screaming heavenward, as Lighght enters into the fold what registers as acid-burnt lightsaber sound effects – arguably, in the grand scheme of things, the least jolting element of the track, which is saying something. Weirder still is the crepuscular 'Crystalizing Resin', an arrangement so deeply strange, so creepily layered in eerie vocal processing, that it momentarily edges toward ego death. The unctuous, slurping middle section evokes aliens trying to communicate with mankind, extraterrestrial windchimes twinkling and dancing. 'Trust in God', meanwhile, reminds me of some teary-eyed Victorian forest chamber music, owing its vast loneliness to a plaintive guitar ribbon. 
Lighght speaks in lofty, ambitious terms about his future plans: He has an idea for a follow-up album that will involve spending at least three years learning unnamed skills, intending to put out weird, periodic minor releases — classical suites or club music, he reckons— in the meantime. Why wouldn't he think big? For now, the world he has created on his debut is enough, a poignant reminder of all that is possible in the realm of electronic music. It's only recent Irish analog is Patrúin producer Blusher's towering 2019 album, Tren Reznor, and not because both albums share similar mood boards or reference points. More to the point, the releases share near-identical levels of sonic ambition; a desire to create worlds within and escape into esoterica; a deep unease at making impersonal music. 
The album (which, remember, was released by Lighght on his own imprint) is an extraordinary piece of work, implacable and unbending and assembled with an unmistakable air of grace. Speaking hyperbolically, you could make an argument for this album as a talismanic document for The End Of Times. But that's trite, a rhetorical crutch for large amounts of discussion over avant-garde sounds. Admittedly, there is something monumentally nihilistic-seeming about the arrangements — chilling drones, fanatically piled drums, queasy vocal manipulations, squalling synths, spooky artwork. But in this album, there are only whiffs of existential crises; for the most part, it remains laser-focused on the idea that no pain is unhealable, or unreachable. For all of its synthetic bleakness, there are moments of divine respite, breathing spaces for the afflicted; surely the endgame of healing is not eternal numbness? Colin Gannon