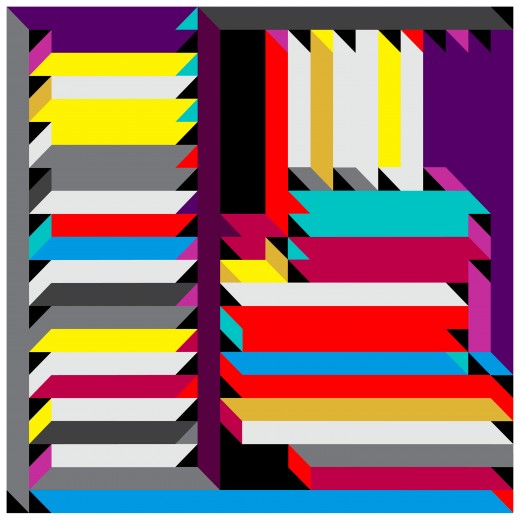 To paraphrase Oscar Wilde, to lose one band member may be regarded as a misfortune; to lose two looks like carelessness. When Tyondai Braxton left Battles in 2010, fans were worried. Although the quartet had started out as an instrumental unit, Braxton's distinctive pitch-shifted vocals had become the focal point of their acclaimed debut album Mirrored, and with his departure, expectations for the follow up plummeted. They needn't have worried, as with the help of a few guest vocalists (including none other than Gary Numan), the band's second album Gloss Drop was more than a match for its predecessor. The trio returned to their fully instrumental roots on last outing La Di Da Di but, despite several highlights, the record overall seemed to lack some of the focus and precision of past work. Now with the surprising departure of guitarist/bassist/looper extraordinaire Dave Konopka as well, the band is reduced to a duo of just Ian Williams and drummer John Stanier, and it would be easier than ever to be sceptical of a new release.
It's worth remembering though that when Williams found himself in a similar situation with his old band Don Caballero, they went on to produce a career highlight (2001's American Don – though they did implode soon after). Juice B Crypts may not quite qualify as a career highlight, but the pair do sound somewhat revitalised. There are layers missing where Konopka used to be but Williams fills things in as much as possible, balancing keys and guitar with his usual aplomb, and the comparative minimalism of the arrangements actually sounds refreshingly streamlined. 
'Ambulance' continues their unbeaten run of great openers.  Williams begins by jamming out seemingly freeform loops before Stanier's pounding beat comes crashing in to force them into shape, forming the sort of groove that was often missing across La Di Da Di in favour of disorientating chaos. 'Fort Greene Park' meanwhile is almost melancholic, Williams' stuttering guitar bends sounding unusually wistful on one of the most pleasingly melodic tracks they've ever committed to tape.
Returning to Gloss Drop's winning formula, the pair bring a few guest vocalists round to add some extra colour – but where on that LP it felt like the vocalists were invited simply to fill Braxton's shoes on some already fully formed Battles instrumentals, this time round the vocalists often take centre stage as if the music was written around them, the duo happy to mould themselves into whatever sort of futuristic backing band their guests require. Backing up Xenia Rubinos on 'They Played it Twice', the pair sound like fully fledged R&B producers, while they conjure up a wholly convincing, beat filled hip hop backing track for Shabazz Palaces' flowing rhymes on 'Izm', easily the best of the guest appearances on offer on an album that also manages to rope in members of Yes and Liquid Liquid.
Only towards the album's end do the pair seem to start running out of steam, the title track relying on the headache-inducing chaos that they've often fallen back on in lieu of ideas, while the Tune-Yards-featuring two part closer 'Last Supper on Shasta' feels a little undercooked compared to some of the stronger offerings earlier on. Nevertheless, their overall batting average here remains impressive given the circumstances. 
Like Braxton before him, Konopka's immeasurable contribution to the Battles sound always felt indispensable. But with Williams and Stanier, the band's nucleus and beating heart respectively, there's still life left in the project. Joyce B Crypts sounds like a band with something to prove, perhaps a need to justify their continued existence. Whether their once legendary live shows can remain as engaging without that awe-inspiring interplay between the musicians on stage is another matter, but on record at least, the newly slimmed down Battles have still got it. Cathal McBride