Visual Arts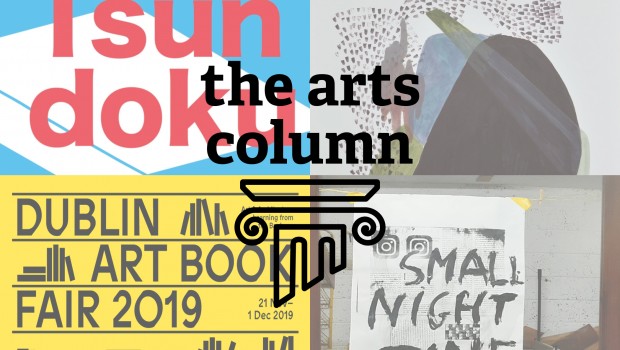 Published on November 20th, 2019 | by Aidan Kelly Murphy
0
the arts column: November 20th

This week is all about the printed material with a new zine themed project launching, not one but two book fairs in Dublin, as well as details on five exhibition openings and links to funding applications for 2020.
As always, if you have an event, talk, exhibition, or would like to recommend one please get in touch via aidan[at]thethinair.net

Opening | small night zine—ARRANGEMENTS @ Pallas Projects + Studios, Dublin
This coming Thursday sees the launch of a new project from James Merrigan in Pallas Projects + Studios. Titled small night zine, the project sees 35 artists come together through the mediums of screen printing and zine making. The list of participating artists is a veritable who's who of exciting Irish artists, with the full list available online here.
small night zine kicks-off at 6 pm on Thursday.

Exhibitions  | RHA Winter Exhibitions
This coming Thursday sees the opening of the RHA's Winter Exhibitions, which includes the latest in the gallery's Futures series, a number of solo exhibitions [Michael Robinson, Kurt Oppermann and Dorothy Cross] and Vision X which brings together work from emerging Irish artists alongside established international artists. In total five exhibitions are opening, with details on all below:
Image: Jane Fogarty, sm4(p)medium, 75.5×53.5x4cm, egg tempera on paper, 2019

Funding  | Arts Council Grants for 2020
Details have been announced by the Arts Council for a series of funding applications for activity in 2020. The largest of these is the Countess Constance de Markievicz Award which is aimed at providing support to artists of all backgrounds and mediums as they develop works "that reflect on the role of women in the period covered by the decade of centenaries 2012-23, and beyond." The Markievicz Award recipients will receive €20,000, and the window for applications is from the 17th December until 30th January.
As well as this award, there are applications for bursary awards and travel and training awards for €15,000 and €3,000 respectively. Links to all three are below:

Events  | Tsundoku @ The Library Project
Running from Thursday, November 21st until Sunday, November 24th in The Library Project is Tsundoku – a new initiative from the team at the PhotoIreland Foundation. Tsundoku is all about photo books and printed matters, with Thursday seeing a launch with Damn Fine Press, Friday an artist panel chaired by Valeria Ceregini, Saturday sees another book launch featuring Eamonn Doyle, with Sunday seeing a unique BYOB (Bring your own book!) event.
These events run alongside this year's HALFTONE, also in The Library Project, and you can read the full details on Tsundoku online here.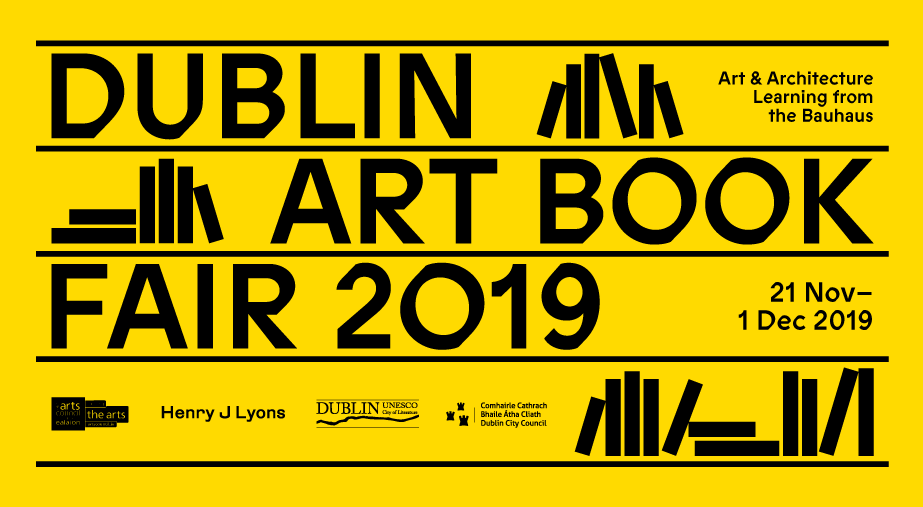 Event | Dublin Art Book Fair 2019 @ TBG+S
Not content with one book-related event opening in Dublin on Thursday, we've two! Dublin Art Book Fair returns for its ninth edition in Temple Bar Gallery + Studios. The fair is architecture themed as always, with this year taking inspiration from Bauhaus and is curated by Dr Kathleen James-Chakraborty, Professor of Art History at University College Dublin. The fair runs until December 1st with a host of events from workshops to talks, launches to kid-friendly events – a list of which can be found online here.
***
If you have an event, talk, exhibition, or would like to recommend one please get in touch via aidan[at]thethinair.net