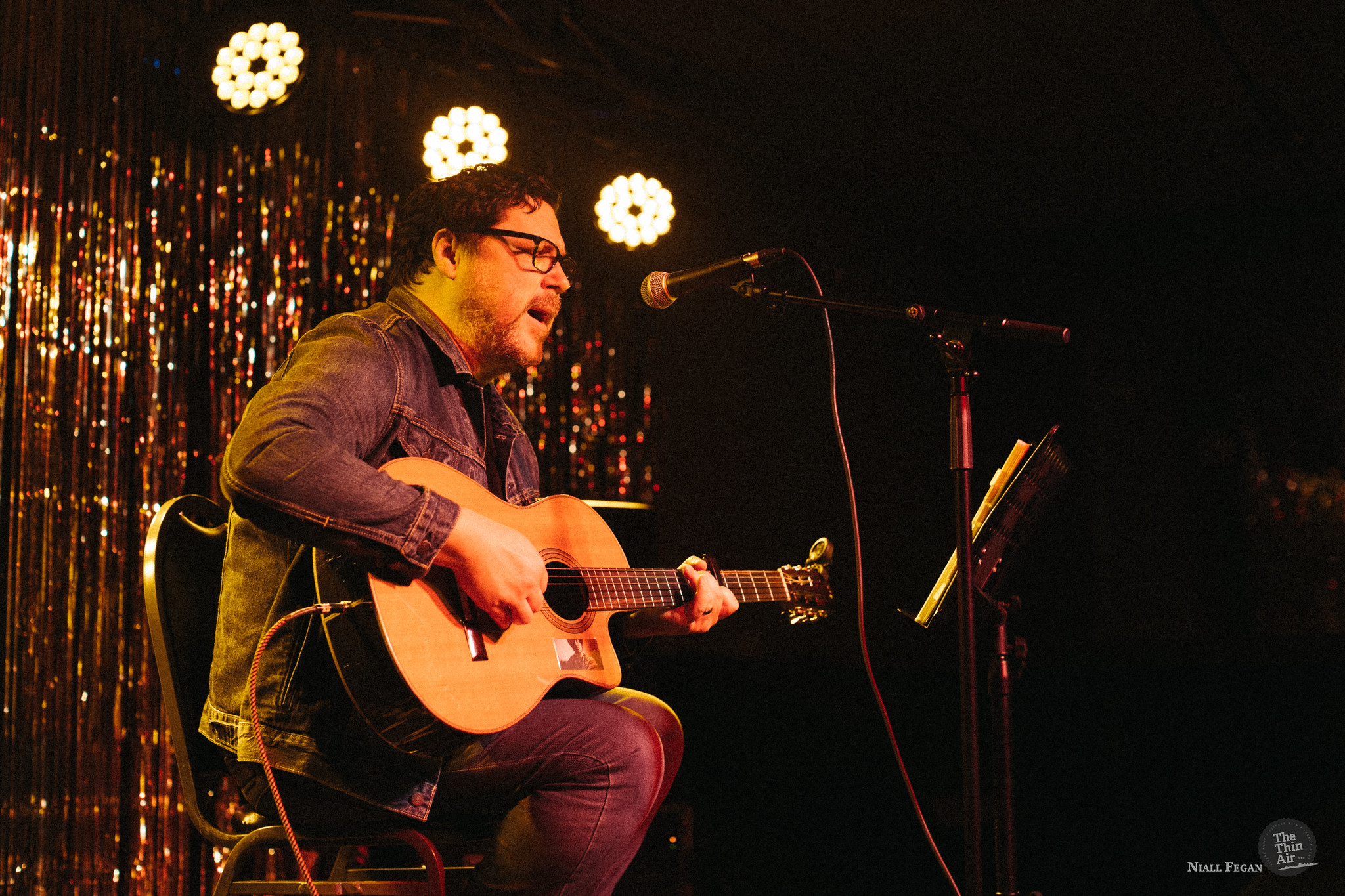 It takes a great deal of skill or charm – or a combination of the two – to silence a room. And yet this evening Belfast, so often plagued by inconsiderate gig-talkers, sees this filled-to-capacity venue fall under the thrall of a reverend quiet for both support act and main draw and remains submerged in that snow for the entire duration of the gig. It is a wonderfully unnerving experience to be somewhere so hushed that you can hear the person next to you breathing or respectfully supping at their pint but it is testament to not only the calibre of the Open House Festival, whose year-round concerts are often mini-masterpieces in Americana but also the attitude of those who attend them. Your average audience at an Open House bash will be dyed-in-the-wool music fans who understand that all concerts involve a transaction: not of money, necessarily, but rather that to be truly rewarded by a show you should slip the iPhone back in its protective case, stop wittering about whatever bothered you that day at work and instead allow yourself to be encompassed by the emotional wallop of the craft lilting from the speakers.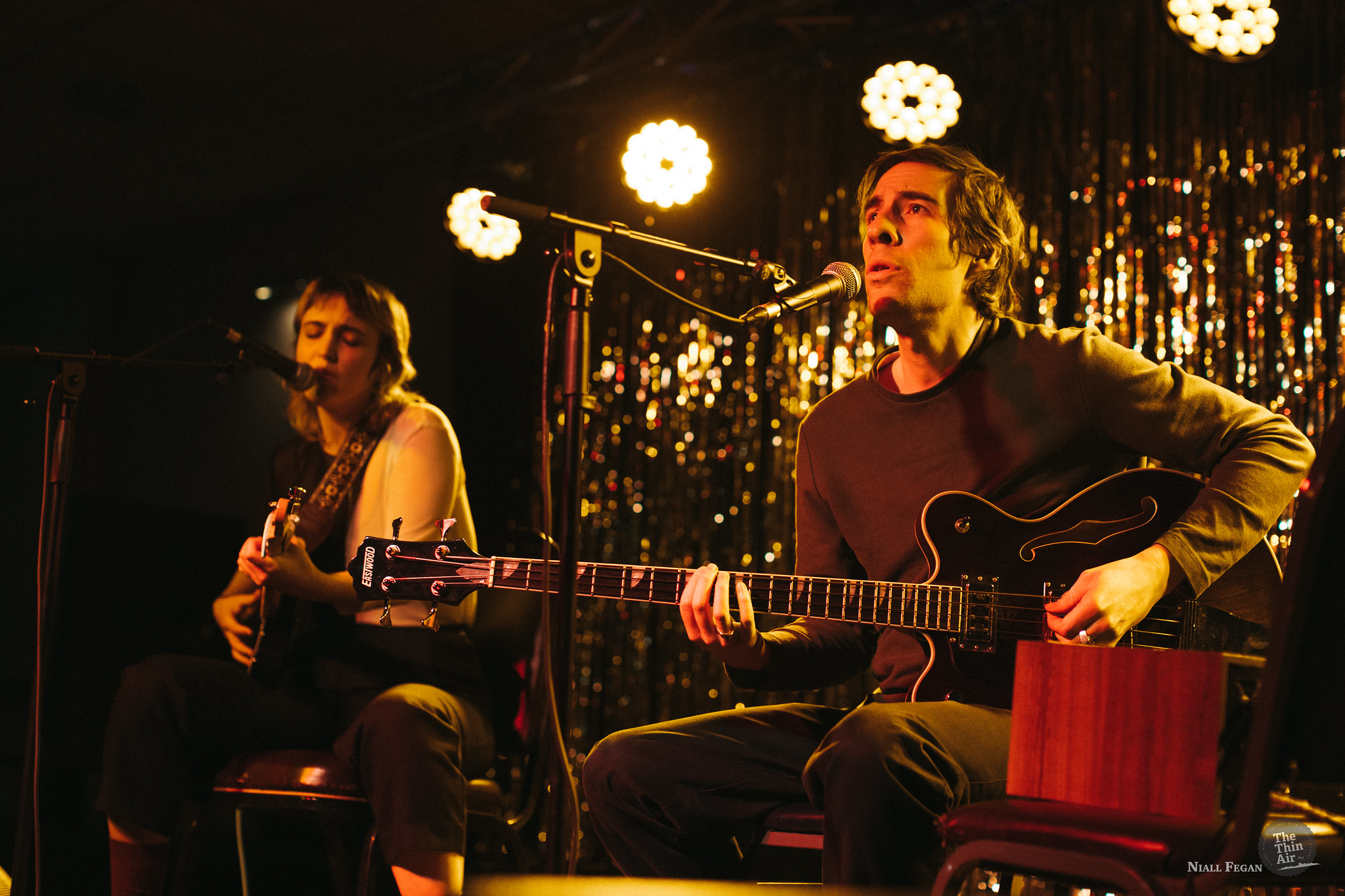 And so it is that songwriter Dana Gavanski – whose lovely vocal acrobatics recall Nico, Laura Marling and Anna Calvi – is welcomed by enthused punters willing to give the person they did not necessarily pay to see the opportunity to shine. And shine Gavanski does: her songs are fragile gems replete with intricate melodies that reside somewhere upstairs after just one listen. She also does a fine line in deadpan wit, an approach that would win over the crowd if it was not already conquered.
Those unfamiliar with Damien Jurado's prolific, ever inventive output could take any of his countless albums as a jumping-off point and each time land in a completely different location. There are the sparse acoustics of the early albums, the cranked-up guitar rock present on Caught In The Trees and On My Way To Absence, and most notably there is the foray into psychedelia on the overarching narrative of the Maraqopa trilogy. While each of these records is sonically different, the connective tissue is the conflict between melancholic world-weariness and optimism, between a hankering to abscond from small town trappings and a desire to return back home. It is this contrast that lends the music much of its emotive power, as evidenced by the fingerpicked track 'Ohio', Jurado's choice of opener for this evening, which could be mistaken for a nostalgic lament if it wasn't for lyrics that recount familial breakdown and kidnapping. Such balancing on a knife-edge is characteristic of Jurado's writing: 'Sheets', rendered so eloquently tonight, swirls with familiar themes of infidelity where the division between secret lover and jealous husband is deliberately obscured: "Swallow him whole like a pill that makes you choke and stills your soul," Jurado sings in a gentle voice that belies the dark lyrical content. "You have the nerve to look me in the eyes and lie." A similar though not quite as bleak sentiment is to be found on the not-quite-a-love-song 'Newspaper Gown' from the folk-inflected, most recent release In The Shape Of A Storm. "Would it destroy you? Would you not want me around?" he intones over strummed chords so zephyr-like they are nearly not there. "Am I a new pair of scissors for your newspaper gown?" It is this disarming honesty, this act of opening oneself up to vulnerability, that makes Jurado's work so special and so unusually free of braggadocio when so much other music boasts of conquest, machismo and wealth.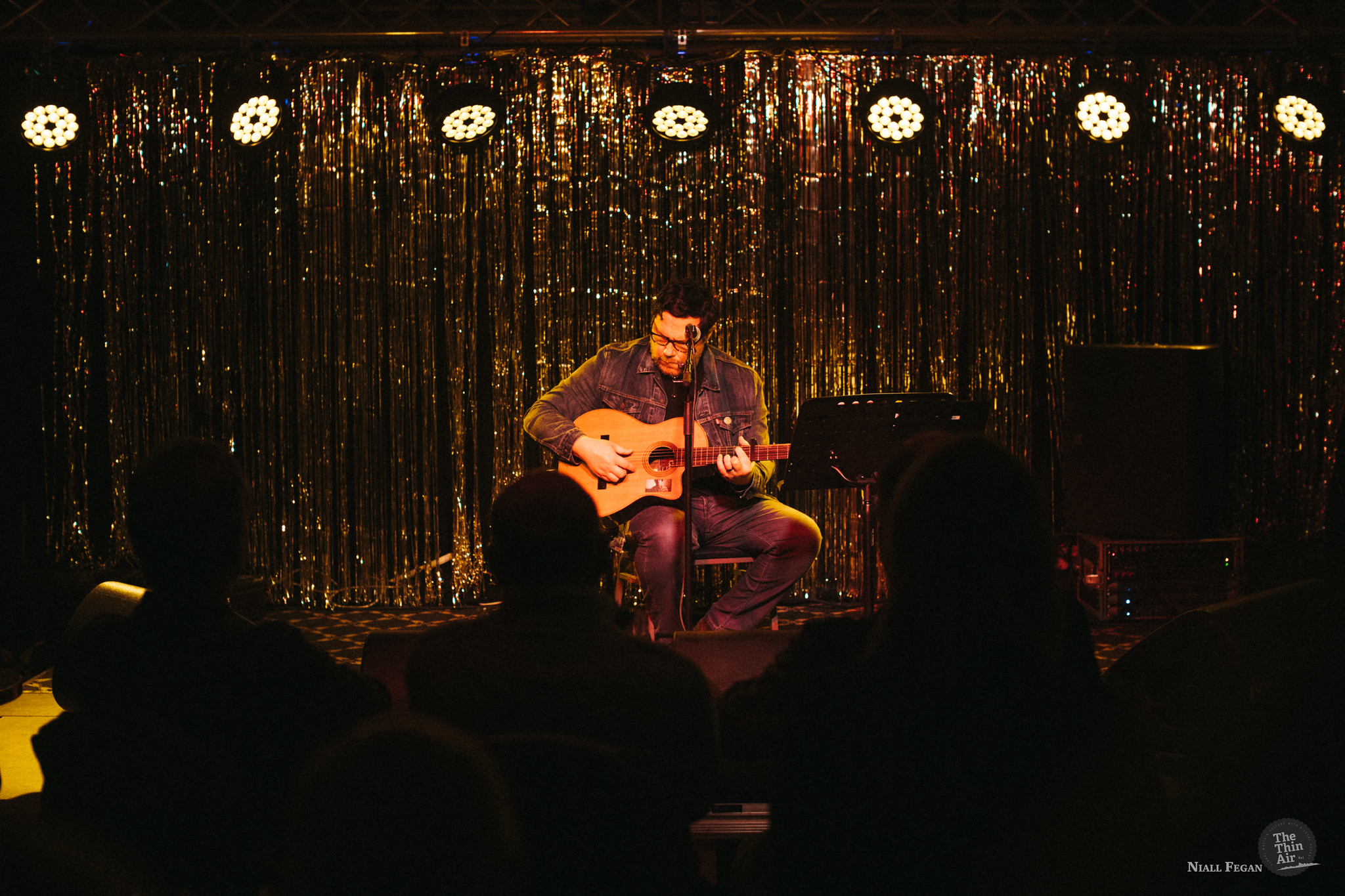 At one point, Jurado apologises for not talking enough: "I'm not a comedian or a motivational speaker." Instead, he says he prefers to let the music speak for itself and give people their money's worth, which is completely excusable if we are delivered stripped-back renditions of 'The Last Great Washington State', another song about the importance of place and belonging, and 'A.M. A.M.' from the epic Visions Of Us On The Land. Shorn of its layers and reverb, the latter shines as a pop gem, full of love and devotion. Jurado's gift as a writer and deliverer of music is characterised by the effortless way in which he presents these treasures: he may deny a crowd request for 'Medication', one of the brutally heartbreaking songs you are ever likely to hear, but we are treated to 'Museum Of Flight', whose laconic rhythm and falsetto vocals recall Sam Beam, Neil Young and the other greats in whose company Jurado can deservedly be numbered. Ross Thompson
Photos by Niall Fegan