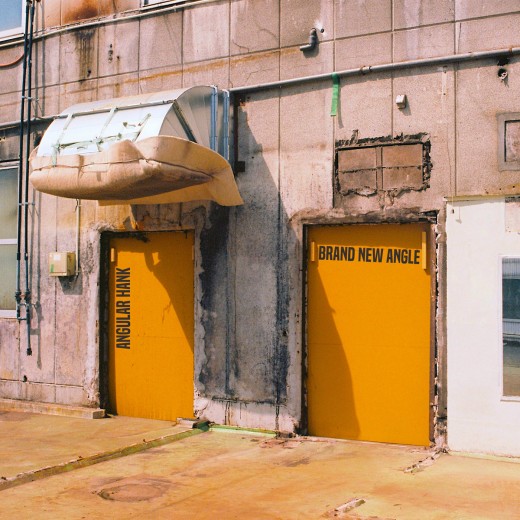 Angular Hank have no shortage of weapons in their arsenal.  Three songwriters, four lead vocalists and a stack of talent. Formed in the summer of 2018, the Dublin based quartet comprise of Diarmuid O'Connor, Samuel Doogan, Mathieu Doogan and Ronan Boland: four guys who represent the indie rock equivalent of Total Football, swapping duties from song to song with ease and equal ability.  
Recorded over a seven-month period in Crumlin while living together, Brand New Angle lays out ten breezy accessible tunes infused with self-effacing humour and wit. Making their bones by gigging around the Dublin scene for a year or so, this self-recorded album showcases their tightness as a band and the ways they apply this discipline to well-crafted indie rock songs.
From the friendly opening track 'T.M.B.T.T'  looping guitars have a back and forth exchange which calls to mind the likes of Meat Puppets' 'Up On The Sun'. Here, singer and lyricist Mathieu Doogan declares that he's "not dyslexic, I just get a little nervous around crosswords". Brand New Angle has a lot of these peculiar sentiments, delivered with an eloquent playfulness.
Single 'Fin Said' tears into a math rock-ish intro, squeezing every bit of value out of their guitars. There is a Don Caballero feel here that isn't overindulgent, instead opting to get straight to the point. 'Garters' could be a distant cousin of a song off Modest Mouse's Lonesome Crowded West, with its bending chords breakdown. Ronan Boland lets us know that he is very happy with his Citroen but not happy with having no driveway to put it in: a point that even when things are good, they're not always perfect.
On 'Hospitals Beds', Mathieu Doogan makes a plea for "room in your Hospital bed". This track is littered with expressions of inadequacy and personal vulnerability, and even name checks the tragic king of TV neurosis George Costanza.
The second half of Brand New Angle finds the band taking a few darker twists and turns with tracks like 'Slack' projecting a distinct loneliness, while  the lyrics on 'Sleeves' and 'Anna's Birthday' display a touch of imposter syndrome.  Finally, we have 'Lori', a forlorn banjo-tinted number The Frames would be proud of. 
You can see a maturity and confidence in this album that is sure to blossom further. Already you can see sharp musical focus and imagination in songs such as 'Six Set' and 'I Don't Always Like You', which makes you excited for what's to come from the outfit.  In a crowded indie rock market, Angular Hank have proven that they can stand out with their own distinctive turn. Patrick Hughes