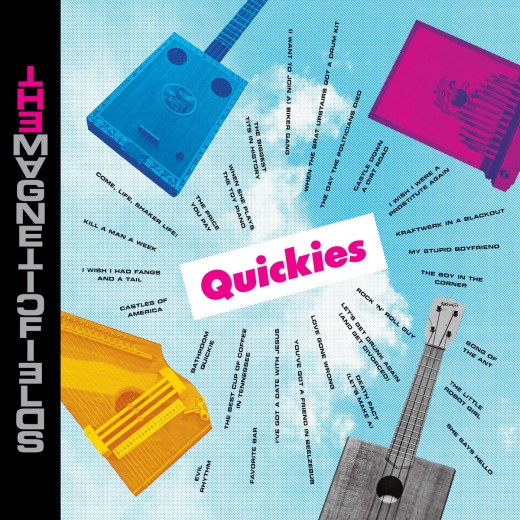 At one point in 2010 documentary, Strange Powers, an admirer of The Magnetic Fields asks if anyone else could to write songs like Stephin Merritt does.  Any attempt to do so, he warns, could be dangerous.
It's hard to disagree. Such is the tonal high wire that a typical Magnetic Fields song walks; a delicate and unlikely balance of lush romanticism, caustic wit and unabashed schmaltz that imbues Merritt's grand album concepts and arch wordplay with a profound and lasting emotional bite. The music too is a strange beast. Keening melodies and radiant singalong hooks are cast off with apparently preternatural ease, packaged in defiantly lo-fi but carefully considered arrangements, and performed by a revolving cast of characterful and decidedly untrained voices. 
The resulting sound usually hovers somewhere between homespun '80s synth-pop and a secondary school production of a long-lost Cole Porter musical. That any of it works at all is a testament to Merritt's deft ability to alchemise his glum, sardonic world view and rosé tinted nostalgia for dive-y Manhattan gay bars into a detailed and unique sonic universe.  
Quickies is the The Magnetic Fields' 12th release, and the latest in a long line of lengthy high-concept works.  As the name suggests, the album doubles down on Merritt's by now well-established affection for brevity, taking inspiration from Lydia Davis' (extremely) short stories and his own poetry book, which shines a light on the many mundane and arcane two letter words currently admissible in the game of Scrabble. 
With 28 tracks ranging from twelve seconds to around two and a half minutes, it is perhaps understandable that Quickies takes time to get to grips with. Repeat listens, however, reveal that there is no shortage of beauty and tragicomedy to be found, even in the album's most fleeting entries.
Impressionistic opener 'Castles of America' unspools with the familiar trill of reverb-drenched autoharps and banjoleles, which surround and juxtapose with Merritt's unmistakable and impossibly curmudgeonly basso voice.  Even as the track dissipates into the ether after just 35 seconds, the plinking melody and exultant background harmonies make it an ephemeral delight and a fitting mission statement for an album that understands that less is more. The  immaculate 12 second haiku  'Death Pact (Let's Make A)' for instance manages to spin an intriguingly obsessive love story in just 22 words, "Let's make a death pact, 'cause I can't live without you. Let's make a death pact, when you go, I'll go too". The appropriately minuscule 'Song for the Ant' meanwhile uses a single stanza to paint the unexpected picture of an ill-fated insect's final moments as the mind-controlling cordyceps fungus slowly explodes from her head.
Unsurprisingly though, it is the longer more developed songs that leave the deepest impression. '(I Want to Join) A Biker Gang' is a particular highlight, riding a surging circular synth melody that ranks among Merritt's very best as he deadpans the tale of a family man heeding the call of the wild and opting for new life as a bearded biker. "So let my wife and children hang, I will be known henceforth as fang".  'Kraftwerk in a Blackout' is a similarly driving but intricately assembled track, like an indie-rock hit in miniature with lyrics tracing the scathing repartee of a bickering couple whose relationship has hit choppy waters: "We are like dolls without voodoo, Goin' nowhere fast, The Enterprise without Sulu".   
Right from the wink and nudge of the album's title, a brand of ever so slightly elevated smut abounds, with songs like the self-explanatory 'Bathroom Quicky' (promptly rhymed with "Get me sticky") and the simply fantastic 'I Wish I Were a Prostitute Again', which contains the immortal lines, "He paid me for my urine. He paid for my poop. Dressed like the Shroud of Turin. Costumed as Betty Boop". 
In less steady hands this sort of humour would almost certainly fall horribly flat but the writing and performances on Quickies consistently strike the right chord, not least on the giddy and ridiculous 'The Biggest Tits in History'. The song  takes a puerile aviary / mammary jeu de mots and runs with it longer than most artists would care or dare to, as long-time band member Shirley Simms sings increasingly absurdist quatrains about a particularly successful bird breeder over a crunchy surf guitar backing.  "She majored in biology. She knows where of she speaks. You know her tits are happy from their smiling little beaks".  That such a one note joke is stretched out so outrageously over one of the album's longest tracks makes it all the funnier, while a catchy, danceable melody marks it out as a clear album highlight. 
Elsewhere, the band gleefully flit between genres, from stately piano ballads like the Claudia Gonson-sung 'The Day the Politicians Died' to the dusty delta shuffle of 'Love Gone Wrong' and the surprising psychedelic reading of a traditional Shaker hymn 'Come, Life, Shaker, Life!'.  Knowingly mawkish stabs at gothic blues on the Hammer Horror style "I Wish I Had Fangs and a Tail" and the zydeco tinged jazz of 'Evil Rhythm' are less successful, but often charming in their own ham-fisted way, even if the most memorable thing about the latter track is the decision to rhyme "rhythm" with "hypnotithm".
Quickies is an undeniably unwieldy but always fascinating release, overflowing with ideas, smarts and melody. Most importantly though, it's the sound of a band enjoying themselves as they get their teeth into some of the funniest and sex-obsessed material they've released in years. While Quickies never reaches the lofty heights of their modern classic 69 Love Songs or the lifetime epic 50 Song Memoir, it does prove swiftly and incontrovertibly that Stephin Merritt can wring more truth and pathos from a dirty limerick than most other writers could hope to from a sonnet. James Cox