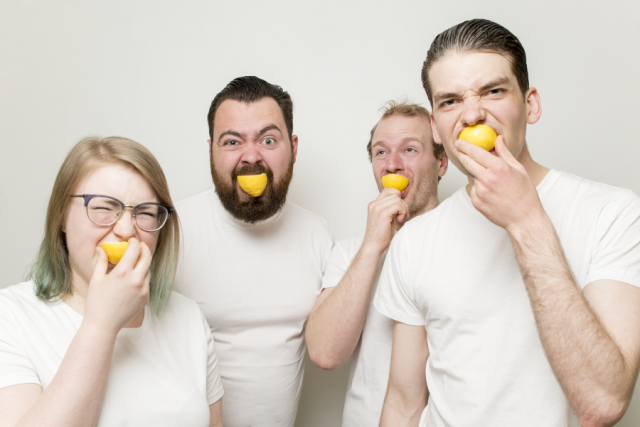 A timely arrival to cushion the blow of a festival-free summer, perennial TTA favourites Shrug Life are back with the video for new single 'Last Gasp of Summer'.
The track is taken from Shrug Life's excellent, Daniel Fox-produced second LP Maybe You're The Punchline which came out in April, available on 12″ vinyl through Bandcamp. Typical of their vision of a DEVO-meets-Thin Lizzy world, it's a razor-sharp incision into minutia of the make some noise Irish experience, and festival fatigue that starts to set in as one's twenties edges closer to the finishing line, without ever straying into 'yells at cloud' territory.
Filmed partly at Arcadian Field Festival 2019, and featuring a poncho'd, bifter-fuelled Carroll taking everything the festival can throw at him, the band explains that the release "wrestles with all that is great and abysmal about Irish festivals. Within that chaos there's moments of triumph and jubilation you wouldn't experience in any other setting".
The single is accompanied by B-side 'Winning Streak', which "laments Saturday night isolation staring at Marty Whelan's impressive moustache". Download it on Bandcamp.