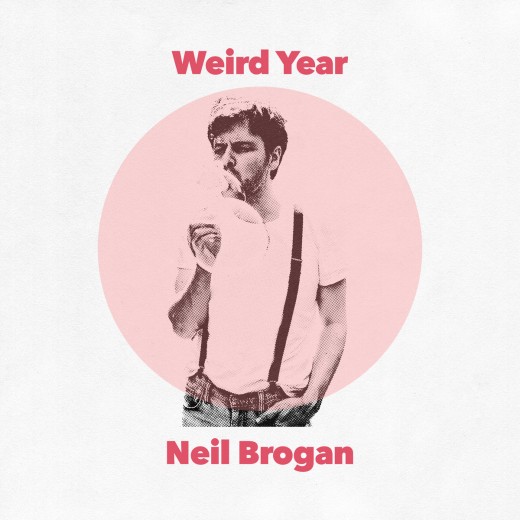 It was only this summer that Belfast jangle pop trio Sea Pinks announced they were calling it quits after ten years, but frontman Neil Brogan has wasted no time in readying solo material, with debut Life Itself already appearing a mere month after his old band's final EP Crocuses. Not that it should have come as any surprise. During their decade long run, Sea Pinks were always one of the most reliably prolific bands in the country, pumping out an impressive seven albums in that time on Brogan's own CF Records, initially as the frontman's bedroom recording project while drumming in post-punk group Girls Names, before he began taking the band's live lineup into a more professional studio from 2014's Dreaming Tracks onwards. Now on his own again, Brogan's solo material sees him return to his DIY roots, with enough material now built up for the full length Weird Year. 
Brogan shies away from calling Weird Year a debut album proper, preferring to consider the record a "song diary" of what has admittedly been a pretty weird year – the kind of "lockdown record" many artists have been piecing together to pass the time while stuck at home. As such, the record collects together both previously released material and hitherto unheard tracks, beginning with the four track Life Itself EP in its entirety. It also appropriately takes in special seasonal tracks for both Halloween and Christmas, both of which focus on the socially distanced changes those holidays have undergone in 2020. 
Though Brogan has mentioned harbouring the long held ambition to write a country album (his two EPs under the name Winterlude come closest, channelling hints of the alt-Americana of Will Oldham and Jason Molina), his first recordings under his own name don't stray too far from the formula long time listeners will be familiar with. Like those early Sea Pinks recordings, the tracks collected here are short, stripped back and primitive, minus the hiss and crackle. Brogan accompanies himself with only basic drum tracks, bass and guitar with minimal overdubs, although a cheap but appropriately nostalgic organ also crops up on the festive 'It's Christmas (With a Difference)'. The guitars jangle a little less now, but retain that trademark crisp tone, while putting enough distance from past work to prevent solo-Brogan from being a mere continuation of his old band – although the sun-kissed melody of 'For the Waves' sounds instantly both new and familiar, and would be perfectly at home on 2012 album Freak Waves.
Recording the tracks quickly as they were written, there's a sense of immediacy to these songs, captured before they were overthought – a system that can always lead to either lightning-in-a-bottle magic or unfulfilled potential. There are occasional blemishes and imperfections here that wouldn't be let out of a studio, but they only serve to add to the record's laid back, homespun charm, and 'Kitebird', the most fleshed out track here, is as good as anything Brogan has released before.
While opener '20/20' is full of optimistic assurances that "Everything will be ok", as the record progresses, Brogan grows ever more reflective and the pandemic begins to loom lyrically ever larger. The instantly catchy 'Neighbours', for example, is a cathartic airing of grievances about being locked down beside the inconsiderate residents next door and the resulting cabin fever. 'Hallowe'en is the Season', meanwhile, muses on the pointlessness of a scary holiday at a time when the real world is much more frightening, and even gets in a justified dig at the Covid conspiracy theories of one famous Belfast curmudgeon – "I'm gonna dress up as Van Morrison/Gonna wear a mask made of gammon and ham".
Compared to some of Brogan's most accomplished records, Weird Year feels a little slight, whizzing by in a mere 25 minutes, though it's hardly surprising given the record's spontaneous nature. A return to his early working methods but with the addition of a further decade's maturity, the end result is an instantly relatable document of a period that none of us will be able to forget in a hurry. Weird Year indeed. Cathal McBride