The Thin Air
Published on February 22nd, 2021 | by Danny Kilmartin
0
Black Country, New Road – For the first time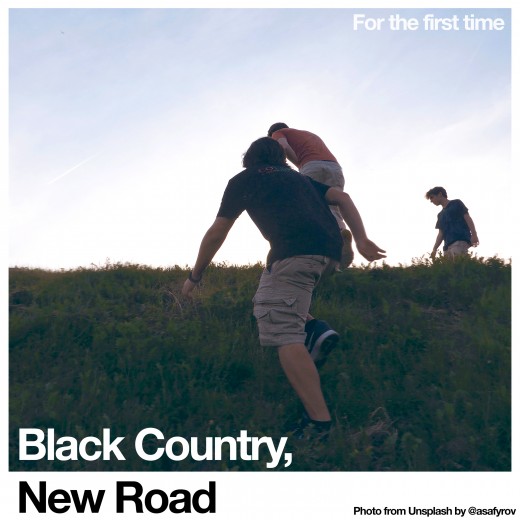 Overnight success is so hot right now, and Black Country, New Road are the latest craze. The sextet formed in Cambridge in the summer of 2018 from the ashes of another project. A performance at London's Brixton Windmill caught the attention of producer Dan Carey (Squid, Fontaines D.C., black midi), who swiftly ushered them into his studio in Streatham to record their debut single, 'Athens, France', released in January 2019.
The track, which boasted the best Slint riff this side of Spiderland alongside some striking saxophone and shimmering keys, inspired the usual music press hyperbole; the latest outpouring of praise for "the most interesting guitar band in the world right now", right off the back of their peers in black midi getting the same treatment the year before. And Squid and Shame before that. And Fontaines D.C and Girl Band before that. 
The plaudits only became more intense with the release of 'Sunglasses' later that same year. A near 10-minute prog rock epic, the song plays out an intriguing narrative over three acts, lyrically and musically. The first sees our narrator describes himself getting lost not in the six-part Danish drama he is watching, but in his own ruminations on how he is effectively becoming his rich girlfriend's father, resentful of all things lower class. As a descending saxophone lick comes crashing down around him, frontman Issac Wood bleats "I am ignorant now, with all that I have learned". An angular, staccato guitar riff signals the second act in which Wood attributes his newfound, ill-formed self-assuredness to his sunglasses, presenting a voyeuristic, downward punching take on his surroundings, befuddled by the young punks and afraid of working class youths but safely "locked away in a high-tech, wraparound, translucent blue-tinted fortress / And you cannot touch me".  The final act sees the angular guitars joined by looping sax, the music and melodramatic delivery from Wood growing in intensity with each repetition of the mantra "I'm more than adequate". The narrator's relationship has now completely broken down and he struggles to free himself from the snobbery and falseness he feels ensnared by. 
Opening with the intricate but groovy klezmer-influenced 'instrumental', which builds to a frantic sax-led climax, For the first time, comprises half a dozen songs (including new versions of those early singles), and clocks in at almost 41 minutes. A Issac Wood knowingly quips on 'Science Fair', there is more to Black Country, New Road than merely being "the world's second-best Slint tribute act. 'Athens, France' shakes its overt influences off before too long, while 'Science Fair' pits Luke Mark's jagged guitars against Lewis Evans' yakety sax and Georgia Ellery's spiralling violin.
While vocally mercurial and esoteric, there are tons of interesting lyrical ideas on For the first time. However, there are so many name drops and nudge-wink references present that it risks becoming grating. On 'Track X', Wood offers an oblique view on the candidly romantic. Against a cyclical guitar riff, twinkling synths and rustic strings, he offers intriguing biblical references ("I tried my best to stay afloat / After I sacrificed the goat / In your name, in the same room where we fucked as kids / With Abraham and Issac and all of my greatest hits"), but juxtaposes them with irritating scene-based inside jokes ("Dancing to Jerskin, I got down on my knees / I told you I loved you in front of black midi").
On 'Athens, France', Wood paraphrases Phoebe Bridgers' 'Motion Sickness' to make a self-deprecating joke ("Why don't you sing with an English accent? Well I guess it's too late to change it now") and follows this up with nods to his solo project, his current band, his old band. All of this through such a melodramatic, quivering filter, along with that other quip about being only the second best Slint tribute band, and the many variations on "it's Black Country out there", makes the meta-ness of it all seem a little bit too pleased with itself, as if it's winking at its own reflection. 
Black Country, New Road are undoubtedly accomplished musicians. For all the hype before a substantial release, however, one can't help but feel like For the first time is a bit of a disappointment. Sure, the album is a solid and at times compelling listen that runs jazz instrumentation through angular and unpredictable motifs, all with the absurdist prose of an unreliable narrator. In its worst moments, though, it's insincere, self-serving and esoteric for its own amusement. One can't help but feel like the band haven't quite figured themselves out yet, and seem content to lean on references to a scene they are all too aware they inhabit. In doing this, it seems to think that it's a very self-aware record. Annoyingly, it just as frequently seems like the opposite. Danny Kilmartin