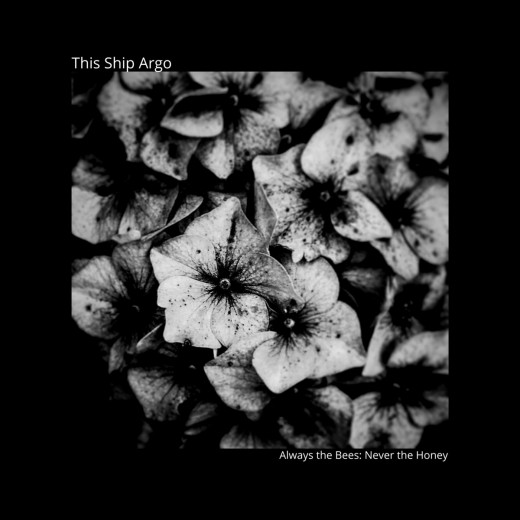 Belfast's Aileen McKenna, aka This Ship Argo, named her new album, Always the Bees: Never the Honey, after an old Irish curse: "May you find the bees but not the honey". With a vengeful origin encased in natural imagery, it is a fitting title for an album that dwells first on negative emotions, only to later dispel them through pastoral sonic escape.
The electronic compositions across these nine-tracks are deceptively low-key. McKenna includes a run of instrumental tracks in the first half, which reward close listening. She pays attention to each track's subtle development, with peripheral sounds reappearing as primary elements later in compositions. This is cohesive songwriting at its finest, which resists the temptation to use instruments and motifs as one-off effects, choosing instead to make each sound count and flourish. There is a skill to making minimalistic music say this much.
Opening track 'Why Are You Like This?' is also the album's most immediately approachable. Its bold refrain is as catchy as that of any chart-destined music, but it retains all the off-kilter components that would get sanded away in more conventional pop songs. McKenna wisely holds off on introducing any percussion until halfway through, delaying the expected catharsis and allowing the bubbling synth tension to build for maximum impact.
Vocals take a backseat after the stormy opener, the focus turning to McKenna's electronic arrangements. The impact of the human voice and the words it speaks is a theme on this album and so the sparing use of it is appropriately laconic: McKenna recognises the impact of a well-chosen sentence, and how its meaning is heightened by the silence that surrounds it. It helps that, in tracks like 'Hiding Like a Coward in the Smoke' and 'To Share a Burden', even the instrumentals sound like they are trying to speak.
McKenna is adept at choosing complimentary timbres, painting her instrumental tracks with squelchy bass lines and wavering sawtooth tones, cut across with treble boosters like bells/chimes and wordless choral vocals. This approach is captured in 'Overture for a Séance', a track built on a hopeful bassline, interrupted by noisy percussion, like a spirit's voice bursting through ghost box speakers. By the track's midpoint, these intrusions ease, and McKenna leaves the listener with warm, interlocking beeps and buzzes for company.
'Hum' is another vocal-led piece, centred on rich harmonies between McKenna's and layers of ethereal backing vocals. The track's title comes from the constancy of a person's voice lingering in memories, and the emotional effect that can have on someone's life. 
The impact of a voice is followed by a longing for nature's wordless comfort. This Ship Argo recognises the power of words, as well as the balm that makes them bearable: the sights and sounds of a world one can contemplate without participation. Beginning with its title and cover, Always the Bees: Never the Honey has a pastoral streak running along its computer grain. Twice the album pauses with the sound of the birds singing, accompanied by austere piano melodies. In 'Ballydorn', the lake is idealised as a place where true restfulness can be attained, with the synth sounds conjuring the cold water's icy, white noise rush.
Always the Bees: Never the Honey is a personal album, minimalist in execution. Its success is that, while it eases listeners in with a sense of familiarity, its compositions are far richer than a cursory listen can reveal. By paying attention to the individual voices of the instruments, Aileen McKenna has crafted an album worth exploring for its compositional depth, as well as its knowledge that a well-placed silence can allow meaningful lyrics to truly reverberate. Pádraic Grant