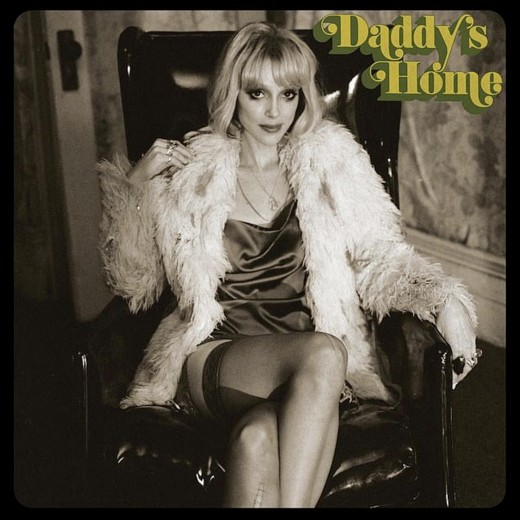 On her nostalgic new album, Daddy's Home, St. Vincent searches for herself, using a funky, '70s sound palette to examine themes of parenthood, power and incarceration. In contrast to the futuristic Masseducation, the artist's seventh album takes a step back in time, looking at the idea that more things change, the more they stay the same. 
Co-produced by Clark and Jack Antonoff, Daddy's Home explores a feeling of being lost without a sense of home, and sonically jumps to and from the past without a feeling of stability in either. Clark uses nostalgic techniques and stylistic cues to signify that one is not all too different from the other. 
Groovy opener 'Pay Your Way in Pain' delves into the notion of not conforming to the social constructs placed on women in their '30s, and exudes sensuality and strength with overarching themes of desire and self-doubt: "So I went to the park just to watch the little children/ The mothers saw my heels and they said I wasn't welcome/ So I, I went back home, I was feelin' kinda queasy/ But all the locks were changed, my baby wouldn't see me", she sings. Clark's powerful vocals express self-empowerment through an authoritative funk sound. 
Clark examines the crumbling of dated power structures throughout 2020 and 2021, alluding to police brutality and the revolt against it in 'The Melting of the Sun'. Clark has previously publicly criticised the US prison system, describing it as an "American tragedy". Opening with a bar room piano melody, the song quickly changes to a funky electronic sound, marrying the theme of the past and the present. Clark presents the similarities of eras through the lens of social upheaval, with lyrical and musical references to women through history who took a stand against oppression: "Brave Tori told her story/ Police said they couldn't catch the man/ And proud Nina got subpoenaed/ Singing, 'Mississippi, good goddamn'".
'Down and Out Downtown' leans into a slower pace, opening with a jazz style drum and guitar and tactile vocals that seem to reverberate through the listener. Meanwhile, the title track follows Clark's father's 10 year imprisonment for stock manipulation and his subsequent release. This story looms over the album, vaguely referenced throughout, but is only explored fully in this one track. Clark discussed her hesitation to write about personal experience in a recent interview with W magazine: "My father's incarceration was a story that was kind of told without my consent, but since it got out, I was like, well, I can write about it because I can tell it from my perspective, and with a sense of humour and compassion, and not be too Disney about it." 
The track's lyrics reflect the antagonistic relationship between Clark and her father: "I signed autographs in the visitation room/Waiting for you the last time inmate 502". Despite this, Clark is forgiving of her father, while simultaneously acknowledging the impact the situation had on her: "We're tight as a Bible with the pages stuck like glue/Yeah, you did some time/Well, I did some time too". 
The themes heard on the title track spread into the rest of the album, with references to the lasting effect of her father's absence on her view of her place in the world. In 'My Baby Wants a Baby', Clark explores the dissonance between what is expected of her as a woman and her reluctance, and even fear, of becoming a parent. The sounds of the '70s – Bowie, Prince, etc –  echo throughout, and are intended to reflect her father's own record collection, the sound of her childhood.
'My Baby Wants a Baby' explores the potential concerns of becoming a parent in the future, following the absence of a stable father figure in one's own life, and expresses the need to remain free: "But I wanna play guitar all day/Make all my meals in microwaves/Only dress up if I get paid/How can it be wrong?". 
Daddy's Home is theatrical in its sound, and the key explorations of these personal and social struggles only heighten this. The overarching feel of the album brings up images of flares, whiskey and jazz bars, while simultaneously exploring fear, anger and forgiveness.  Ciara Byrne