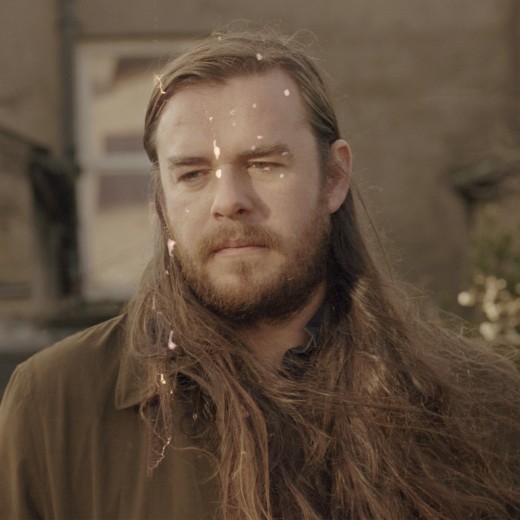 While Ireland's contemporary folk scene continues to go from strength to strength, London label Rough Trade must take some credit for bringing it to a wider audience beyond these shores. As well as releasing the past two Lankum albums on their main label, their burgeoning folk imprint River Lea has debuted with records by both Lisa O'Neill and Ye Vagabonds, and now brings us I Would Not Live Always, the debut from John Francis Flynn. 
Flynn has been a longtime member of Dublin five piece Skipper's Alley, with whom he's already released two albums of traditional covers, but his more experimental solo sets, including a stint on tour with Lankum, have made his own debut LP a long awaited prospect. He's joined here by a litany of guests, including Skipper's Alley bandmate and Slow Moving Clouds member Ultan O'Brien on violin, and Phil Christie of The Bonk and O Emperor on keys, among many others. 
Flynn Once again taking on a litany of traditional songs (plus two by Ewan MacColl), and the old anti-war ballad 'My Son Tim' – also performed under the name 'Mrs McGrath' by the likes of The Dubliners, Pete Seeger and even Bruce Springsteen – is here sung over a single repeating note to great effect. More and more drones begin to stirringly surround Flynn and raise the tension as the title character's mother rues her son's horrific injuries. 
Other tracks collected are more obscure. A more fleshed out take on 'Tralee Gaol' already appeared on Skipper's Alley's 2019 album The Oul Fip but it features again here in more minimal form, Flynn characteristically playing two tin whistles at once – one for melody, one for drone – accompanied this time only by a stamping foot.
While Flynn is already a captivating performer by himself, it's Brendan Jenkinson's stunning production that really sets this record apart from Flynn's other projects and contemporaries. While obviously deeply rooted in the traditional – many of these tracks date back centuries – there are elements of ambient electronic music and tape manipulation lurking in the background, which breathe new life into these old ballads. The background ambience of opener 'Lovely Joan' gives the impression of Christie Moore or Bert Jansch collaborating with Talk Talk. Drummer Ross Chaney has also come armed with a bag of loops and drones on his Tascam tape machine that give the album its unique flavour, lending his name to the short instrumental 'Chaney's Tape Dream', in which Flynn plays his whistles afresh over a manipulated and decaying loop of him doing the same.
All this comes to a head on the three part 'Bring Me Home' suite, specifically part 2, which serves as the album's title track and centrepiece. The sole lyrics "I would not live always/I ask not to stay/Where storm after storm/Rises dark o'er my way" are repeated insistently throughout, while bubbling synth loops and increasingly tense percussion represent the crashing thunder of that gathering storm to stunning effect. After four minutes it gives way to part 3, 'An Buachailín Bán', for which sean nós singer Saileog Ní Ceannabháin recites the lyrics in Irish while Flynn wails wordlessly over the top.
While Skipper's Alley sound like five people having a particularly good trad session in the corner of a pub, Flynn's solo debut is a different and altogether more unique beast. Successfully bridging the gap between the traditional and the modern, he's infused these old songs with a sense of personal intimacy, while his collaborators have crafted an expansive and unique world for them to live in. It's a hell of a beginning to his solo journey, and his next steps should prove equally fascinating. Cathal McBrid