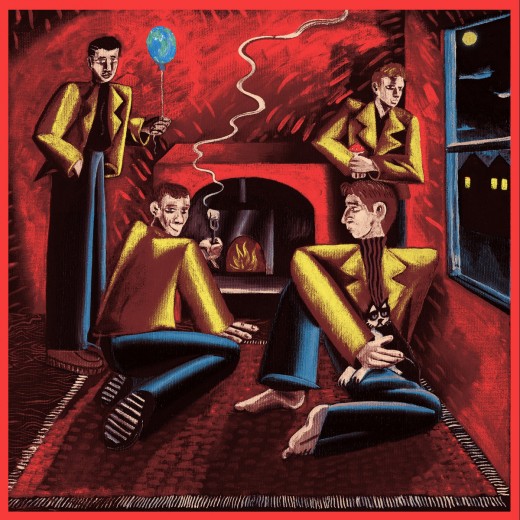 It was already evident from their slow drip of sporadic singles over the last five years that Horsey were a band lacking neither in ambition or invention, even if the inclination to get a record out seems not to have been a pressing concern. Their debut album, Debonair, is a little over 30 minutes long but within that span is a carnival cast of gonzo characters and leftfield sojourns.  The standard verse-chorus-bridge formula is accounted for, sure enough, but  what transpires between the first few seconds of a song and where it eventually winds up is anybody's guess.
If Jim Steinman and Danny Elfman had ever gotten together to make an oddball south London rock opera you might get some idea of the over-the-top cinematic brushstrokes that coat this album. Guitarist Jacob Read, who also operates under the solo moniker Jerkclub, and organist Theo McCabe assume a multitude of vocal identities, their natural singing voices becoming lost amid the transformations. During '1070', McCabe pulls off a near-perfect Jeff Buckley pastiche before the illusion is trashed with the comedic croon of "I'm not a romantic man/ But I got quite a large handspan". Immediately afterwards, a barrel organ rolls into a coarse scream of "you've spoiled the milk". 
The voice that delivers 'Clown' is  akin to Keith Moon's Uncle Ernie persona, as channelled through Ken Russell's lens in his film adaptation of The Who's Tommy. Truth be told, Russell is much more Horsey's style than either Steinman or Elfman – seedier, scattier and that bit more salacious: "Well I met a Frenchman/ He gets what he wants/ He shat on my head and then on my croissants".
The vaudevillian mayhem of Debonair encompasses a patchwork of distinct bizarro segments, cut through with sincerity and ingenuity.  At first listen, 'Lagoon' seems like the band at its most accessible and radio-friendly, until a brief interlude in which Animal Collective and The Unicorns might as well have shown up and joined the fun. Harmonies are layered toward a euphoric pirouette back into the song's lead motif, with Read lamenting his "body like a disrepaired and poorly made punk statue of a pear".
While this album gives Read more of a framework and an opportunity to cut loose than his solo material, it's his erstwhile collaborator, King Krule, brother of bassist, Jack Marshall, and bandmate of drummer, George Bass, who draws Debonair to its close. Krule aka Archy Marshall takes a guest vocal turn on 'Seahorse', the dusky, downbeat sign-off deftly marked apart from the preceding mid-album mischief and merriment by the thoughtful instrumental of 'Leaving Song'. Marshall's languid vocal stands in pronounced contrast to McCabe's and Read's chameleon-like metamorphoses, weary and wary as a guitar squeals underneath and the album claustrophobically unravels.
Horsey's first anarchic outing begins with the growling exuberance of 'Sippy Cup' and ends not too long after with that apocalyptic King Krule appearance.  In between reside a collection of short, mondo vignettes enlivened by the two singers' chaotic deliveries and the band twisting and turning every which way to match their non sequiturs. The presence of the odd ballad or low-key instrumental only adds to the overall sense of the absurd.  If this were a stage, the scenery would be chewed to ribbons but you'll be hard-pressed to get a more fun and entertaining album to salute goodbye to the summer. Justin McDaid