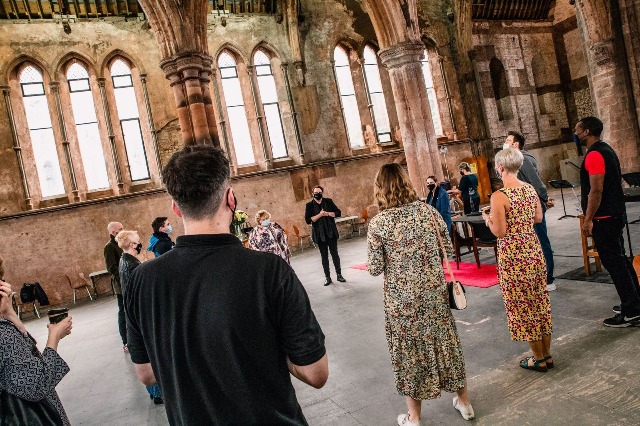 Storytelling on the grandest musical scale returns to Belfast when Northern Ireland Opera dusts itself off after a difficult eighteen months to present Giacomo Puccini's much-loved opera La Bohème.
This Parisian story of lust for life, of artists struggling to make ends meet and of uncertain futures, chimes loudly with these times.
For NI Opera's Artistic Director Cameron Menzies, who only took up the post in March, the road to La Bohème has been something of an opera in itself. "It's been extraordinary," the Australian laughs. "Yes, it's a massive undertaking but people have worked so hard, with such dedication and such passion to pull this off."
La Bohème, it turns out, was not Menzies initial choice of opera for his directorial debut with NI Opera, but Covid-19 and social distancing norms ruled out the Grand Opera House. For Menzies, the opera in question – which remains under wraps until 2022 – would simply not have worked elsewhere.
Like almost every other arts company in the world during the pandemic, NI Opera had little choice but to embrace the virtual performance realm.
Menzies, however, is in no doubt where the real deal lies. "We have had such great online content for the past eighteen months and that's wonderful, but there is nothing like real music-making. For me, opera changes the air that people are sitting in. You can't get that through a screen."
It might have continued that way into 2022 but for the steely determination of Menzies to overcome the obstacles and stage full-scale opera in all its majesty. "I was adamant that we were going to get a show on in 2021, with or without people. But we were doing it."
With baby steps, NI Opera ventured back into the real world of music for live audiences at the tail end of August with Puccini and a Pint, a small-scale performance of some of Puccini's great arias, in the intimate surroundings of The Orpheus Ballroom. Further live gigs followed at Antrim Castle and The Maritime Mile Festival – but nothing on the scale of a full-blown opera. La Bohème promises to get the opera company right back on track.
The venue for the NI Opera's first major opera in almost two years is the Carlise Memorial Church, a 19th century Methodist church that was abandoned as a place of worship in 1982. It is a venue that Menzies knows well.
"When I arrived in Belfast in March I put together  a film based on Irish art songs, and we filmed it in the Carlise Memorial Church – which I had actually found online while I was still living in Melbourne."
In fact, it was the character of the north Belfast venue, which sits at an interface between Protestant and Catholic communities, that dictated Menzies choice of opera.
"I kept thinking about  what that church looks like and what it feels like and who would inhabit that space and I thought, well, a bunch of out-of-work, struggling, poverty-stricken artists is not hard to imagine at the moment. I thought, actually, all those beautiful bohemians in that piece would work beautifully in a decaying old church. That's really how we came to be doing La Bohème."
This will be Menzies' third time directing La Bohème, following previous productions in Australia and London. This one, however, will be quite different.
"The moment I opened the score again I started looking at the heart of what this piece is, and it's about people trying to redefine their world, their way of being in that world and how they navigate that world. Well, that's exactly what we're all doing at the moment. We're desperately trying to work out what this world will be like post-pandemic. The thematic nature of the piece is absolutely aligned with what I think the world is looking at."
The banter and carousing of Puccini's four bohemian artists, the love story between Rodolfo and Mimi, the flirting between young men and women in the bustling Latin Quarter, are all reminders of the normal everyday interactions that have been so curtailed since Covid-19 reshaped the world.
"The need for human contact is so strong in this piece, you know, coming out of lockdown, coming out of isolation," Menzies explains. "Thematically, this is all too sadly relevant. That's how we really got to Bohème [sic]."
Paris' Latin Quarter remains the setting, but the period is another matter. "We are not setting it in its original period. Sometimes I feel that's a little too hard for people to truly connect with," Menzies suggests.
"It is set slightly later, just after World War I, because I think that's a time, again, where people were trying to redefine their world after the decimation of a generation of young people who had been lost in the war. I settled on the '20s because it's a beautiful era," Menzies explains, "but also politically and thematically it's aligned with where we are at."
Nor will it be lost on Belfast audiences that the period comes just after the devastating global pandemic that was the Spanish Flu.
NI Opera has pulled out all the stops for this production, constructing an impressive seating bank, a beautiful stage and a sunken orchestra pit. There is also one spectacular  feature, as Menzies explains: "We've built this massive, square passerelle which comes out from the stage so that the singers can actually come out and  really explore the space and really explore what it feels like to come towards an audience for certain moments."
Menzies cannot conceal his delight at the effect produced by the singers moving on the passerelle at the first rehearsal. "It really was thrilling."
Assembling the cast, of course, was a key concern. "I started looking at the sound and color of voices that I was looking for. I wanted a very youthful cast and a very youthful production, so I started putting these beautiful voices together."
American tenor Noah Stewart (Rodolfo) will be familiar to Belfast audiences following his  performance at Belfast's 2015 Proms in the Park, at the Titanic slipway. Making their debuts with NI Opera are English soprano Gemma Summerfield (Mimi) and Belfast-born soprano Emma Morwood (Musetta).
Ukrainian baritone Yuriy Yurchuk (Marcello) comes fresh from the Royal Opera House' own production of La Bohème. Baritone Aaron O'Hare (Schaunard) and Owen Lucas (Parpignol) both hail from Northern Ireland, while Edmund Danon (Colline) and English National Opera veteran Graeme Danby (Benoît /Alcindoro) round out the cast.
In addition, there will be sixteen local choristers and a thirty-two-piece orchestra. Normally, NI Opera would partner with the Ulster Orchestra, but Menzies instead took the logistically and artistically bold step of harnessing thirty-two freelance musicians.
"We have independently set out to create this production ourselves, so, we've taken on the hiring and the management of those thirty-two musicians. It's been wonderful to give players who aren't necessarily all full-time, salaried members of orchestras work as well."
Naturally enough, Menzies refers to the collective as the bohemians.  "It's a really wonderful troupe," he enthuses. "It's so wonderful just to be making live music with them."
Not just any music. Puccini's music. The back-to-back arias and duet in Act One are worth the price of admission alone. "It's pretty much one of the most iconic fifteen minutes in the entire operatic repertoire," Menzies concurs.
"The music is absolutely sublime," he continues. "It's a masterpiece in composition. But also, the narrative is very linear, it's very clear. Why has  it endured? I think you meet those four bohemians at the start within the first five minutes of the piece and they really do almost reach out and grab the audience's hand and pull them in. I think that's why it works."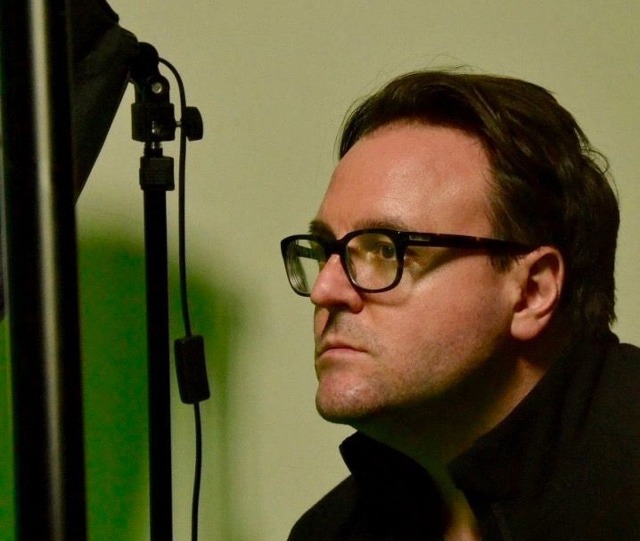 An element of opera that is almost as important as the quality of the singing is good acting. "Acting, for me, is a huge part of any opera. You cannot just stand and sing anymore and make beautiful noise. Especially in Bohème [sic]. It is not enough," says Menzies.
"There are parts of La Bohème where I bring the singers right out to in front of the orchestra on this passerelle, so the audience is very close. They would see any flicker of anything that is not real, so we've worked really hard on the relationships between people and what is driving these people to do what they do."
Certainly, the credibility of the performers can be the difference between the mundane and a truly moving operatic experience.
"Something I talk about a lot when I am working as a director in opera is that we have to also understand that the characters aren't singing. The actors are singing but the characters aren't in opera. It has to feel very real, even though it is exceptionally heightened."
Rehearsals have gone well but Covid restrictions have also made it a taxing experience, Menzies admits.
"It's been tough. We've rehearsed in masks every day to keep us as a safe as we can be. We've done testing every second day. It has been a huge process to keep ourselves on track and keep Covid outside our production," he explains.
"The singers are absolutely traumatized by having to sing in masks but not one of them has made a peep about it.  They're absolutely happy to be back working and it will be great to have an audience come back. I think it will be very emotional for everyone."
It is worth noting that the singers will not be wearing masks during the four performances, at least whilst on stage. "The moment that they leave the stage, where the audience won't see them, they will all be masked," Menzies clarifies. The audiences will be required to wear masks throughout.
All four nights of La Bohème are sold out. The response of Northern Irish opera lovers in these still difficult times has been encouraging for Menzies and his team.
"It's hugely important because as we all know you do these things for the audiences, for people to come and have an experience or to give people moments to think and reflect upon. The generosity and the energy and the passion of people to come back and see Northern Ireland Opera productions at work is so heartening."
To bring La Bohème before the Belfast public in the Carlise Memorial Church will have been a heroic effort. "I would say it's probably one of the biggest productions this company has ever done in terms of management," ventures Menzies. "We have booked, managed, contracted, organized every single thing that is in that church."
Menzies is full of praise for the entire team involved in the production.
"There are a lot of people involved that the audience won't even see because they are backstage and are doing their jobs out of the public eye. We cannot do without any single one of those people's dedication and passion and understanding. Everybody comes with such a desire to get back to work and such a desire to get back to storytelling. While it has been stressful, absolutely, and tiring, you are also really recharged by it. I am so proud to be working with this group of people."
For opera-starved fans, NI Opera's La Bohème will seem like mana from heaven. For Menzies too. "It's my debut in Belfast and it's thrilling. I cannot wait to open the doors and let the audience in."
Northern Ireland Opera presents La Bohème in the Carlise Memorial Church on the 18th, 20th, 23rd and 25th of September.
Photo Credits: Cameron Menzies courtesy of Ian Campbell
All other pictures courtesy of @lostlenscap