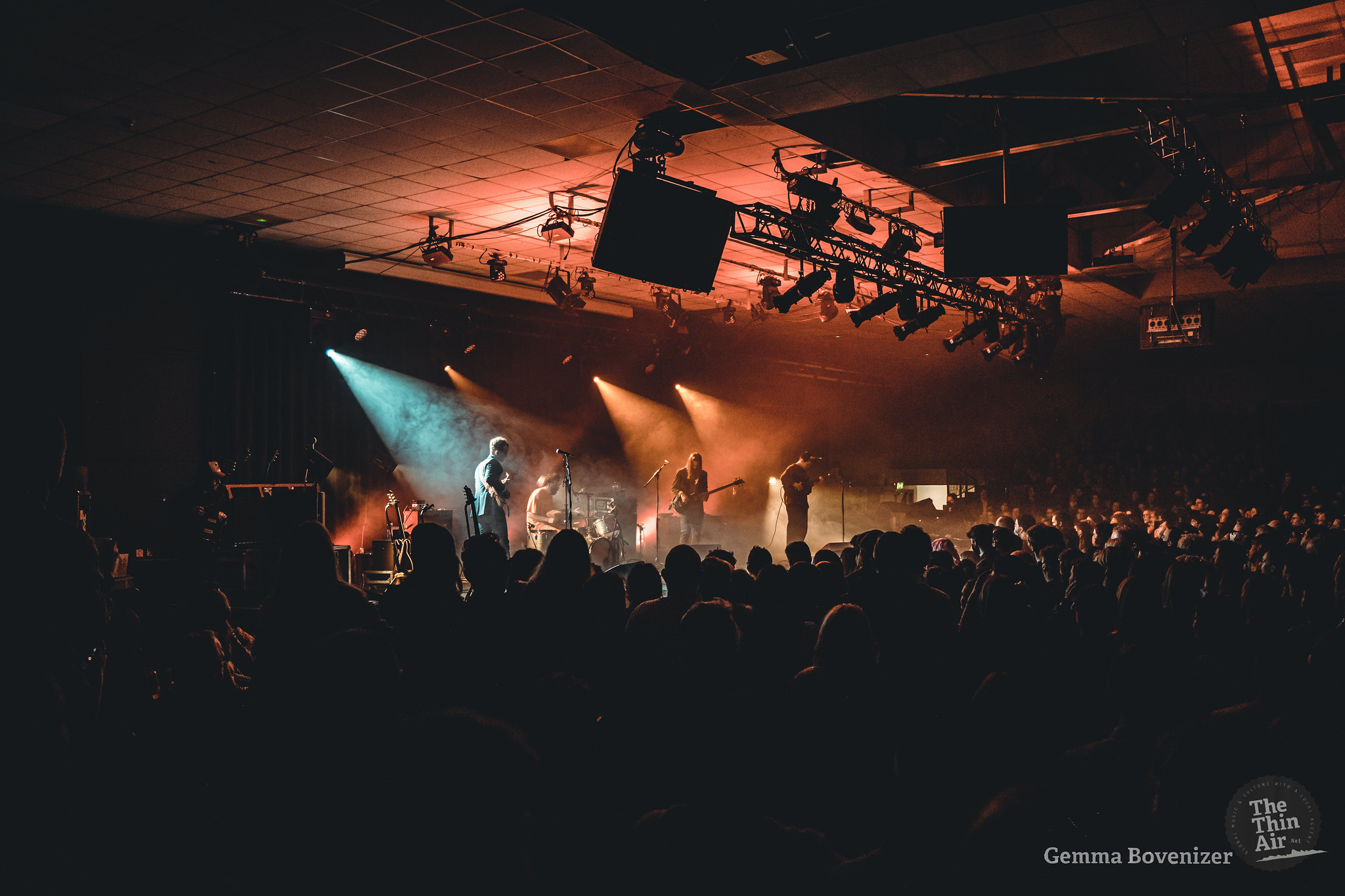 Carrying five albums in just seven years under their belt, Big Thief weigh in at the endearingly well-worn National Boxing Stadium with the towel very much not-thrown.

Following warm-up act KMRU's opening platform of ambient environmental sounds the stage set-up is minimal. Additional instrumentation of fiddle, jaw harp, and piano featured on Big Thief's latest album are nowhere to be seen tonight. This is a group with full confidence in the intimacy and connectedness of its core membership.

Adrianne Lenker and guitarist Buck Meek are at opposite ends of the stage. James Krivchenia's drums are positioned centrally and he is hard to miss in a full fluorescent orange outfit. Bassist Max Oleartchik's bare chest-and-blazer look is understated in comparison. It's a predictable parallel perhaps, but Krivchenia's playing style, on-point backing vocals (not to mention lead production duties on the new record) are reminiscent of Levon Helm's pivotal role in The Band.

What more can be said about Lenker's immeasurable talent that hasn't already been expressed elsewhere? It is a privilege to witness this incredible artist up close. Universal meditations on death, time and existence itself are woven into tactile, tender songs where they are stared down, touched, and toyed with. Such playfulness might sound cloying if it wasn't delivered with such direct earnestness.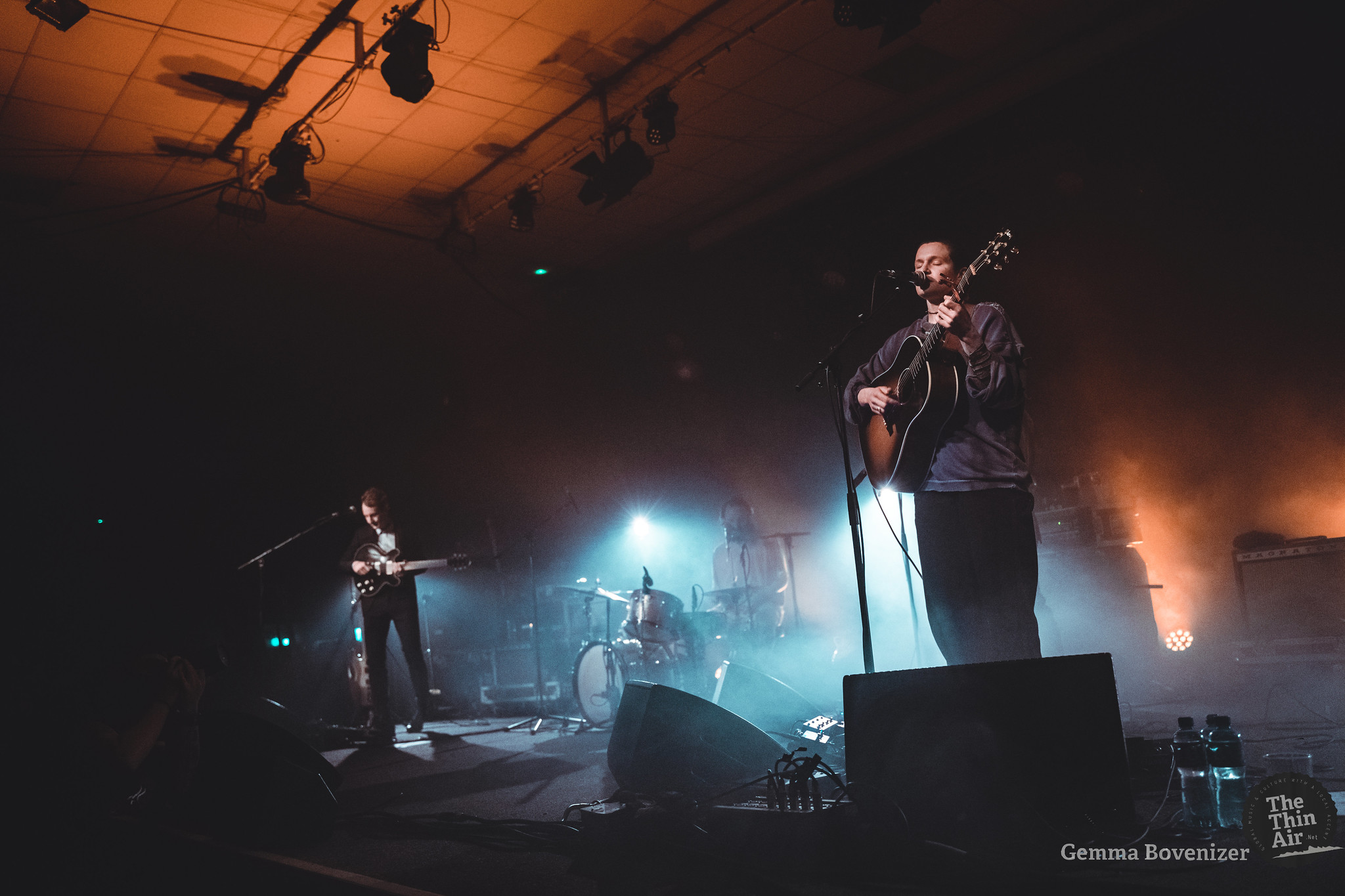 Meek and Lenker's roots performing as a folk duo in Brooklyn are evident in the close harmonies of the devastating 'Dried Roses' – the evening's quietest moment that almost gets lost in the Saturday night buzz of the sold-out crowd. Like Lenker, Meek is an established solo artist, as well as an in-demand session guitarist who recently played in Bob Dylan's band. An untitled song of his own springs up during the encore immediately after Lenker's delicate performance of 'Zombie Girl' from her 2020 solo record Songs and Instrumentals.

New record Dragon New Warm Mountain I Believe In You anchors tonight's show, taking up more than half of the setlist. This is not a risk. The sold-out crowd welcomes each song as if it has been in existence for far longer than the two weeks since the album's release or the year-long drip-feed of singles online. Dragon is an intoxicating, sprawling set of songs that makes for a well-paced set. New songs are already being re-interpreted too. The swirling folk of the title track takes on an electrified, spiky new form that feels completely spontaneous.

Breakout song 'Not' from 2019's Two Hands gets an early outing and closes with long, guttural feedback-drenched soloing from Lenker that might sound derivative if the band was visibility going through the motions. Instead there is a sense that no-one quite knows where this is heading.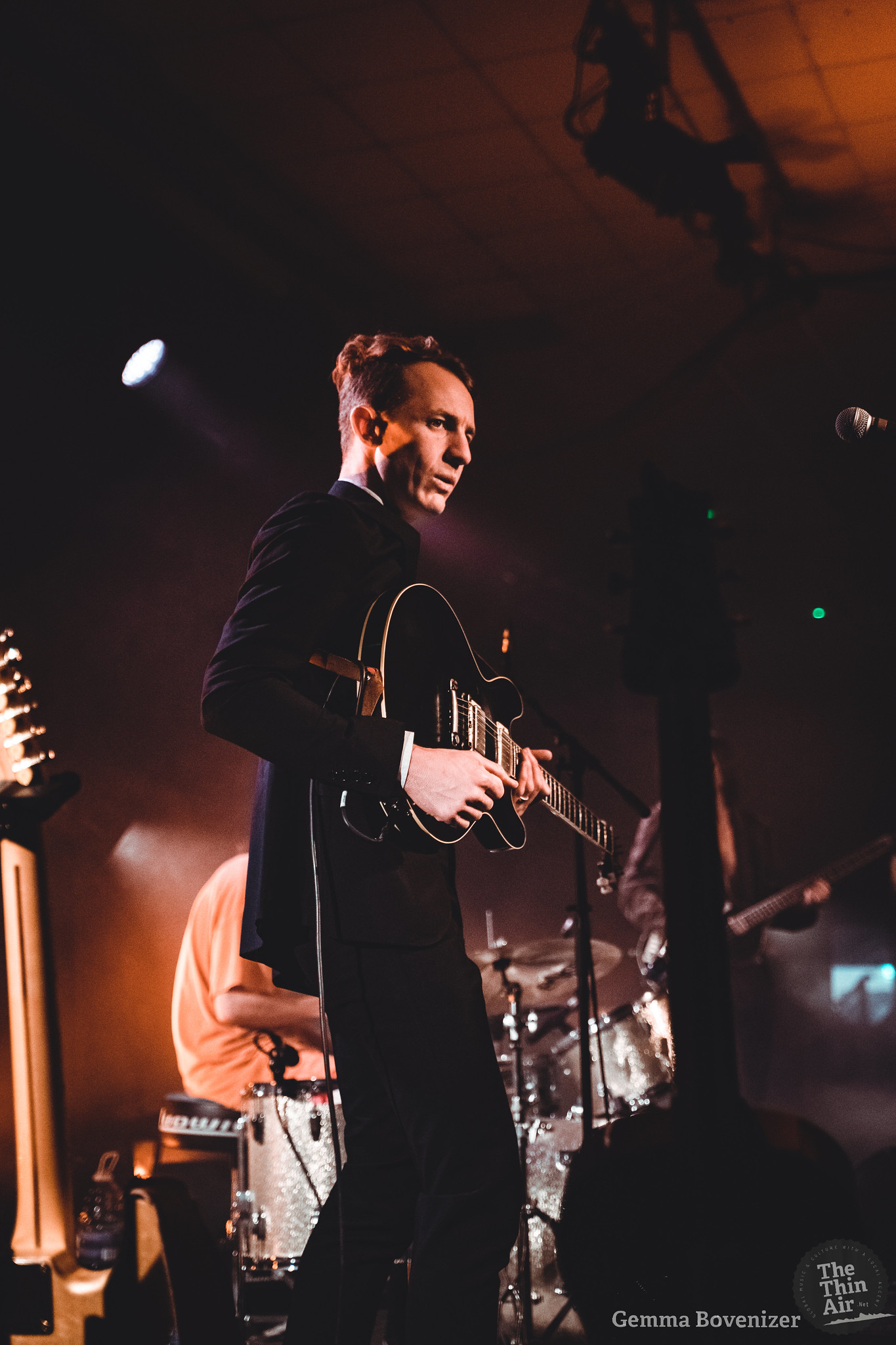 It doesn't always quite come off. Closing encore 'Simulation Swarm' stumbles abruptly when the occasion called for something more and the country-tinged 'Red Moon' bobs up and down in response to the crowd before the band seem to realise there is nowhere else to take it. That sense of uncertainty for both performer and audience is a rare thrill.
Selections from Masterpiece, Capacity and UFOF are rare and spread out. Such is the strength of the new material that their set doesn't feel any poorer for this. However the most stunning moment is an electric guitar driven rendition of 'Mary' from 2016. This song's tumbling sugar rush of resilience and recovery, of lyrical imagery too striking to take in over one listen, is utterly intoxicating and perhaps the ultimate distillation of why this band is so special.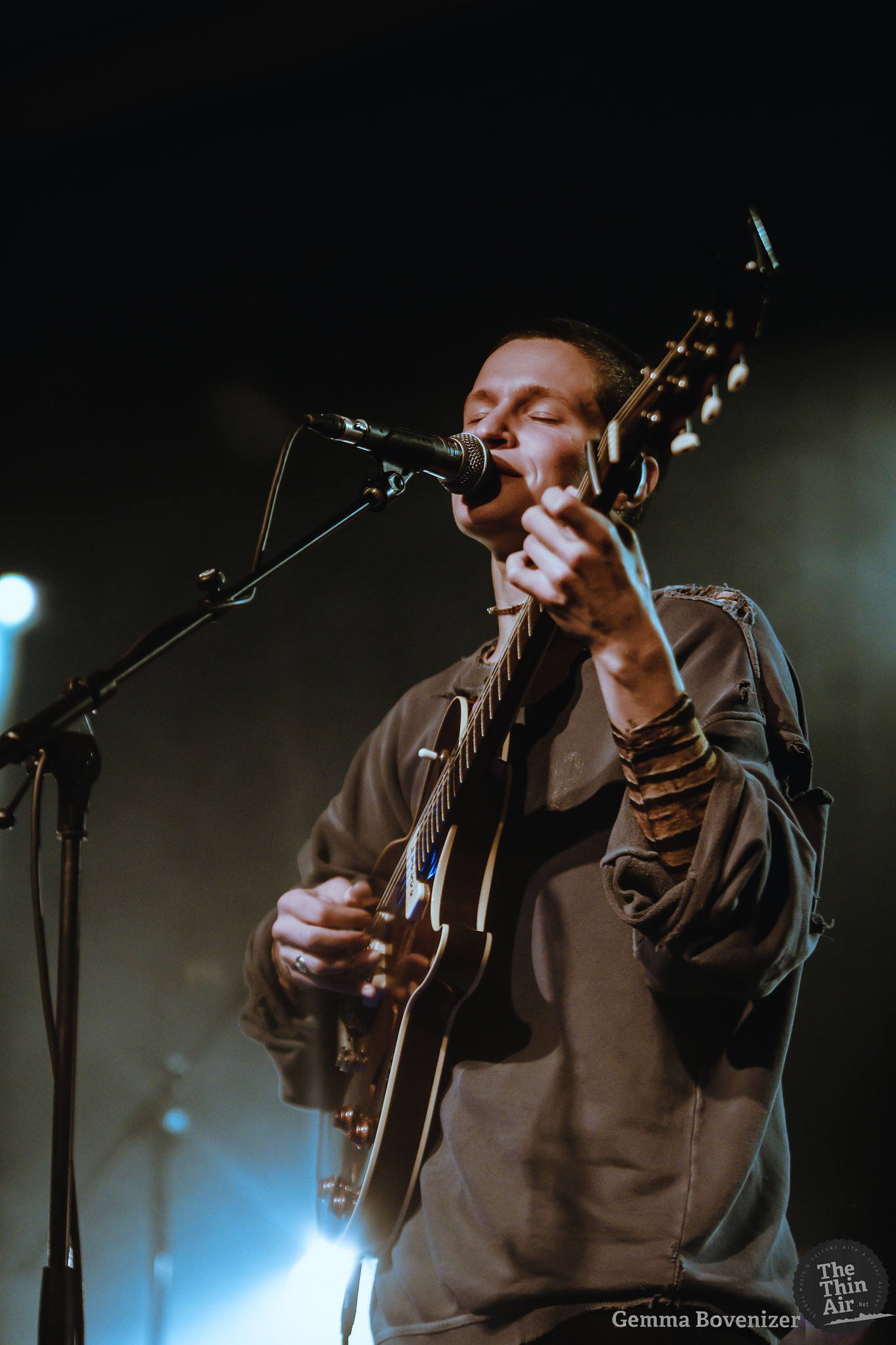 The homemade percussion of 'Time Escaping' is recreated faithfully on stage with Meek and Lenker's duelling acoustic guitars – patiently taking time to build its rhythmic base like they are working out the song for the first time. Just when it sounds like the song is falling apart the full band clicks. Unhindered by the confines of the traditional folk-rock form, Big Thief's unburdened magic is still escaping. Jonny Currie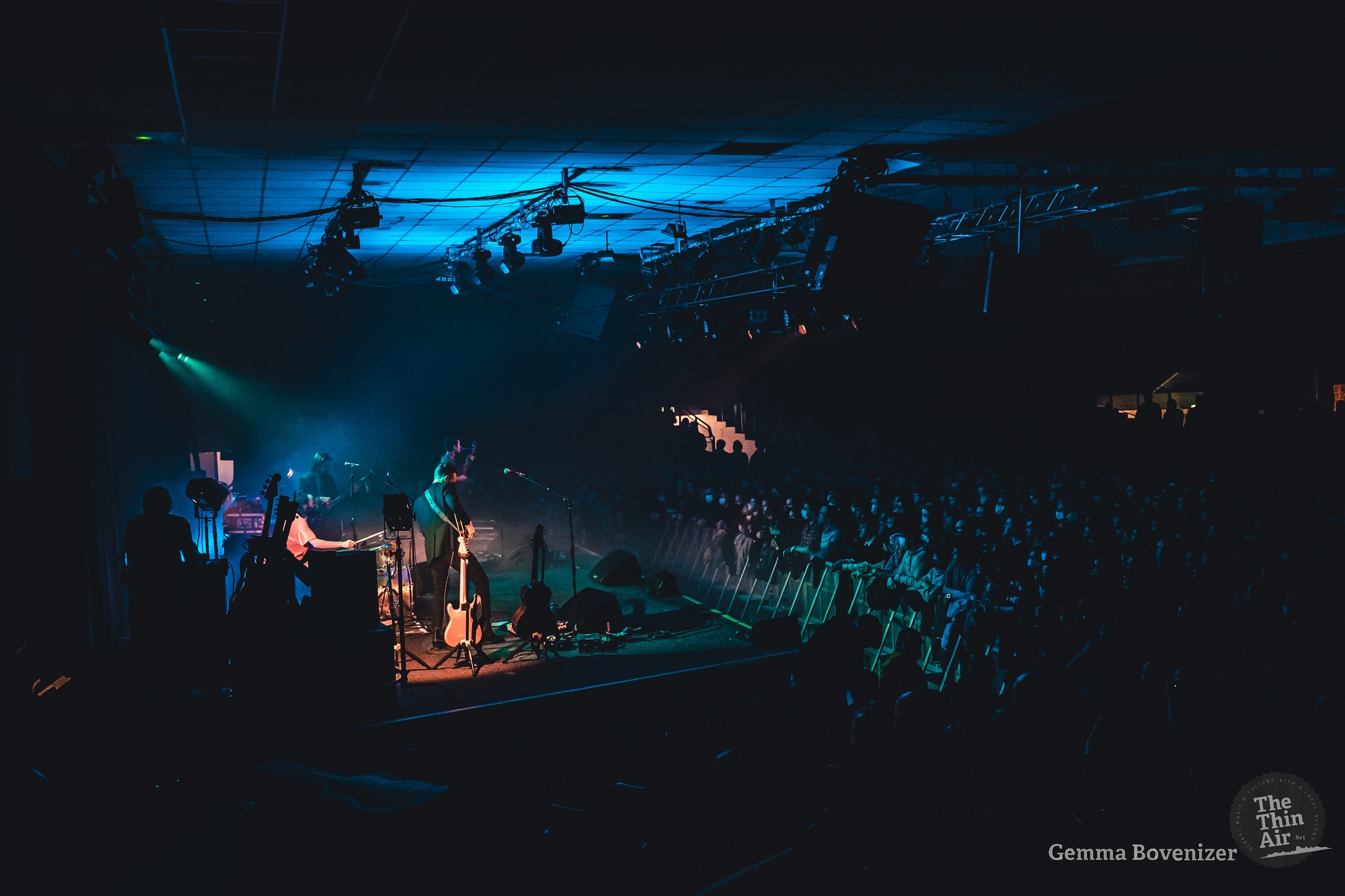 Photos by Gemma Bovenizer