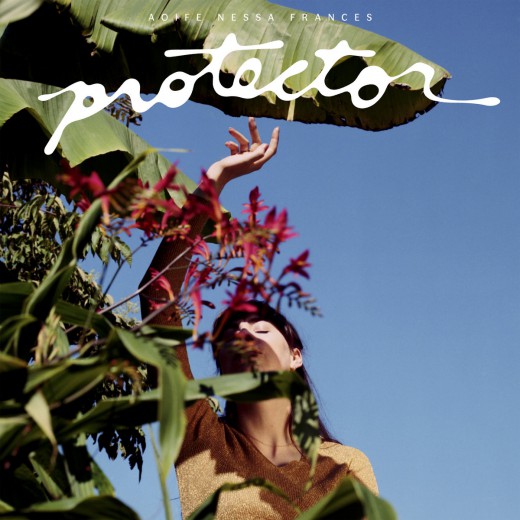 In the spring of 2020, Aoife Nessa Frances escaped Dublin for the west of Ireland, relocating to county Clare on a mission to reconnect with nature and rebuild herself spiritually in the aftermath of her much acclaimed debut Land Of No Junction. The result of this journey of restoration and self-discovery is her remarkable second album, Protector. Recorded in the foothills of Annascaul, a small village located on the Dingle Peninsula at the westernmost point of Ireland and Europe, it's a dreamlike trip that blossoms and evolves across eight tracks of psychedelic folk rock.
'Way To Say Goodbye' welcomes us in with a breezy layer of guitar atop a soft horn arrangement; it sets the tone for Protector in hypnotic style, with Frances writing of "endings and a new beginning'' as she details the difficulty of finishing a relationship that has lasted too long. It's a fitting opener, with its juxtaposition of warm melodies with darker emotional narratives occurring again and again throughout. 
The playfully groovy club jazz of 'Emptiness Follows' finds Frances contemplating disconnected friendships, while 'Soft Lines' is a glowing ballad in which Frances reveals her most vulnerable self, singing of an unattainable love. There is an earnestness in the Dubliner's songwriting throughout this record that was not quite as evident previously. The subversive lyrical passages that defined Land Of No Junction are replaced with a directness that sacrifices none of the poetry and sharp wit with which she made her name.
In fact, this emotional honesty only reinforces the wisdom that Frances gained during the creation process of Protector. Her introspective musings allow plenty of light to outweigh the darker ruminations at play. The meandering guitar lines and organ-style keys of 'Chariot' complement Frances' lyrics, which celebrate her close bonds with friends and family, with whom she drove on country roads and swam in lakes that summer in Clare. 
'This Still Life' lingers in the harmony that Frances found in the tranquil surroundings that gave her such peace of mind while writing and recording the LP. Instrumentally, the track captures Protector's shimmering psychedelia better than almost any other, with the single exception of the majestic, seven-minute 'Only Child'. The spectacular centrepiece feels purposely placed to divide the record into two distinct halves, very much in the style of the records and tapes that Protector's gloriously retro soundscapes hearken back to. Taking its sweet time to build from its stripped-back opening, the track erupts with a vivid orchestra of harp, strings and horns and perfectly encapsulates the healing sensations that Frances channeled into Protector; it distills the cathartic bliss the album gifts its listener in turn. 
An impressive evolution both in scope and sound, Protector casts Aoife Nessa Frances' music in an extraordinary new light. It's  a privilege to behold. Andrew Lambert