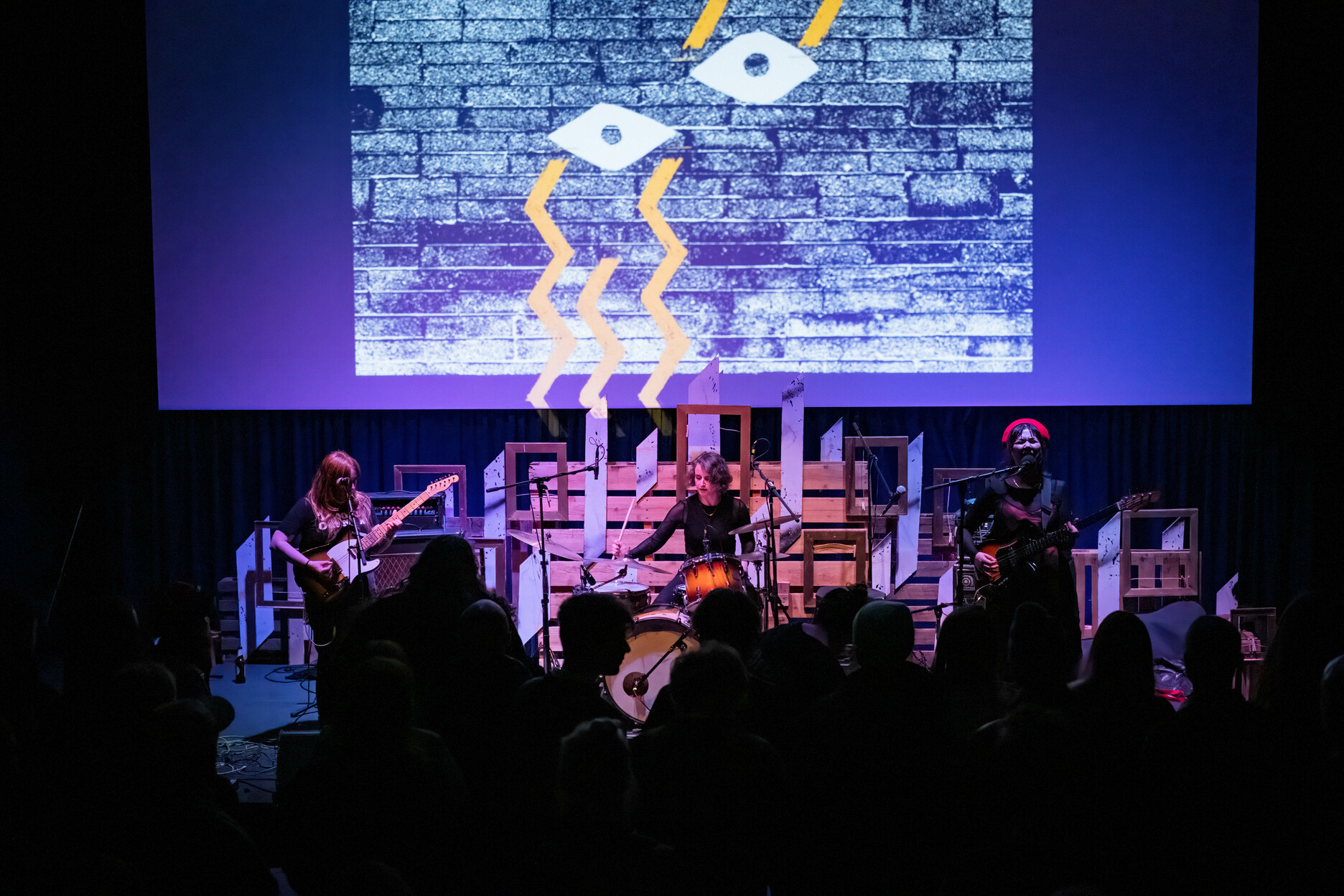 Extravision member, photographer and ddr. resident Leigh Arthur reports back from Day One of this year's Spilt Milk festival in Sligo
I stood a Johnny Ramone stance around a pile of drum breakables, guitar cases and overnight bags, as Seán Goucher of the Number Ones pointed over to a shelf in the newsagents of Connolly Station. "There's Jen Connell". The former Cave Ghosts singer was not stocking up on train snacks to come with us, but instead was being celebrated on the cover of House and Home magazine. I remember seeing Cave Ghosts in The Stag's Head years ago with September Girls, three of whom have started families and so, I don't get to see them as much as I'd like anymore. Jen reminds me how times have changed in the 10 years since that gig, but it's always nice to see friends evolving and doing well whether through their Instagram stories or physical print.
The three other Ones entered the train station and joined myself and Sarah from Extravision on the Irish Rails to Sligeach. We travelled separately from the backline which was making its way from the Karate Club in Phibsboro to The Model in Sligo by way of Snake bassist Legs' van. As a Vancouverite, Legs was not intimidated by a mere 3-hour journey across Ireland on the M, and subsequently, the N4 with their bandmates.
Having arrived in Connacht, myself and Sarah downed bitter coffee at a riverside cafe that was never going to fill the void that the closure of Sweet Beats Cafe had left for this visiting vegan. Alas, we went to soundcheck and reunited with Aoife who has been spending her days running gigs and the cafe Fulacht Fiadh in Manorhamilton. Fulacht Fiadh cafe is not to be confused with Fulacht Fiadh, the cosmic synth druid, who was to perform on Sunday afternoon. The only connections between them are a love of the DIY scene and undying respect and awe for our Celtic ancestry. Could you blame them?
Snake appeared as we soundchecked our final song. Devin Rocks, the owner of an incredible non-stagename name, was bathed in purple light as he two-stepped across the floor. Karen Browett's artwork was projected floor to ceiling behind the stage, as well as throughout the Model and across the fest merch. It features cutout eyes and a wall motif that echoes elements from her lockdown artwork. There was a cathartic poetry in the fullness of the festival crowd, standing as far from the projected wall imagery as Karen had during two years of isolation from the real thing. This was a cherry on top of the manic-immediacy of her performance fronting her new hardcore punk band.
Declan Synott had opened the festival just before this, hypnotising us with slow, flowing and spacious tones. The ending of his performance was crowned by an intense pose, holding onto the dials in what seemed like silence, or was this silence? The audience stood still, respectful of the artist who, after 2 minutes or so, released the dials to tell us he just wanted to see what we would do.
In this post-lockdown but 'living among covid' era, every gig feels like a reunion. When I first saw the crowd of familiar faces in the bar, many of whom I have been going to gigs with for years, somehow "how are you?" felt like a question I was unprepared for. How long had it really been since the last time I had seen my friends face-to-face? I couldn't tell anymore. Socials blur the line between what I know about my friends' lives and what they've actually told me. I've missed the community and routines surrounding the old music scene in Ireland, which still haven't returned to their previous levels. Making music and putting on gigs was such a lifeline to me that was taken away for two years. In learning to live without, I forgot how to blend back into it so easily, but maybe that was the pre-gig nerves talking.
I had already seen the new The Number Ones line-up play at Static Shock Weekend in London this year and was excited to see them play new songs on home ground. The power-pop foursome always deliver on earworm tunes and their signature improvisational theatre that feels as though you are but a fly on the wall in their practice space. Post-punk rockers Extravision played next, and as a participant of the band I can only give a biassed review of our set and especially one I can quote on our Breaking Tunes. So, here it goes. Extravision are 11/10, fucking brilliant!
If there is a perception in the mainstream, that musicians are egotistical cunts, it must be in part due to their disconnection from local and independent music scenes. The end of the last paragraph aside, there is no sign of that atmosphere at Spilt Milk Fest. The generous hosts Edel and Dany of Binder have curated a thorough and admirable three-day festival, driven by a desire to celebrate new and established music of many forms being made in Ireland.
We need people like Binder pushing ahead with events like these to revive the connections between communities we lost or let go of over the hard times. Without easy access to autonomous or understanding venues, independent festivals free of corporate sponsorship can feel like an impossible task. That is something that was made to look easy this weekend. While it may rain torrentially every time I've been to Sligo, there is no use crying over it, as I happily await the next Spilt Milk Fest. Leigh Arthur
Pictured top: Extravision
Photos by Cían Flynn and Leigh Arthur
Extravision & more play the DIY Punk Fest at Mono's Bar at Bohemian Football Club in Dublin tomorrow, Saturday, 26th November. Tickets on door