Live Reviews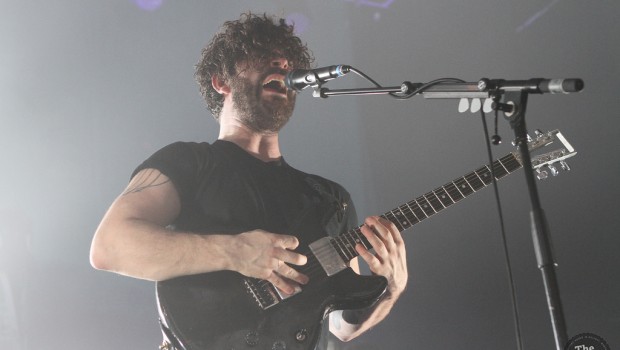 Published on February 10th, 2014 | by James Hendicott
0
Foals @ The Olympia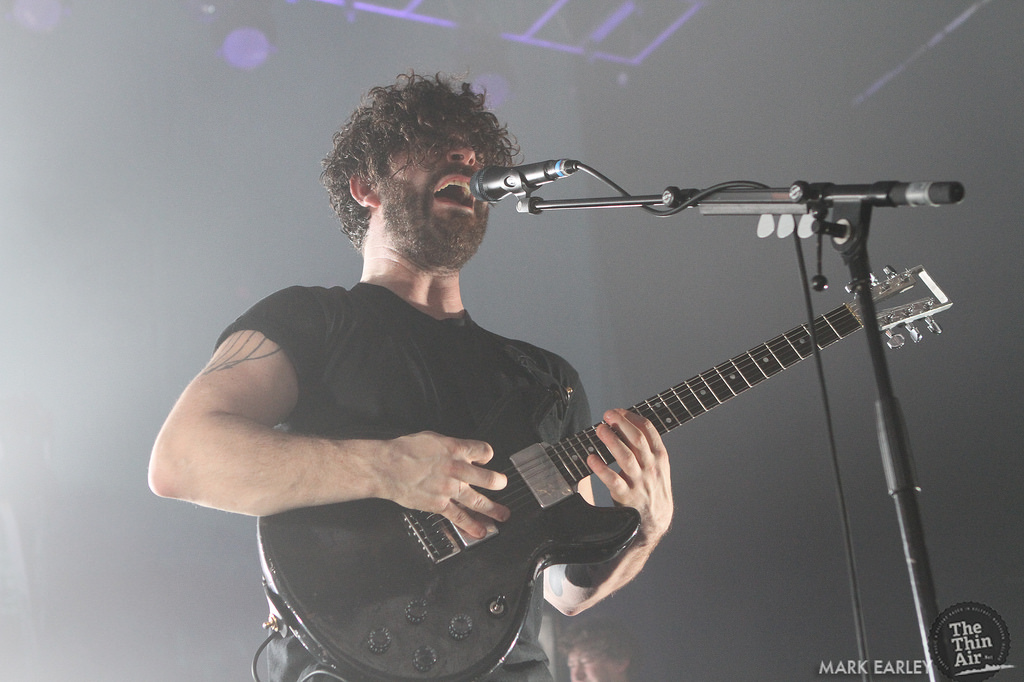 Last time Foals played Dublin's Olympia Theatre, eccentric frontman Yannick Philippakis took a wobbling stroll around the outer rim of the second floor balcony, pulling hip-swinging moves through the encore as he clung on with one hand. We can only assume the Olympia's insurance company wasn't in attendance: had they been, tonight might well have been subject to a safety veto.
Foals, clearly, don't do anything by halves. Emerging into a theatre borderline steaming from the storm outside, they firmly boot things into gear with a 'Total Life Forever', 'Miami' and 'My Number' trifecta, the singles launching a sing-along that kicks into gear before Philippakis emerges from behind the Olympia's velvet curtains. Proceedings quickly take on a pulsating feel: Foals have certainly tucked into their pre-show Red Bull, and spend 'My Number' working through their repertoire of guitar face-offs, drum leaps and lofty crescendos.
The cleverly-padded math-rock sound, in fact, clearly works better live. 'Blue Blood' and a slow-building 'Spanish Sahara' (complete with an unprompted pre-chorus audience sit down) are solid left-field rock songs on record, but take on added dimensions in the flesh, with swirling drums and angst-laden guitar almost flirting in an energetic brace, backed up with a brash, confident showmanship.
We have to take a moment to delve into the lighting, too. Foals have clearly grown to love their newly-introduced lasers, but they're also subtly deployed: not the all-out retina burn that's become something of a gig default, but a diffuse, textured beam for 'Total Life Forever', followed by a dance off from the lights fantastic during 'Spanish Sahara' and a shower-aping laser curtain for 'Late Night' and 'Inhaler'. It's clearly well thought out, achieving enviable atmosphere rather than gaudy excess, and drenching the stage in bounce-along colour.
The music does more than enough of the talking, though. Perhaps the most boisterous live expansion is pre-encore set-closer 'Inhaler'. Bought to life through a curtain of lasers overlapping a Cobain-channelling roar "can you not go away?", and building from a plodding bleep to a pulsating climax. 'Olympic Airways' sprinkling of electronica marked a smart pace change, while 'Red Socks, Pugie' achieves a sloppy punk-edged feel without ever missing a note, and is greeted with a scrum at front centre.
When it comes to the encore, Philippakis is back to channelling his inner rock climber. Drummer Jack Bevan is stood over his kit bashing sticks off each other for the umpteenth time after delivering a solo intro to 'Hummer', before 'Two Steps, Twice' tops things off on a massive high. At the heart of an extended instrumental, the frontman takes his venue clambering up one more level and throw himself wildly from a stage side box – an easy six feet down – into the boisterous throngs below.
Foals have always been known for their vibrant live shows, and with frontman and drummer on particularly fine form, it's hard to pick holes in tonight, personal set list preferences aside. The Oxford lads clearly have their hearts set on adapting live, twisting the record with math-rock beats and atmospheric solos. They're still perhaps a massive single or two short of an arena tour, but as long as relatively small venues are given a foundation-bothering going over like tonight, only those stuck out in the rain are missing out. James Hendicott
Check out Mark Earley's photos from the show here.