Live Reviews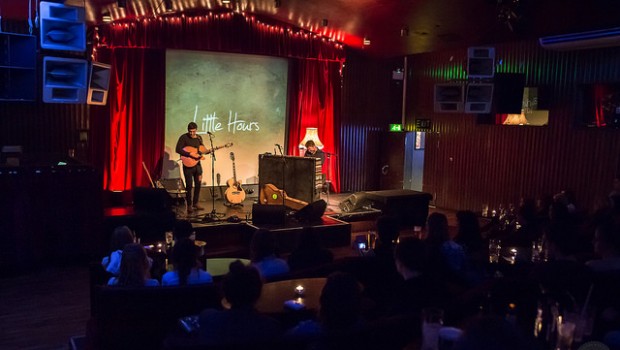 Published on December 1st, 2014 | by Joe Madsen
0
Little Hours w/ Bairbre Anne @ The Sugar Club, Dublin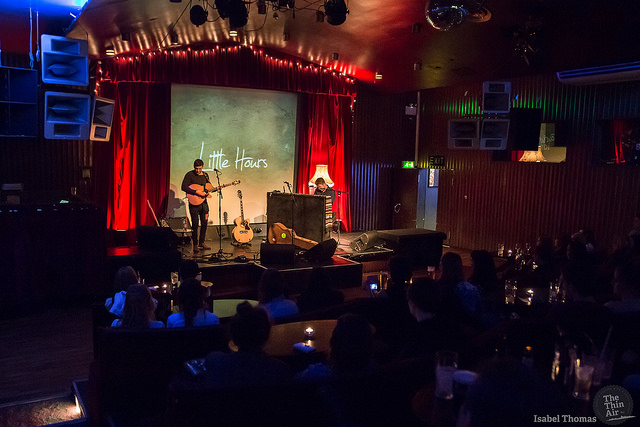 Serving up a sumptous set of folk-pop sound, the up-and-coming Little Hours delighted Dublin's Sugar Club with their first headlining gig and eponymous EP launch on Thursday evening. The Donegal duo dazzled the house with a fresh array of work that's garnered them a worthy following since the release of their first single 'It's Still Love' in June, including a respectable line-up of support acts to play their momentous evening as well. The show was a night of new artists who toil, and an impressive one, at that.
Kicking off the evening's line-up was Dublin's own Bairbre Anne, promoting new EP Arrows. Accompanied only by her seamless skills on the piano, this lovely songstress provided powerful vocals which sank easily over a mellow arrangement of soulful pop. While some of her songs blended together in unremarkable fashion, her foreboding voice carried beautifully over Sugar Club's Vegas showroom. Followed by Niki Pollock's moody guitar rhythms with humorously heartfelt lyrics from the gut (re: "Stop fucking my friends"), the show teased its restless audience for the main course to come. A chatty house they were proving to be, but silenced they were at Little Hours' entrance.
Quietly, yet confidently marching into 'Tired' off the new EP, the duo won immediate song recognition from the house as their loyal fans erupted into familiar cheers – quite the start to a first headlining gig. With lead-singer John Doherty on piano and Ryan McCloskey on acoustic guitar, the pair set the show's precedent with a beautiful blend of harmonics that sung perfectly to the acoustics of the space. The only sound heard during this first song's piano riffs was the clinking of ice in drinks, with rapt attention anything but scarce. Little Hours sparked a sound that was sweetly startling.
Throughout the show, Doherty delivered his endearing but sincere voice through thoughtfully pithy lyrics with McCloskey providing a subtle bastion of support. Their velvet vocals laced their country-folk rhythms with smooth flavours of pop in heady tracks like 'Crossfire.' Watching Doherty's animated facial expressions during high-octave progressions or McCloskey's fiery knack for filling the sound of a two-piece set like a cornucopia made for a captivating chance to see a pair just learning who they are as a live act.
Their equilibrium and comfort with one another was vividly natural and put the audience at ease. The house could not have been more enthused at hearing brand new tracks such as 'Sails,' which made the evening all the more exciting. By inviting their guests to share in their career's nascent developments, Doherty and McCloskey brought the audience in on the ride of their whirlwind year and, in doing so, gave them a huge message of thanks for their admiration and support. From playing first hit 'It's Still Love' with the same enthusiasm as when it was just released in June, to showing off new stylistic choices in the blending of electric and acoustic guitars in some numbers, the fun had by Little Hours onstage was infectious and by far the most integral element to the success of their night. Born performers, the two knew that audience and artist couldn't get enough of each other.
Even ending the set with the beautifully wrought 'Ember' would not satisfy the house as they rose from their musky showroom seats to demand an encore, a demand to which McCloskey and Doherty immediately acquiesced. Providing a completely stripped down, rearranged send-off in Christmas carol 'Let It Snow,' the pair showed off their musical aptitude to recognise and revisualise, revamping the arrangement and adding new depth to already familiar lyrics. Perhaps this was a subtle nod to their cover-band beginnings.
An exciting year has seen Little Hours rise quickly with a rapidly growing group of followers. Their fledgling fan base is well earned and will be well kept should this performance be their precedent. If this premiere headlining act speaks at all to the future of the band, all would do well to keep a close eye on this excitingly charming duo and the briliant sincerity they bring to their sound. Joe Madsen
Photos by Isabel Thomas.