Features
Published on March 31st, 2015 | by Brian Coney
0
All Tvvins Irish Tour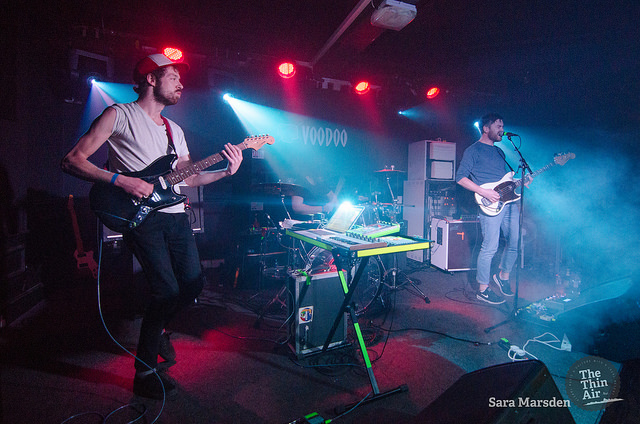 In our latest Irish tour feature, our photographers Sara Marsden and Aaron Corr, and writers Cathal McBride and Eoin Murray, report back from All Tvvins' Dublin, Galway and Belfast shows at the weekend.
Whelan's, Dublin
Wednesday, March 25.
Photos by Aaron Corr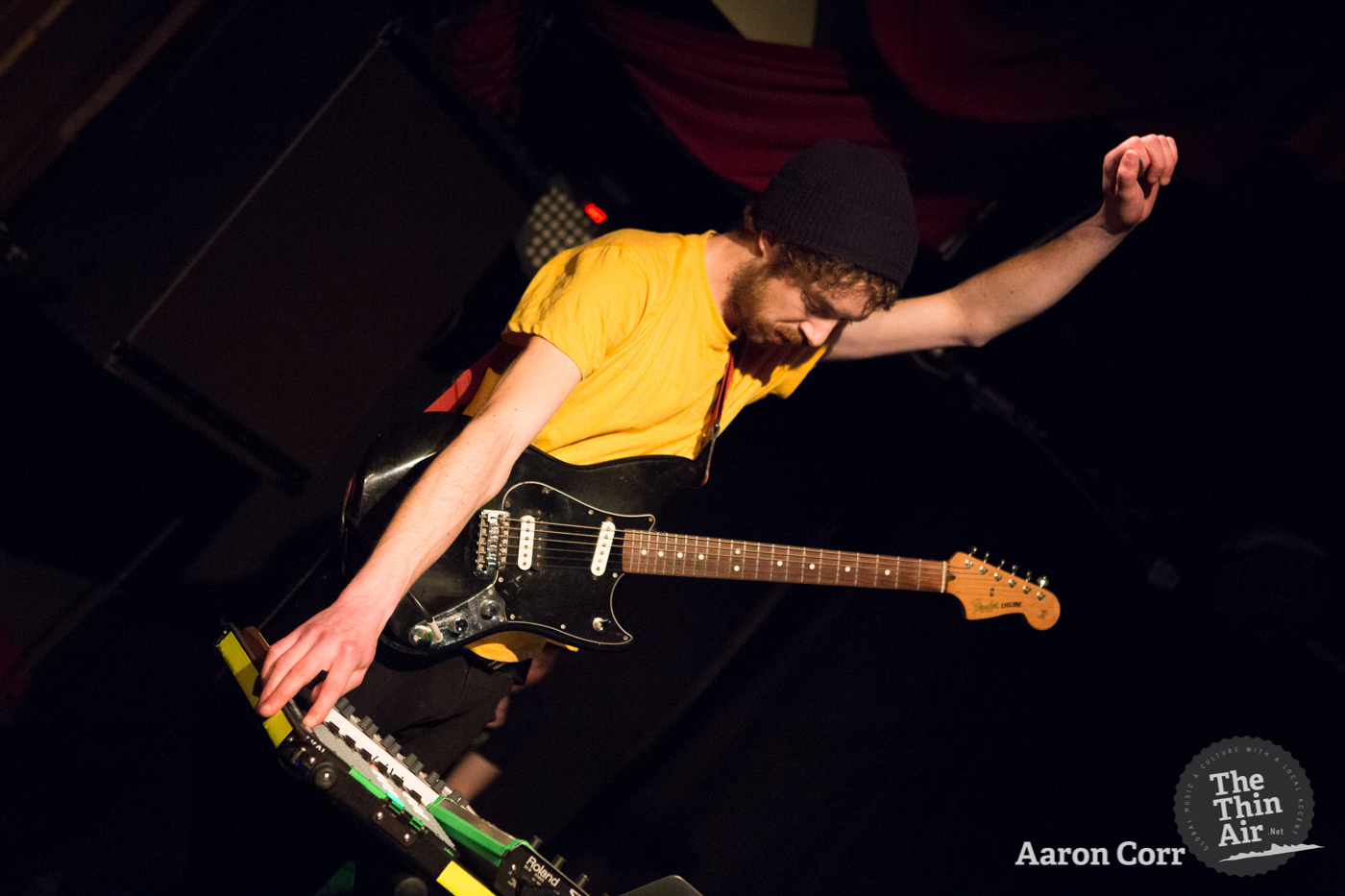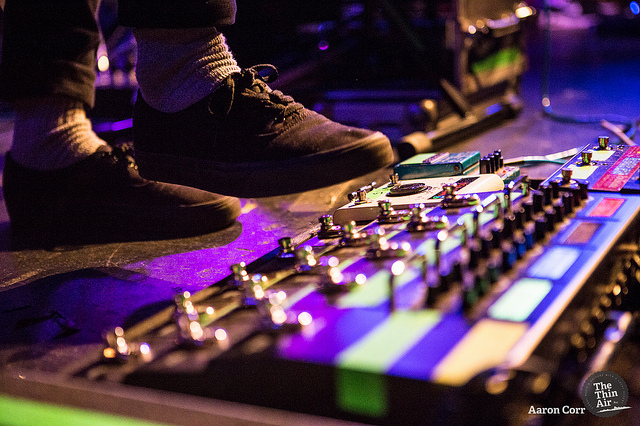 Roisin Dubh, Galway
Saturday, March 28
The mood is ideal from the start of proceedings this Saturday night. It's shortly before 10 and the already filling floor of the Roisín's main room is being warmed up by the first support of the night. Extra Fox – AKA Neil Adams, brother to Conor Adams with whom he shared guitar duty with in The Cast of Cheers – stands behind a sampler, drum machine, synth and laptop and is confidently crafting a set of hefty electronica. The euphoric arpeggios make nods to the likes of Nathan Fake and James Holden but contain their own sense of optimism and brightness which keeps heads nodding and spirits high throughout the room. The sound is great, the tracks are solid, and the eager, enthusiastic crowd respond politely but appropriately.
Next up is Swedish singer Rebecca Bergcrantz, otherwise known as RAINDEAR, with a brand of dark synth pop that seems to divide the mood in the venue. Pre-programmed bass and drum tracks accompany Bergcrantz's smoky and resonant vocal work which is sometimes given the added ambience of a vocoder and sometimes not. With much of the set spent with little to do other than stand in front of the microphone and sing, RAINDEAR's performance may have left something to be desired. Her voice is powerful and assertive but at points she appears rigidly uncomfortable on stage. This may have had to do with a growing and increasingly restless crowd who perhaps might not have expected there to be a second support act and, as a result, were getting progressively louder and less responsive to the emotional electronica. Rigidity and background noise aside however, RAINDEAR perseveres and her vocal work continues to impress those willing to let it do so, especially on her closing track which builds in layers of reverberated keys, drum loops and heartfelt lyrics.
When the main act take the stage they are immediately met with the enthusiastic cheers and applause that one would think would be reserved for bands who had at least released an EP by now. All Tvvins increasing hype and momentum over the past year, however, has led to an increasing anticipation on behalf of fans of the new material and those who have been following both guitarist Lar Kaye and bassist/vocalist Conor Adams for years. Opening with the snarky groover 'Book', one can already tell that All Tvvins live set has become even more fleshed out and altered since the last time their appeared here in November of last year. The bubbling electronic loops somehow sound like they have a bit more room to breathe this time round, and Lar Kaye's massive and unique guitar work, which seemed a touch on the restricted side before, has been unleashed once again to energise the tracks. His presence on stage is electric as he flails about, scraping the headstock of his guitar and dancing on effects pedals, but the sound is never out of place and remains tasteful within the steady drive of the material, which is the poppiest that he and Adams have ever come out with. New single 'Thank You' comes third and keeps the energy levels high, with drummer Lewis Hedigan ensuring that no one can stay still. Conor Adams' vocal work keeps the crowd in a constant hook and his genuine excitement to be playing to this crowd is conveyed in the look of sheer concentration and passion on his face as the set progresses.
Elsewhere, the first track the band ever unveiled, 'Two Worlds', has grown from a warm electronic number into a monstrous, pounding anthem which the audience rejoices in with an on-going chant of "oh"'s after the song has ended. Closers 'Know Go' and an untitled new track that Adams was "having too much fun not to play" maintained the anthemic atmosphere and reminded us the sheer professionalism of All Tvvins. They know what they are doing; they are making pop songs using the skills acquired throughout their already impressive time spent in the scene while still maintaining a very important rawness. By the end the crowd are out of breath with sore hands from applause, and I can't keep the smile off my face. Eoin Murray
Voodoo, Belfast
Sunday, March 29
Despite having last played Belfast only 4 months ago in McHugh's Basement, All Tvvins impressively manage to attract an even bigger turnout at their second show here. The room is slow to fill up initially though, with tonight's opener Extra Fox (AKA Neil Adams, Conor Adams of All Tvvins' brother and former Cast Of Cheers bandmate) playing to a much sparser audience. As is usually the case with solo electronic projects, there isn't a great deal to look at on stage, although there is plenty of live sampler bashing and knob twiddling to entertain the nerdier contingent among us and elevate it above the all too common 'standing stony faced behind a laptop' approach that many such acts adopt – and most importantly it sounds fantastic, as anyone who has checked out his Soundcloud page will be able to attest to. Raindear meanwhile sounds like another Robyn or The Knife in the making (possibly due in part to being a fellow Swede), her vocals being most enthralling when she indulges in some Fever Ray style vocal manipulation. Despite having both a synthesiser and a theremin onstage, both are barely touched throughout the set with 90% of the music coming straight from a laptop – it sounds no worse for it but the stage presence might be improved by more of a live element and possibly one or two extra musicians, though this is essentially a minor quibble about an otherwise strong performance, and she's certainly going to be one to watch over the next year or two.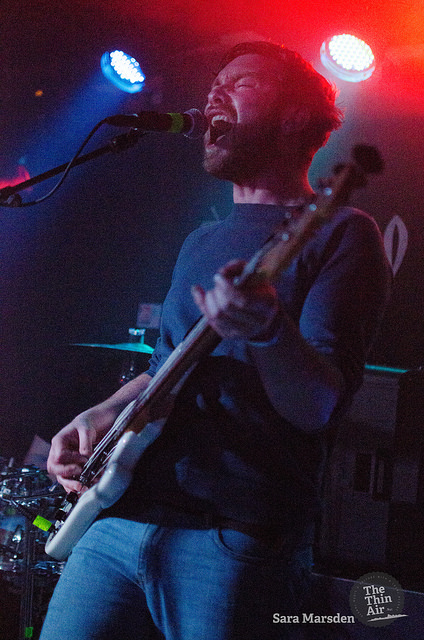 By the time All Tvvins take to the stage, though, the room is heaving. While their McHugh's gig in November felt like that of a fairly new band out to prove themselves, tonight feels like watching a band right on the very cusp of success, having already escaped the significant shadows of their previous acts (Conor Adams coming from The Cast Of Cheers, Lar Kaye coming from much missed math-rock heroes Adebisi Shank) with debut single proper 'Thank You' having recently been premiered by NME. Other familiar tracks from the pair (plus live drummer Lewis Hedigan) like 'Two Worlds', 'Know Go'and set opener 'Book' are standouts tonight, but more tantalisingly, the newer material sounds just as promising. The Cast Of Cheers are an obvious reference point due both to Adams' unmistakable voice and an abundance of riffs and guitar loops but this is a tighter and more streamlined affair, closer to the sound of Foals' Total Life Forever with added vocal effects and better hooks. With an album in the process of being recorded as we speak, and increasing attention both in Ireland and further afield, one can only imagine their next Belfast show taking place in a much larger venue, one which a performance like tonights' will be more than capable of filling. Cathal McBride
Photos by Sara Marsden