Live Reviews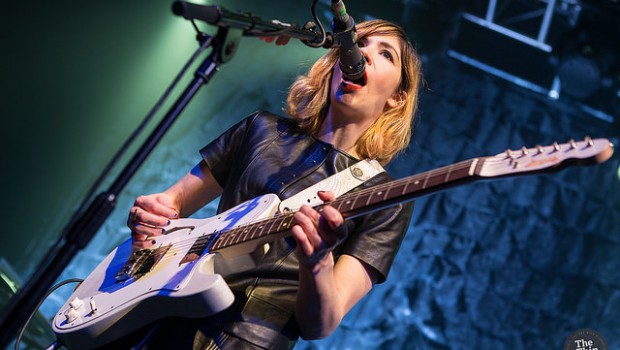 Published on March 30th, 2015 | by Brian Coney
0
Sleater-Kinney @ Vicar Street, Dublin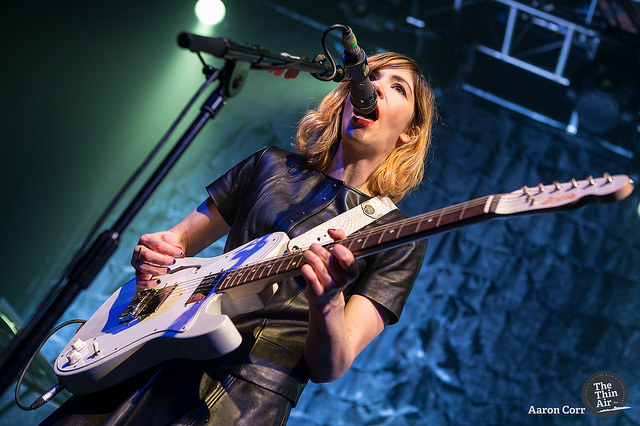 Less than six months on from announcing No Cities To Love, their first studio album in a decade, Sleater-Kinney are currently experiencing a remarkable rebirth and easily their most popular streak in their three-decade long career to date. The twenty-first show of a twenty-one date comeback tour that has seen them zig-zag them across the States and Europe, Carrie Brownstein (above), Corin Tucker (below) and Janet Weiss return to Dublin tonight a valiant and imposing alt-rock force; an unspeakably influential and headstrong threesome that has weathered the storm of changing scenes and industry to assert that they are, without a shadow of a slither of a doubt, currently at the absolute peak of their collective powers.
As expected, tonight's crowd – all but packing out Dublin's iconic Vicar Street – is almost congregation-like from the off. The positively inducted wear faded Sleater-Kinney tees with thinly-veiled pride whilst cherubic newcomers (many with a subscription to Netflix and penchant for Portlandia, it can be assumed) giddily maze their way through the growing crowd to gain a vantage point to bear witness to the holiest of holy trinities of post-riot grrrl, Northwest indie-rock. With a wonderfully-delivered support set from Dublin trio Women's Christmas happily ringing in the ears (a much-deserved slot for one of Ireland's finest bands) muted excitement soon gives way to borderline pant-wettingly agog anticipation.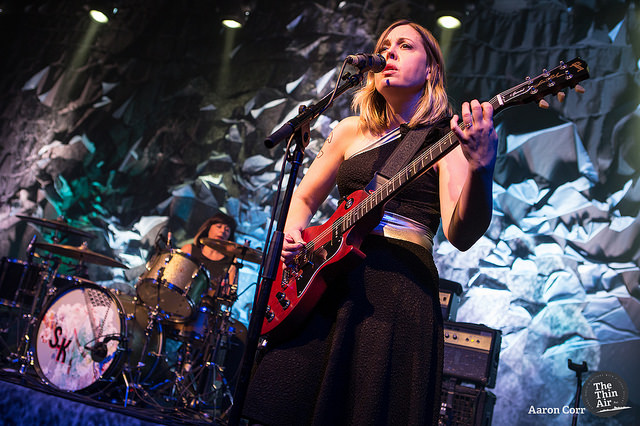 Walking out to something of a homecoming welcome at 9.30pm, Sleater-Kinney assume their positions – Tucker stage left, Brownstein stage-right and Weiss upstage – before tearing straight into 'Price Tag', the lead track from No Cities To Love. A tale of disenfranchised, post-recession anxiety, it's an apt opener for a band re-emerging in a climate virtually unrecognisable to the days of them releasing records via Chainsaw and Kill Rock Stars. "Let's stay off label, just 'til we're able," bellows Tucker, her scourging guitar lines de-tuned an octave or two. The knowingly light-hearted 'Oh!' from 2002's One Beat quickly follows amidst rapturous applause and sees Tucker and Brownstein sharing vocal duties. The legendary chemistry is still there – a collective sigh of relief (not that it was ever in doubt).
Bursting through the likes of 'Fangless', 'Ironclad' and 'Start Together' early on, Sleater-Kinney are very obviously enjoying playing together again. Trading winks and smiles with each other throughout the show, all three members – as well as a touring guitarist – are on top form; commanding and flawless in equal measure. In especially good form, Brownstein takes the opportunity to trade words with fans at various points, a slight "lost in translation" moment with the crowd about the "No Cities To Love not being about Dublin…" making for an endearingly confused moment. With 'Entertain' and 'Bury Our Friends', in particular,  making for mid-set highlights, 'I Wanna Be Your Joey Ramone' is dedicated to Kim Gordon as soon as the crowd, cued by a doting Brownstein cease chanting "Janet! Janet! Janet!"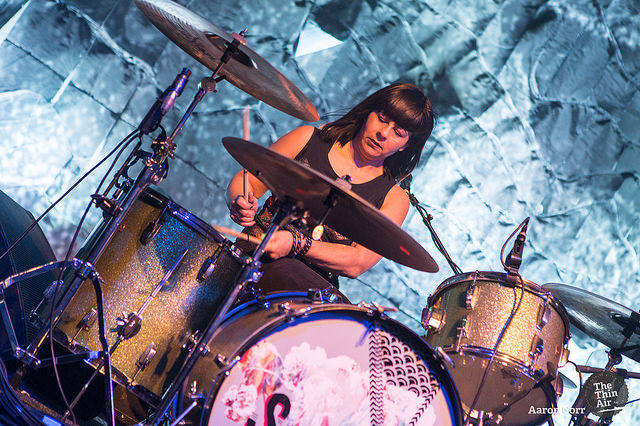 Nineteen career-spanning tracks down, Sleater-Kinney bow out to a groundswell of applause. They've transported and slayed in unison, tighter and more indomitable than they've ever been, twenty-one whole years on from forming in Olympia, Washington. Eardrums suitably pounded, the band return for a faultless five-track encore, beginning with 'Gimme Love'. Corin introduces it by saying, "We've come a long way and a lot has changed – but not enough has changed. We need more equality, love… and respect." The crowd are smitten; 'Dig Me Out', 'Let's Call It Love' and fan favourite 'Modern Girl' (including Janet on harmonica, no less) follow in quick succession before quintessentially melancholic Sleater-Kinney classic 'One More Hour' brings one of the shows of the year to a triumphant, rather emotional close. Brian Coney