Live Reviews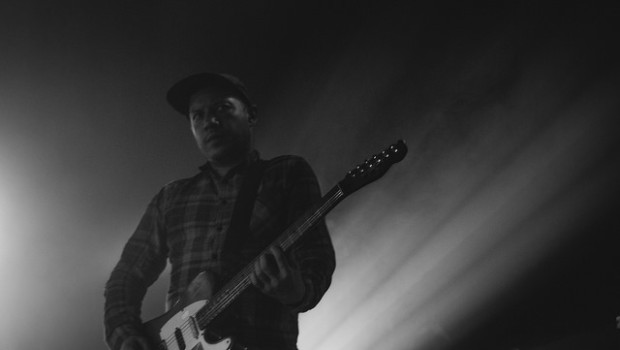 Published on June 22nd, 2015 | by Cathal McBride
0
Mogwai w/ RM Hubbert @ Olympia Theatre, Dublin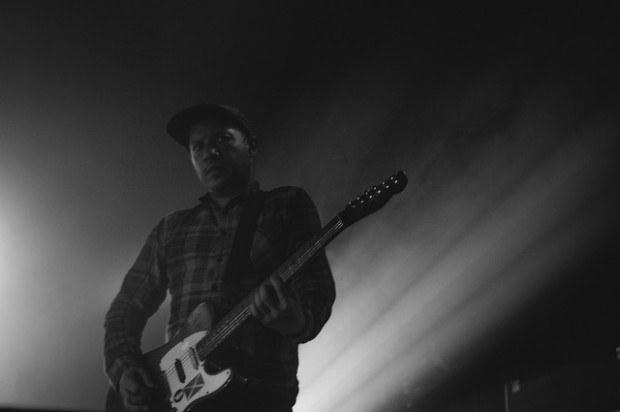 Not all bands survive long enough to have a twentieth anniversary tour, at least without reforming first. What's remarkable about Mogwai is that they still feel like a current band, not yet reduced to being a mere heritage act, and so it's difficult to conceive that they've been around that long (in the same way that it's difficult to conceive that the mid 90s were quite that long ago, even for those of us young enough to have been in primary school at the time). As such it's genuinely exciting to see what way tonight's set will go, with such a consistent body of work for them to draw upon.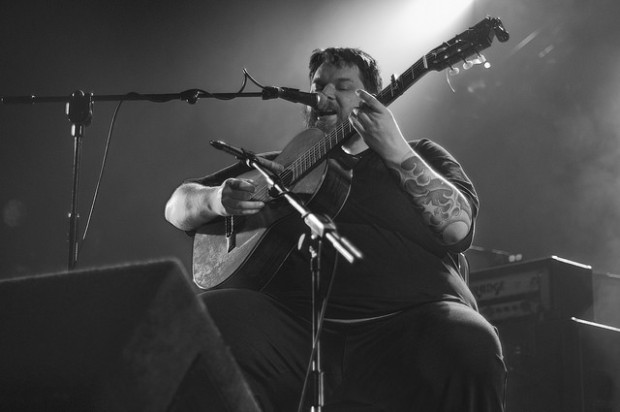 But first RM Hubbert (above) gets proceedings underway while punters gradually file into the soon to be packed out Olympia Theatre. Hubbert will be familiar to anyone present at  Mogwai's last Irish tour in 2011, at the time a largely unknown instrumental acoustic guitar virtuoso, and while he's still not exactly a household name he's since reached a slightly wider audience via 'Car Song', his collaboration with former Arab Strap vocalist (and occasional Mogwai guest) Aidan Moffat. As instrumental music played on a sole acoustic guitar can wind up somewhat repetitive, he's become a more engaging performer since adding his own heavily accented vocals into the equation, while between songs he regales us with the tales of depression behind the music, injected with the same kind of savage wit and black humour that Moffat himself has been renowned for over the years.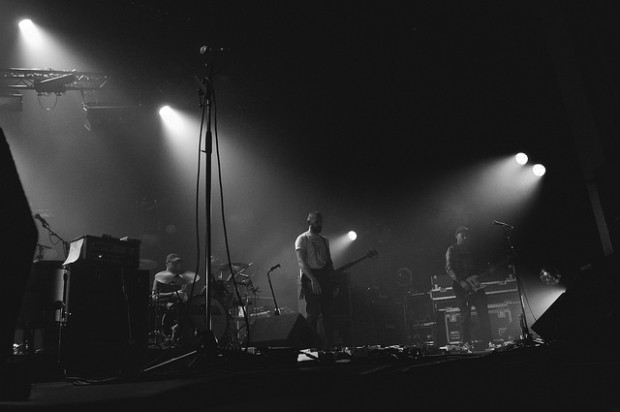 Having such a quiet support act seems to heighten the impact once Mogwai themselves take to the stage, starting with a relatively rare outing for Mogwai Young Team opener 'Yes! I Am A Long Way From Home', while 'Tracy' from the same album is also resurrected in the first half of the set. It soon becomes clear though that this is no mere nostalgia set, and rather than using the anniversary as an excuse to revel in early material from their acclaimed debut, they deliver a fully career spanning set instead. 'Killing All The Flies' and 'Christmas Steps' also provide early set highlights, and while, despite the milestone they don't delve back quite as far as their earliest singles(though doubtless other dates on the tour will), newer tracks like 'San Pedro' and 'George Square Thatcher Death Party' from 2011's Hardcore Will Never Die, But You Will – an album that revitalised the band just when it seemed they were starting to repeat themselves – are received just as buoyantly by the audience as anything else in the set. Most importantly, the band sound on absolutely top form, and the venue's sound is perfect – loud without being deafening, with every minute detail perfectly audible.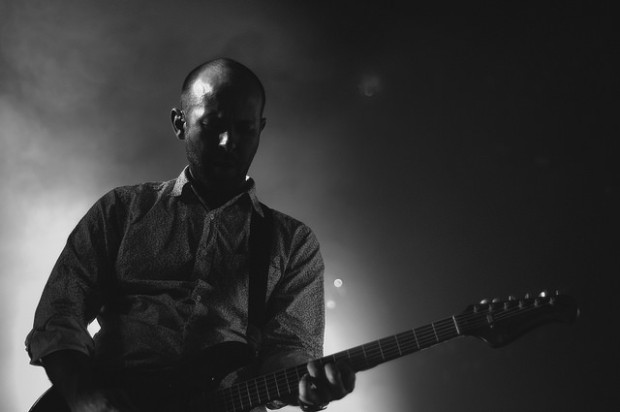 While the previous night's setlist in Cork may have contained a few more rarities, tonight's set feels like a perfectly paced run of fan favourites, even consisting of what Stuart Braithwaite (top) calls "the first time we've ever played three fast songs in a row" just after his only vocal performance of the night on most recent single 'Teenage Exorcists'. For such a recent track, last year's synth-heavy 'Remurdered' has already earned a reputation as one of the most impressive songs in their live arsenal, before a cacophonous 'We're No Here' closes the main set. After an hour and a half, most of the band leave the stage for a second time amid the final drones of 'My Father, My King', while John Cummings remains on stage to destring his guitar and continue making as much noise as possible for another few minutes. It still somehow feels all too brief, and leaves a lingering temptation to book a hasty trip to Glasgow or London for another round. Cathal McBride
Photos by Colm Moore