Features
Published on July 20th, 2015 | by Brian Coney
0
Interview: The Wood Burning Savages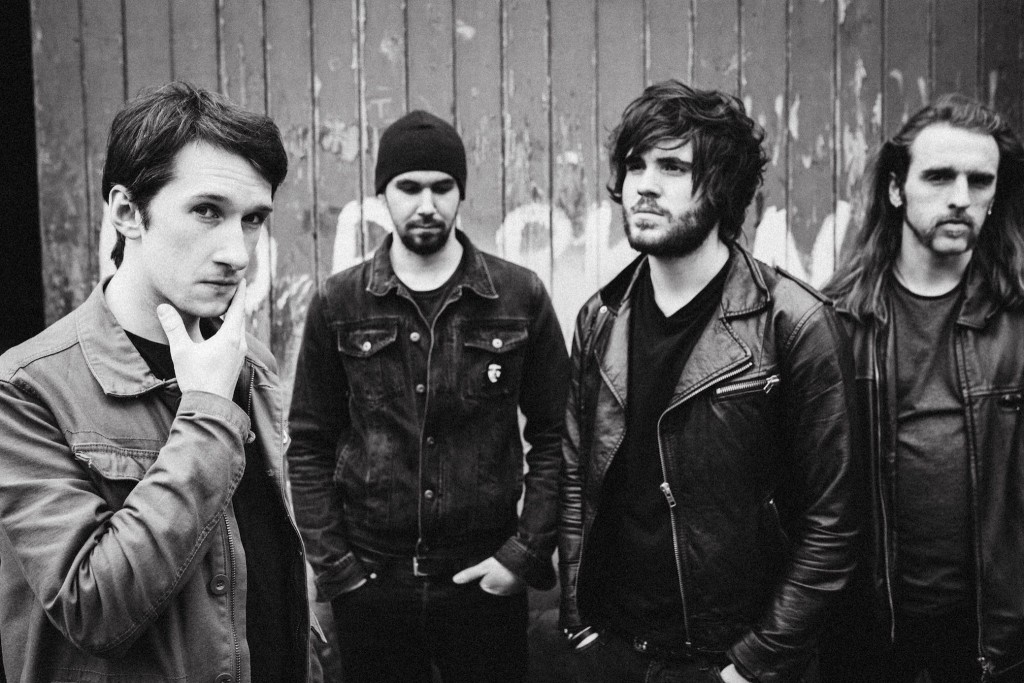 On the day of the release of their stellar new single, 'Premier League' (stream below), we chat to Paul Connolly from Derry quartet The Wood Burning Savages about recent stirrings, future plottings and the recording and release of their latest and greatest track to date.
Hi Paul. You're just back from Swell Festival. How was that and the last few months for you generally?
Hello The Thin Air! Swell Festival was incredibly good fun, it's like a happier version of The Prisoner or Lord Of The Flies. It's only in its second year but it's got an amazing vibe and the community of people who work to bring it to fruition care first and foremost about music.  The last few months have been really great, we've been playing a lot of gigs all over this island and people are really beginning to dig what we do now even more. In between that, we've been recording and writing more music, we can't stay still, we wouldn't want to stay still more to the point.


You're a band whose sound is always constantly progressing, feeling more and more refined, actually, as time goes on. What do you attribute that to?
I think that's down to getting to know each other musically, sonically and workings-of-the-mind wise. Our approach to songwriting is becoming constantly more honed and we're really proud of that. Personally speaking, when we started, I was still very much getting to grips with being a frontperson who plays guitar as opposed to a frontperson who has a band behind them. Collectively speaking, we're completely voracious when it comes to new guitar sounds and being inventive like the songwriters we adore.
You release your new single, Premier League, on Monday. What's the song about and how do you think it differs (if at all) from previous WBS material?
Musically It's not too different from previous TWBS tracks, I feel though that it's maybe more intense; it's a track with a clearer cut message. 'Premier League' isn't a song about football. It's a song about greed and how trying to keep up with the Jones' next door will leave you feeling ruined. It's a song about the bankers who are best buddies with the politicians who are only best buddies because they own a national newspaper or ten together. It's a protest song; it's a clarion call to remind people that greed only begets more greed. It's a running theme in our music that the only things on this planet that matter are surrounding yourself with good people whom you love and in return love you.

A wise choice was made opting to record with Mojo Fury's Michael Mormecha on the single. Was that the first time you recorded with him? How did it go?
It certainly was a wise choice, it was actually the first time we'd properly met and talked. We had great fun recording with him in Millbank Studios. It was fun working with someone in a studio situation who wasn't afraid to put an idea across because it served the song, really rewarding in fact. The drum sounds he captured had us all sitting in the control room giving each other "Fucking hell, this sounds pretty damn good!" looks and smiles.


With the release of the single, are there any rumblings of new material in the near future?
We're always writing away and stockpiling songs. We plan to release another single in the not very distant future after 'Premier League.' An album is the quarry we're out gunning for though.


Since we spoke to you last (last March, I think), how have things changed for the band in terms of trying to get your music heard. Has it been a struggle or easier than you anticipated?

Since last March we've definitely found it easier to get heard, I think that's because we're just adamant to keep going. Like most bands, we put an awful lot of time into getting our music and more so our live show to as many people we think will like it as possible. The internet is both a blessing and a curse for getting our music into peoples ears, but a good live show is an un-fakeable thing.


Of course, hard work underlines a lot of your material and promotion, with a (perhaps necessarily) DIY ethic at the root. Is this a means to an end or would you always prefer to be in a position of self-management?
It's born from necessity to be honest. If we don't do it, who will? If we don't do it now, when will we? That being said, we'd ideally like to build a team of people around us who share the same ethos and passion for our band because there are only so many hours in the day and emailing, making artwork and filling in paperwork can quite often zap the energy that we'd rather be channelling into songwriting.

On that note, as a Derry band, how has it been trying to get activity together in other parts of Ireland outside of the maiden city and Belfast?

We don't feel like a Derry band. I know that sounds odd but we feel like a weird four headed entity that zooms around in a third-hand Japanese split cab van getting on the level with people from all over the island, entertaining them hopefully. We've got a good following in Dublin and Galway and festivals like Knockanstockan, Sea Sessions and Swell help us increase that activity.
Finally, with all the above in mind, what are the plans for the remainder of the year?
We'll be playing a few Irish festival dates this summer and then we're off to Scotland for Belladrum Tartan Heart Festival and a date at the Edinburgh Fringe Festival as well as some shows  in between with Hector Bizerk. Then it's all systems go as we'll be preparing for a German tour in early 2016. In between these things we'll hopefully keep being that weird four headed van monster coming to a town near you!