Features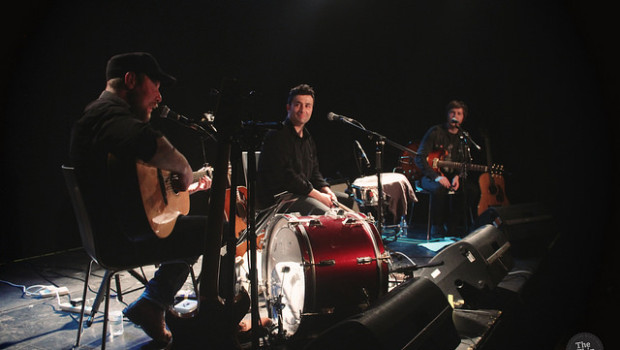 Published on May 11th, 2016 | by The Thin Air
0
An Aural Aurora: Northern Lights on Tour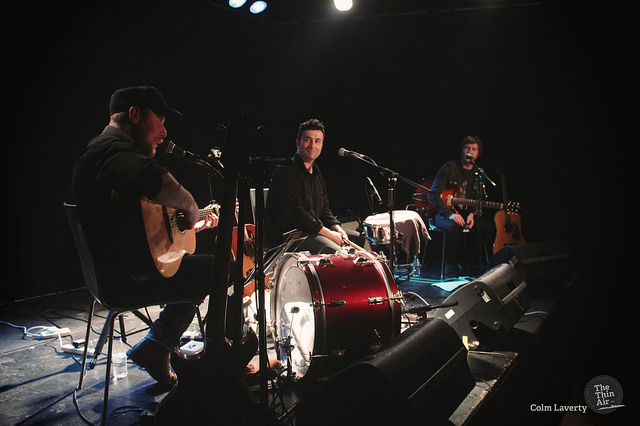 With words from Aaron Drain and photos by Colm Laverty and Mickey Rooney in Belfast and Limavady, we go on tour with Northern Irish folk collaboration tour Northern Nights AKA Matt McGinn, Ben Glover and Stevie Scullion.
Black Box, Belfast
The hottest, sunniest, most welcome day of the year so far and it's an afternoon of thoroughbred local music that'll prove the final piece in this most glorious of puzzles. The turnout is overwhelming – a sold-out show for the boys making up 'Northern Lights' is a particularly poignant factor given that this afternoon will not only be the penultimate CQAF show, but the last stop on a tour that has taken Matt McGinn, Ben Glover and Stevie Scullion across the country and inspired many a rave review. 
McGinn, capped and almost-surly in appearance is anything but. A charismatic, confident and humorous fellow, we're treated to something a of a triple-act of variety comedy between the three musicians and it isn't long before the introduction gives way to opening gambit 'I'm Not Looking Down Anymore'. Spearheaded by McGinn, the focus is one of terse emotional confession, and will ultimately prove to be a sequential indicator of a performance that is spread across the three today – with each break in between songs, we're treated to a backstory as well as a little jostling and endearingly playful rivalry. 
Sombre, quiet and melodically charged, McGinn takes us through 'I'm Not Looking Down Anymore' with a rudimentary beat complimented by Scullion's ethereal electric guitar delays. It's soon Glover's turn to lead the charge, and his rendition of 'Sing A Song Boys' is an inspired, authentic piece of Northern Irish songwriting. Accented and assured, Glover's dynamic vocals lead an upbeat and generously happy back-up from his compatriots, before we saddle in to some tales of Scullion's pit-bull like demeanour at the merchandise stand – laughter is a key component through today's set and offers a welcome break away from some of the more mood-heavy songs.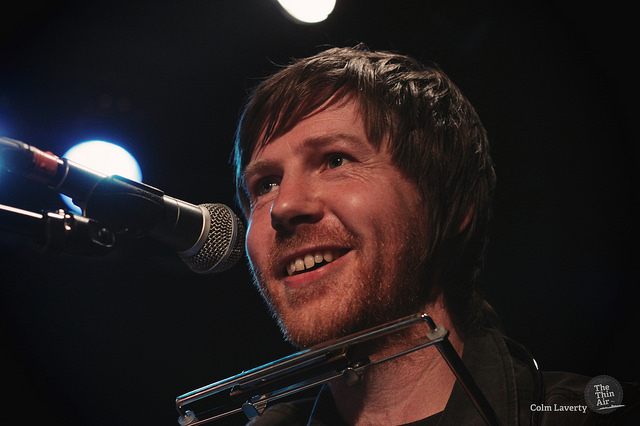 With each artist taking their turn at the forefront, we're treated to a rapturous 'Lie' by McGinn, a soaring, anthemic 'Oh Soul' led by Glover, and a moving 'Bathtub Blues' from Scullion; the story behind it as compelling as the song itself. But that's what this trio is all about. They're storytellers, and whether it be through song, as we witness in the form of 'You Have Your Dreams But They May Not Come True', or as the lads change it towards the end to 'You May Have Your Jeans But They May Not Fit You', or through digressions and non-sequiturs, they're offering pure entertainment without relying on novelty. Each word spoken is clung to by a room of admirers, here, now for more than just the music.
This is especially true when Glover's tale of a how Civil War haunted-house, his songwriting lair for a time, changed his outlook on the supernatural, with the song itself 'Sweetheart' a wrenching glimpse of confessional storytelling constructed through fantasy and pure imagination. The inspiration they draw from is constantly revealed, 'Crease of Your Smile', 'Refugees' and 'Prisoner' all displaying three distinct songwriting styles that come together through originality and strength of lyricism.
After some two and a half hours of original material, the three, grins adorned, retire to the back of the room before engaging in the quickest encore u-turn that's likely ever been ventured. As they head back towards their seats, it's clear that they've had their fill of good fun, and we watch, intently, as they bestow on us one last moment of fixation with 'You Ain't Going Nowhere'. Alas, as the lights come up, it's not an option. Aaron Drain
Roe Valley Arts & Culture Centre, Limavady by Mickey Rooney
Black Box, Belfast by Colm Laverty