Live Reviews
Published on June 13th, 2016 | by Conor Callanan
0
Candi Staton @ The Sugar Club, Dublin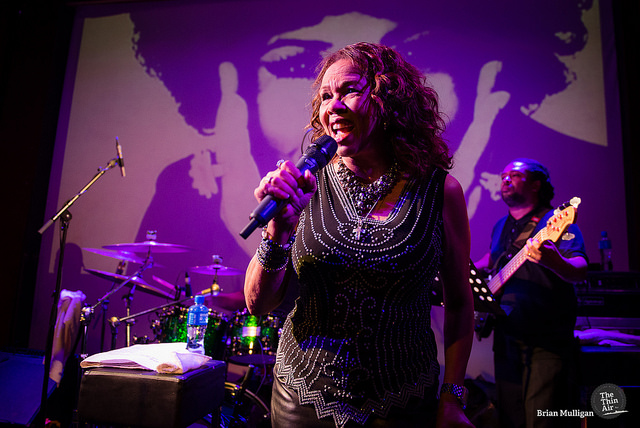 As the final few bars of New Orleans' funk maestros The Meters' 'Handclapping Song' filter through the Sugar Club's sound system, the lights dim and the sold out crowd show their appreciation following the appearance on stage by the Queen of Southern Soul, Candi Staton. Having begun her musical career as a teenager in the early 1950's as a member of a gospel trio, it's hard to imagine by looking at the lady standing in front of a highly anticipated audience that she is now 76 years of age.
Staton starts off tonight's proceedings with the slow yet funk fuelled 'I Like Where I'm At', and with the tune including the line; "my head keeps spinning around/but I like where I'm at", it seems as though Staton, moving effortlessly from side to side and with a large smile upon her youthful face, is in a very comfortable place these days. Next up is a medley of 'Honest I Do', 'I Know' and 'You Bet Your Sweet Sweet Love', the latter two having appeared on her Young Hearts Run Free album, which is celebrating its fortieth anniversary this year, something which is not lost on the majority of those in attendance. There is an obvious country vibe throughout 'You Bet Your Sweet Sweet Love', a sound that Staton has been more than happy to incorporate, alongside that of funk, disco, pop, soul and blues, throughout her seemingly never-ending recording output.
Staton then introduces 'Sweet Feeling' by informing us all that it was "now time for some blues, are any blues lovers in? It's time to take you to Muscle Shoals", referring to the infamous Alabama recording studio FAME, where she recorded her first three records. There is a short guitar solo from Mark Vandergucht whom is aided by bandmate Marcus Williams – Staton's son – on drums, allowing tonight's star time to take in some water and wipe away the trickles of sweat from her brow.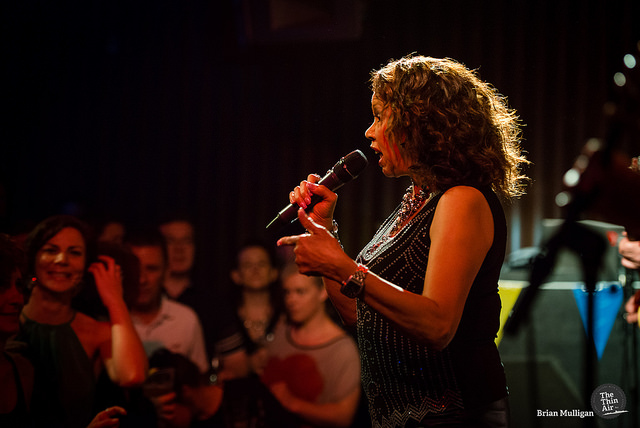 There seems to be nothing that Staton isn't prepared to share with us as she goes on to say how she "tried the cougar thing, but it didn't work out for me" and how she is now seeking "a mature man anytime… he may not like to go to the mall with you, but he'll give you the credit card!" which gets a resounding laugh of approval from the ladies in attendance. It's the perfect intro for the hip shaking 'I'd Rather be an Old Man's Sweetheart (Then a Young Man's Fool)', with keyboardist Mick Talbot's (The Style Council and Dexys) outshining his cohorts.
What follows next is a stream of hits that Staton covered during the '70's and '80's, kicking off with the Bee Gee's 'Nights on Broadway', a disco heavy number that allows bassist Ernie McKone free reign. Her 1971 take on Tammy Wynette's 'Stand By Your Man' was a crossover hit and led to a Grammy nomination, segues into Ben E. King's stone cold soul classic 'Stand By Me', which receives a rapturous response. Two songs made famous by Elvis – 'In the Ghetto' and 'Suspicious Minds' then get an airing and highlight just how natural Staton is on the stage when put in front of an expectant audience, while she passes the mic around to quite a few karaoke hopefuls in the front row, albeit to varying degrees of success.
It's inevitable that Staton was going to hold her two major hits: 'Young Hearts Run Free' and 'You Got the Love' until the very end and when the opening disco beat of the former kicks in the room goes more than just a little gaga, while the bass and key into of the latter allows the momentum move into ecstatic overdrive. Finishing up 'Hallelujah Anyway', Staton bids farewell where it's obvious she's more than taken aback from the audience's response, and leaves her band to finish up with a funk induced jam session. Conor Callanan
Photos by Brian Mulligan