Album Reviews
Published on July 13th, 2016 | by Justin McDaid
0
The Julie Ruin – Hit Reset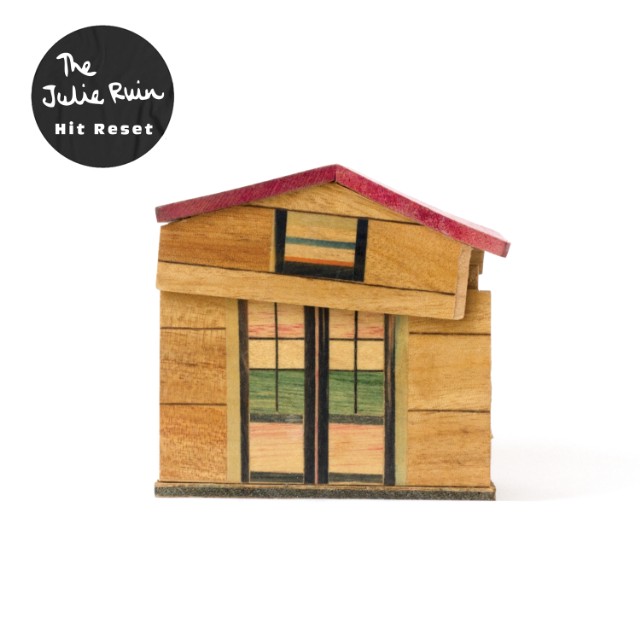 Julie Ruin isn't a new concept for Kathleen Hanna. The moniker has been around since the mid- nineties as the title of her post-Bikini Kill solo album, one that bridged the gap and foreshadowed what was to come with Le Tigre. That trio's explorations with sampled music and drum machines expanded on Julie Ruin's bedroom-recorded experiments, and the pseudonym was put to bed for over a decade, during which time Hanna's productivity was curtailed by a long-term debilitating illness.
Her struggle with Lyme disease, undiagnosed for years, is documented with stark candour in the 2013 film The Punk Singer, and it's a topic that crops up in The Julie Ruin's second record, Hit Reset. More so than their 2013 debut, Run Fast, Hit Reset is an extremely personal, often vitriolic, but frequently funny album – abuse, sexism, feminism, misogyny; all themes in Hanna's past projects and even more to the fore here, housed in punchy new wave and post-punk indebted songs. The melodic bounce of the tracks often belies the experiences that the lyrics detail and the title track is probably the most harrowing of Hanna's accounts. A rough'n'ready count-in leads to frank memories of domestic abuse by her father ("At least I made it out at fucking all"); dark, but defiant, despite this arresting up-tempo opening salvo. It's the kind of challenging dichotomy that will typify the album's thirteen songs.
Lo-fi and immediate, it's a more playful record musically than Run Fast, from the more prominent role of Kenny Mellman's keys to the band's all-inclusive backing vocals, but it's Hanna's voice that is the persistent, distinctive focal point. Drummer Carmine Covelli and one-time Bikini Kill bassist Kathi Wilcox lay down a motorik rhythm on 'Be Nice', a solid base for Hanna's experimental vocal to hop from caterwaul to hiss to whisper and back. She frantically narrates in the first person on 'Mr. So and So', an acerbic composite character study on the kind of sexism that Hanna encountered through the riot grrrl movement and beyond ("I'll show your autograph to my women's studies class/ Without hearing what the teacher has to say").
'Roses More Than Water' is an all-round winner, with sweet, faux-innocent verses bursting into mile- a-minute verbal delivery on the choruses. Sara Landeau takes the reins on 'I Decide', raking six-stringed chaos over the entire mid-section as the singer's intonation of "I belong to the wolves who drug me/ In their mouths just like a baby" emulates the song's momentum stomp. Echoes of Delta 5 abound in the rhythm section and sparing squeals of guitar on 'Time Is Up', while the synth intro of 'Planet You' leads into a poppier aside, with those same terse backing vocals and a sardonic "Start a Kickstarter for your heart" hook.
'Calverton' stands apart from everything else on Hit Reset, a piano-led ballad dedicated to her mother. As Hanna sings of "a photo too exposed", the words are carried in a similarly vulnerable vocal; stripped bare of accompaniment – save for Mellman's keys – to deliver the album's tender denouement. "You made me think that I could fly" is a saccharine statement in a song full of them, but here, at the end of an album awash with sarcasm, cynicism and bleak memories, the sheer sincerity in the delivery carries it through. And it's the sheer force of Kathleen Hanna's personality that shines through Hit Reset, a cathartic, enthralling entry in the progression of Julie Ruin. Justin McDaid
Summary: Check out: 'Roses More Than Water', 'Hit Reset'

If you like this you might like: Bikini Kill, Delta 5, Le Tigre