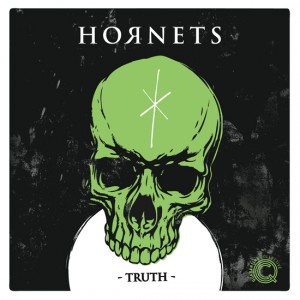 With members coming together from multiple bands of varied genre, Hornets' greatest asset is their three member's combined experience. Each hailing from very different musical outfits, with that experience they have wisely decided to wait before gigging, to temper and hone their music into something cohesive and mature. The product of this is their debut EP Truth. Was it worth the wait?
Opener 'Truth' sets the mood for the furious six-song EP and it rarely slows. The first three songs are a blitz of unrelenting noise; 'No Control' exhibits some messy guitar dissonance from Andy Shields, and really shows off the power behind their rhythm section – for a three-piece, they make a huge sound. In keeping with old hardcore bands such as Black Flag, the bass hasn't been turned down in the mix and when it comes through for the chorus, its brilliantly dense. Ricky McAuley has moved from synth to drums, having played in the past for Panama Kings, and it's a drastic and vital change as the band charges through the abrasive 'Step Down'.
Vocalist/ bassist Sib sounds utterly livid from start to finish, sporting a scream more guttural than expected; it seems a part of music that most are afraid to embrace in recent years here, but Hornets are keen to bring it back. It's an attention grabbing performance throughout. Unfortunately the EP suffers a lack of variety in terms of vocal sounds, the one roar being utilised on every track. It's not massively important, but it doesn't lend itself to sending a clear message with the lyrics; though for the most part the lyrics are both extremely caustic and metaphorical, serving only to further the racket anyway. As said though, this only becomes apparent upon closer inspection, and while they don't add much depth to the songs upon the first few listens, they fulfil their purpose.
After noisy instrumental filler 'Oskal', the band moves on to the last two songs of the release. 'F Strings' is one of the strongest songs on here, a groove-laden monster with a nice guitar harmonic, flitting between sparse chugging and seismic chords. It isn't quite the 'loud/ quiet' dynamic of post punk but it works well regardless. Its unusual to hear such a polished production on a debut EP, never mind the fact that the musical genres on offer here are typically so harsh, but it works to their benefit. Rather than dilute the energy of the tracks, the production has merely refined it – the same effect that hardcore doyens Converge have been exhibiting on more recent releases. Similarly, while most of the songs on here are punk in composition, the end product certainly has a metal sheen to it, sometimes more noticeably than others.
The closing song 'Weekend Warrior' is another heavy hitter and a highlight in terms of good song writing. Consistently interesting and more complex than any other track here, it's a promising sign of what's to come for the trio. Truth EP hasn't reinvented the wheel or broken many rules, but as far as local heaviness goes you wont find much better than this – an exciting debut. Aaron Hamilton
Out via Quarantine Collective | http://hornets.bandcamp.com/