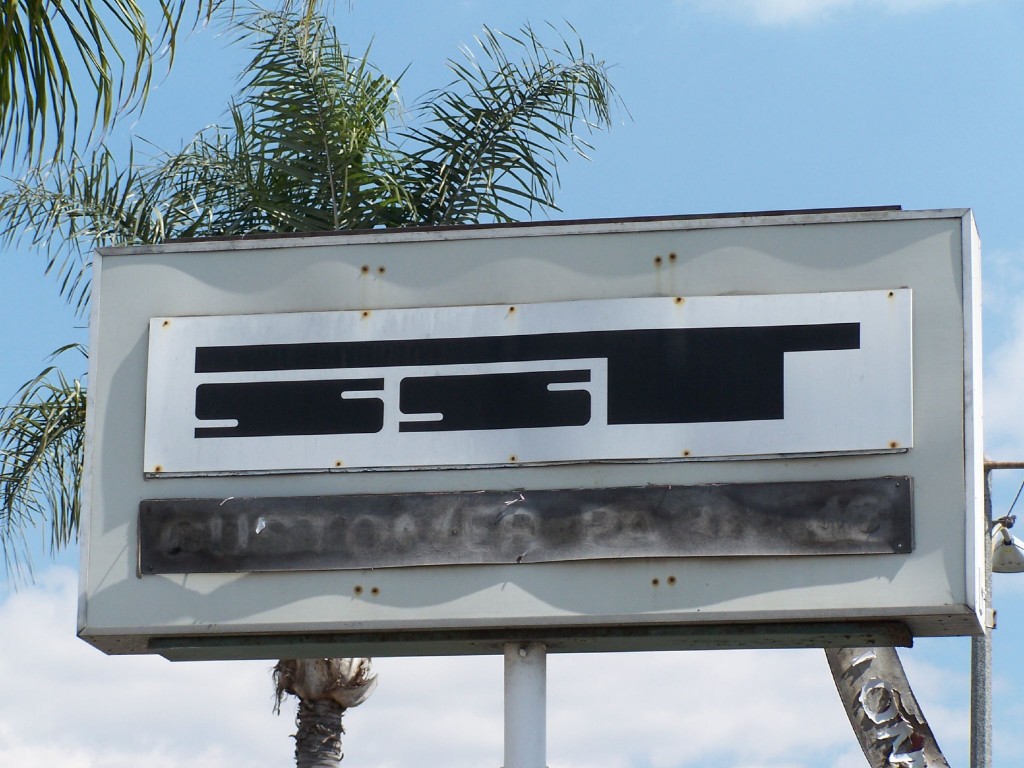 The wonderful thing about a deplorable culture like that of the 1980s is that the counterculture is sure to be interesting; this brings us to SST Records, one of the landmark independent record labels filed away in the lower, yet equally storied recesses of popular music. Originally purposed as Solid State Transmitters – a small electronics business formed by a 12 year old soon-to-be founding member & guitarist of pioneering hardcore act Greg Ginn – SST Records opened for business in 1978 as a way for Ginn to release and distribute his own material with Black Flag, and shortly thereafter became a hub of output for hardcore acts, eventually tapping into, and being directly responsible for the success of the indie & alternative rock movement – Sonic Youth, Hüsker Dü and Dinosaur Jr. released a lot of their essential output on the label – throughout the late '80s which would – as we all know – boom in the early '90s.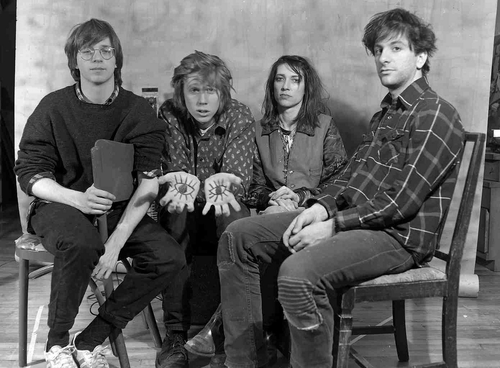 SST-era Sonic Youth, sitting on seats.
The first SST releases were, for the most part, early Black Flag & Minutemen EPs, the latter of whom managed to blend the unyielding energy of hardcore with their own freeform, quasi-post-punk dynamic. In fact, the debut Minutemen EP Paranoid Time (and second SST release) was recorded and mixed in a single night for $300, which inspired 2/3 of the band to go on and form New Alliance Records – but more on that later. The early days of SST were ropey at best due to their obvious association with violent, hardcore Black Flag shows. A result of this was that the LAPD were a constant source of worry, to the extent that they tapped the label's phones and – if Greg Ginn is to be believed – supposedly posed as homeless folk loitering close to the label's tiny headquarters in LA. Legal issues continued to plague SST during the release of Black Flag's definitive 1981 LP Damaged, as SST seemingly had a distribution deal wrapped up with MCA Records' smaller label Unicorn Records before MCA pulled the plug in the 11th hour, calling into question the album's 'anti-parent' message. Due to legal issues, Black Flag could not release music until late 1983 when Unicorn Records went bankrupt – but not before Black Flag bassist and by this point, co-owner of SST Chuck Dukowski spent 5 days in prison for violation of the injunction.
Despite all this, things started to look up for SST. Four new Black Flag albums finally saw the light of day in 1984, which breathed new life into the almost-burned out indie label. Until the end of the legal ordeal, they managed to function with key releases from the likes of jazz-punk act Saccharine Trust, psychedelic cowpunks the Meat Puppets and Minutemen, as well the recent signing of Minneapolis hardcore act Hüsker Dü proving to be a massive deal.  It was announced that Hüsker Dü's first LP with the label would be a double album, titled Zen Arcade. News of this got through to the Minutemen, who were inspired to try the very same and released their finest album, the 45-track Double Nickels on the Dime on the same day, but this couldn't match what Zen Arcade did for the standing of SST for better and worse.
Believing they had an underground hit album in their midst but not wanting to risk too much financially, they printed 'between 3500-5000 units' – according to Hüsker Dü's Bob Mould – which was uncharted territory for the label, but still cautious considering the band's debut album Land Speed Record sold over ten thousand copies. Unsurprisingly, the album sold out within weeks, ending up on many best-of-year lists and was left out of print by SST for months thanks to the massive misjudgement by the label, which cost both band and label thousands of potential fans and dollars. This was the first in a series of misjudgements that would plague the label in the ensuing years, and caused a lot of friction, with Hüsker Dü's Grant Hart stating the reluctance of the label to allow any acts to get any more attention than Black Flag and following disputes regarding the freedom to produce their next album New Day Rising – which ended up being engineered by SST house-engineer Spot due to the insistence of Greg Ginn – the band left for the much more lucrative Warner Bros. Records.
The depletion of the SST roster continued in 1985 with the untimely and unfortunate death of Minutemen frontman D. Boon in a traffic accident and Black Flag's breakup in 1986, but there was some major life breathed into the company when SST bought New Alliance Records, a label founded in 1981 by the Minutemen's D. Boon and Mike Watt, following Watt's realisation that "all you had to do was pay the record plant man". They released several important records from Hüsker Dü, Minutemen, The Descendents and several post-punk acts. Noisy young upstarts Sonic Youth, the Screaming Trees, Dinosaur Jr. & Bad Brains were soon snapped up; at this point the indie credibility of the label ensured the availability of a plethora of talented, original acts, with the signing of Sonic Youth actually being enough to get Dinosaur Jr. on board.
In spite of this, SST's business still left much to be desired, and 1987 proved to be the start of a downward spiral for the label. Sonic Youth left, questioning both the quality of Ginn's latest signings and running of the organisation, with Lee Ranaldo criticising their "stoner administrative quality." In fact, Sonic Youth, Dinosaur Jr. & the Meat Puppets have gone on to reclaim the rights to their SST-released records after leaving the label.
In a quote which perhaps typifies both his and SST's attitude, Dinosaur Jr's J Mascis said of the label: "I like Greg Ginn and stuff, but they wouldn't pay you." By the time 1990 came around, Sub Pop had taken over as the go-to in-touch-with-the-zeitgeist indie label and was the vessel from which alternative rock could go on to conquer the minds of 'Generation X' wheras by the mid-'90s, SST lay practically dormant. SST Records continues to exist primarily as a medium from which Greg Ginn releases new material with his various projects. Stevie Lennox

Greg Ginn, a seemingly content man.

Essential SST Records:
Dinosaur Jr – You're Living All Over Me [1987]
Possibly the jewel in the fuzzed-out indie rock act's well-deserved crown. You're Living All Over Me is the link between hardcore, grunge, noise-pop and many more out-there sounds. One of the few indie bands to fully embrace the joy of a guitar solo – Mascis lets rip from the onset of opener Little Fury Things – or, on the other hand, an unashamed pop hook, Dinosaur Jr. were one of the pivotal acts of this period, changing much of what was to come.
Meat Puppets – Meat Puppets II [1983]
Known for being 'the one that Kurt Cobain covered three songs from', II contains expanses of psychedelic sound, tuneless shrieking, the combination of hardcore, Crazy Horse & the Grateful Dead. The Meat Puppets were essentially a bunch of hippie country fans who discovered punk. Their first album is one of the purest hardcore albums you're likely to hear, while the (excellent) follow-up to II – Up On The Sun – is laid back psych-folk. This is the bridge.
Husker Du – Zen Arcade [1984] & New Day Rising [1985]
The hardcore equivalent of Revolver & Sgt. Pepper's, and the turning point for the band in their transformation from amphetamine-fuelled hardcore act to pioneers – alongside the likes of The Replacements and R.E.M. – of the simple, yet forward-thinking alternative rock anthem.

Minutemen – Double Nickels on the Dime [1984]
The unexpected double album came at the absolute peak of the Minutemen's powers, with scarcely a whiff of inconsistency throughout the 45 song-strong tracklisting. Frontman/guitarist D. Boon's fierce statements about history and its parallels between their present – a Reagan-led America – alongside the locked-in punk-funk-jazz stylings of the Watt/Hurley rhythm section allowed the Minutemen to realise their potential with Double Nickels.
Black Flag – Damaged [1981] & My War [1984}: Alongside Minor Threat's discography, Damaged is perhaps the definitive document of where US hardcore was at in the early '80s. With Henry Rollins' rasped, vicious vocals and Ginn's filthy guitar tone, Damaged is Black Flag's most concentrated effort. Follow-up My War removed much of the punk and laid the groundwork for sludge metal and grunge; in fact, if My War's second side didn't exist, the Melvins may never have existed.
Saint Vitus – Born Too Late [1986]:A classic in the doom genre, and proof of SST's diversity.
Sonic Youth – Evol [1986] & Sister [1987]: Two essential albums from start of Sonic Youth's most fertile music patch.
Descendents – Milo Goes To College [1982]: Only reissued by SST following the sale of New Alliance Records and weighing in at just over 22 minutes, this is an essential slice of melodic hardcore.
Angst – Cry For Happy [1988]: A lesser-known gem from SST's back catalogue, Angst carry on where R.E.M. & Hüsker Dü left off.
fIREHOSE – fROMOHIO [1989]: Possibly the finest work from Mike Watt's first post-Minutemen band, fIREHOSE were less groundbreaking, but potentially more accessible.
Screaming Trees – Anthology: SST Years 1985-1989: Screaming Trees are much more known for their major-label work, but the 4 albums they released on SST showed much potential, and their early psychedelic Doors-esque output is well worth checking out.
Saccharine Trust – Paganicons [1981]: Before branching out into jazzier, more esoteric territory, Saccharine Trust were an equally excellent act who blended post-punk & hardcore seamlessly.
Bad Brains – I Against I [1986]: The quintessential Rastafarian hardcore act embrace a less in-your-face attitude in a rather polished and accomplished effort.
Essential reading:
Our Band Could Be Your Life – Michael Azerrad
Get In The Van: On Tour With Black Flag – Henry Rollins
American Hardcore: A Tribal History – Steven Blush
Essential watching:
We Jam Econo – The Story of the Minutemen
Reality 86'd – A Documentary about Black Flag's final tour
American Hardcore