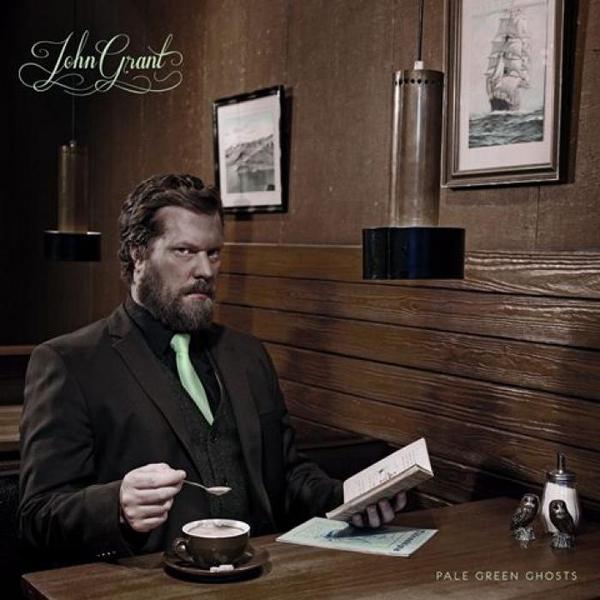 What happens to the elephant in the room when somebody talks about it? Contrary to popular opinion, it does not vanish in a puff of grey smoke. Rather, everyone is abruptly made aware of said elephant as it crushes their toes, pokes them with its tusks and snuffles about in their pockets for polo mints.
And nobody appreciates the impact of proverbial elephants more intimately than John Grant, once of The Czars and Midlake, whose penchant for revealing his most secret desires and guiltiest pleasures knows no bounds. Infamously, at last year's Meltdown Festival he announced onstage that he had recently been diagnosed HIV positive.
The shadow of this discovery hangs over the whole of Pale Green Ghosts, though the results are not as one might expect. The title track, which also opens proceedings, is a beast of a thing whose pulsating bass line is juxtaposed against shimmering strings and discordant keyboards. Cutting through is Grant's diving bell voice, which sounds louche and refined at the same time. The party mood rages on with the cold funk of 'Black Belt', which variously recalls Cameo and LCD Soundsystem. It's Studio 54 circa 1980 where drugs and broken hearts are plentiful.
The electronic elements are in part due to Grant's collaborating with Biggi Veira from GusGus yet they give way to lush arrangements and torch songs: the soundtrack to the Monday after the weekend before. Melancholy, it seems, is never too far out of view. "The only thing that brings me comfort," Grant croons on 'Vietnam', which likens the dissolution of a relationship to that bungled war of attrition, "is the knowledge that no matter who you're with you'll always be alone." As has already been well documented the album very much concerns an ex-lover who Grant once believed was forever after. The disappointment in his voice is certainly not affected when he sings, "Remember when the tenderness stopped and the kindness turned to pity and disgust" on the tragic 'You Don't Have To'. It's like listening to a love affair failing in real time only it's not through the wall – it's in the room, like our elephant; so close you can feel its breath on your face.
Grant's professions are reminiscent of those of Beat Poet Allen Ginsberg – who habitually stripped himself buck naked, both metaphorically and literally – and his bitter paeans to inconstant schmuck Neal Cassady. However, while Pale Green Ghosts may be a classic "break-up" album in the same vein as, say, Frightened Rabbit's Midnight Organ Fight, it is saved from sinking into vitriol and self-loathing by a thick seam of black humour. 'GMF' is by turns self-aggrandising and baiting while the surreal melodrama of 'Ernest Borgnine' couples an anecdote of meeting the Hollywood legend with memories of an oppressive father, drinking too much and thinking about ending it all. While the album title refers to the trees which mark out the highways Grant's native Colorado, there are many real spectres waiting in the wings.
Admittedly, Grant's music may not be for everybody. The occasionally outré, very theatrical productions will not suit all palates while those who are easily offended will not appreciate his way with a swear word. However, if music is intended to be emotive, challenging and, well, real – this more than fits the bill. Ross Thompson