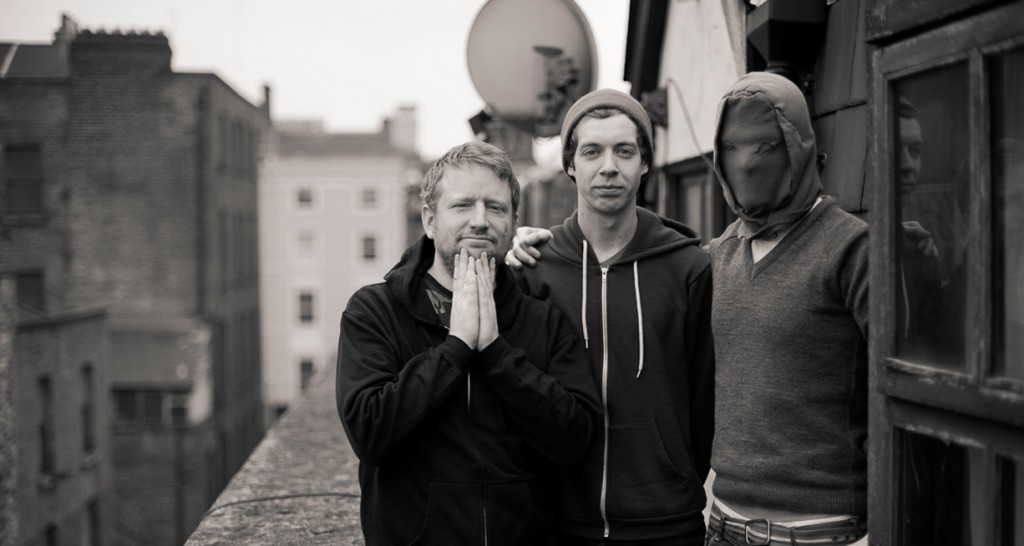 Home to acts as spearheading and diverse as our very own Adebisi Shank (pictured) and And So I Watch You From Afar to Texan psych-rock five-piece Zechs Marquise and Zorch, LA based record label Sargent House is arguably one of the most exciting record labels in the world today. Formed in 2006 by Atlantic Records music video commissioner Cathy Pellow, it has grown in massive leaps and bounds over the last seven years.
Through her own vision and seemingly faultless sonic intuition, Pellow has expanded the Sargent House name far from beyond its modest beginnings as a platform to release the fifth record by Californian prog-rock quartet RX Bandits.  Nowadays, think of some of the most mind-expandingly kickass bands of the last five years and chances are Pellow has had a part to play in releasing some of their music.
To celebrate this fact, we have compiled a Spotify playlist of Sargent House tracks for our very first Label Mixtape. Stay independent, kids.
And So I Watch You From Afar – 'Big Things Do Remarkable'
Having signed a management and record deal with Sargent House in October 2011, North Coast post-rock band And So I Watch You From Afar need very little introduction. Initially signed to Smalltown America from 2007 to 2010 and the now sadly-departed Richter Collective from 2011-2012, the band has seen its already considerable fanbase rocket ever since signing with Pellow's label. 'Big Things Do Remarkable' is taken from the band's third studio album, All Hail Bright Futures, released in March.
Bygones – 'Nu Cringe'
As bat-shit crazy (good) side-projects go, Bygones are an unashamedly math-rock-orientated group consisting of stupidly talented Hella/Death Grips drummer Zach Hill and Nick Reinhart of Tera Melos. Having released one full-length album, 2009's decidedly spazzed-out By-, they are a one of a number of ingenuously incestuous Sargent House acts to have sprouted up over the last few years. 'Nu Cringe' – the breakdown riff to which defies all kinds of logic in its unmitigated awesomeness – is their finest moment to date.
Crypts – 'Territories'

Hailing from Seattle, Washington, Crypts are an electronic three-piece that signed to Sargent House early last year. At contrast with the label's dearth of electronic-based acts, comprised of Bryce Brown, Nick Bartoletti and Steve Snere of These Arms Are Snakes on vocals, their self-titled debut album – released last last year – is a dense, darkly yet somehow delightfully danceable sign of potentially great things to come. 'Territories' is the lengthiest and best track from the aforementioned release.

Russian Circles – '309'
Few instrumental bands have committed to tape tracks of such unremitting intensity as Chicago three-piece Russian Circles. Over four studio albums – each of which has been released via Sargent House in some format – they have forged a staggering body of work all but unparalleled in its balance of punishing attacks and expansive beauty. Set to to release their fifth studio album later this year via Sargent House, the band summoned exceptional things on last full-length release, 2011's Empros. The monumental, occasionally crushing abyss of '309' opens it.
Fang Island – 'Life Coach'
A considerably chirpier proposition than Russian Circles, Fang Island are a Providence, Rhode island indie rock trio comprised of drummer Marc St. Sauveur and guitarists Jason Bartell and Chris Georges. Having outlined their approach as "everyone high-fiving everyone" you can't help but get something of a grasp of their general joyousness – something brilliantly represented across their two studio albums released to date. Fun, wayward and compositionally ambitious without getting bogged down in deconstructionist balls, they share a rhythmically jerky, tonally iridescent ethos with some of the very best acts to ever have worked with Sargent House. Basically: listen to 'Life Coach' and tell us you don't fucking love life.
Zechs Marquise – 'Guajira'
Formed ten years ago in Texas by brothers (of Omar) Marcel and Marfred Rodriquez Lopez and two of their childhood friends, Zechs Marquise are a psych/prog-rock band named after the main antagonist from anime series Gundam Wing. But that's neither nor there, as they say. With a new album set for release at some point this year, the band have released two records since 2008, most recently 2011's Getting Paid, an at times finely hypnotic slab of Spanishy (yeah, Spanishy) prog-psych. With Marcel occupied as keyboardist and percussionist member with the Mars Volta prior to the band's recent fracture, their as-of-yet untitled next record is very much on the cards. Check out the pretty slick 'Guajira' from Getting Paid.
Deafheaven – 'Unrequited'
Currently experiencing something of a surge of popularity over the last few months, American black metal band Deafheaven (very especially accidentally spelled Deafhaven, you will find) are about to release their Jack Shirley-produced second album, Sunbather, via Deathwish records next month. Whilst technically only managed by the Sargent House guys, it's hard not to be smitten by the band's tremolo-driven, blast beat ambushes thunderously propelled George Lesage Clarke's gut-wrenchingly guttaral screams. 'Unrequited', taken from their debut, Roads To Judah, is a superbly despairing taste of their approach.
No Spill Blood – 'No Retreat'
In the event you've been living under a rock or indeed avoid all kinds of rock music, Dublin three-piece No Spill Blood are a synth-punk supergroup (of sorts) comprised of members of Elk, Hands Up Who Wants To Die, Magic Pockets and labelmates Adebisi Shank. With the founders of The Richter Collective currently heading Sargent House's European office, No Spill Blood's six-track Street Meat EP was released last year to a much-deserved attention. Bring on the full-length, I say. In the meantime, the likes of 'No Retreat' more than appeases…
Adebisi Shank – 'Ganki Shank'
Wexford three piece Adebisi Shank are yet another masterful Irish act on Sargent House refusing to settle for the same old structures, sounds and sentiments. Having gained something of an enviable worldwide following over the last three years their off-kilter, totally killer brand of math rock is as kaleidoscopic in its range as it is powerful in its delivery. Definitely more towards the Tera Melos end of the Sargent House spectrum, their two studio albums to date just keep giving. Dig the schizoid robot rock of 'Ganki Shank' and bust a move or two in your living room/bedroom/underwear.
Hella – 'Headless'
Easily one of the greatest experimental guitar/drums duo to have ever existed, Hella AKA the aforementioned Zach Hill and guitar wizard Spencer Seim have been melting heads and opening minds in synchronicity ever since the release of their genre-defining 2002 debut Hold Your Horse Is. Despite having seen different line-up additions and trying out different approachs down the years, they returned to their glorious spazz-rock roots with their debut Sargent House release, Tripper, in late 2011. The unfathomably accomplished 'Headless' is a highlight.

Chelsea Wolfe – 'Flatlands'
Of course, it's not exclusively about prodigal experimentalism at Sargent House. The music-making moniker of a Californian goth-folk singer-songwriter, Chelsea Wolfe's third studio album was released via Pellow's label last year. Where she had certainly impressed before, Unknown Rooms: A Collection of Acoustic Songs saw Chelsea Wolfe conjure sometimes tender, sometimes menacing open-chorded folk drenched in imagery and prophecy. Although the whole subsists as a sort of a spooky journey, the awe-inspiring 'Flatlands' is one of its more poignant moments.

Tera Melos – 'Sunburn'
Last but by no means least, Tera Melos have legitimate grounds to claim they are the best guitar-based band in the world right now. Hailing from Sacramento, California just like Hella and Chelsea Wolfe, the three-piece have been making some of the most ear-prickingly out there experimental rock for the last ten years the three-piece, melding, warping and forging jazz with rock and rock with electronic, ad infinitum. Their new album, X'ed Out, refines all that they are to perfect experimental noise pop; 'Sunburn' being a highlight.