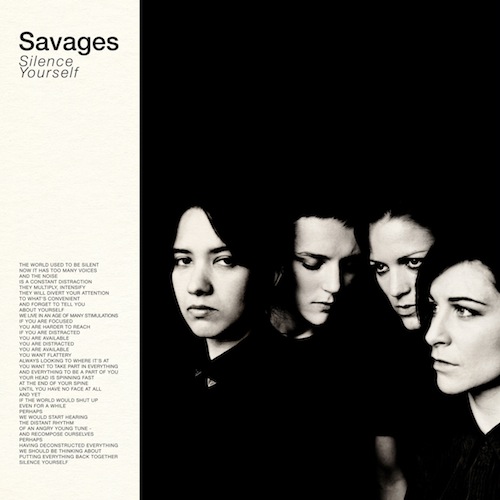 Someone once said, "hype is a dangerous thing" (which it can be, depending upon who or what is being hyped and, perhaps more importantly, who or what is creating the hype). Just under a year since the release of their debut single 'Flying To Berlin', London all-female quartet Savages have been moth-to-bright-light attractive to a very contemporary type of hype – all thanks, that is, to the b-side from the debut single in question. A chromatically descending, shrieking slab of claustrophobic antipathy, 'Husbands' felt like a fully-formed masterstroke; a lost post-punk gem propelled by an energy and urgency that came with little to no warning at all. Fast-forward eleven busy months, a gratefully-received live EP and an BBC Sound of 2013 nomination later, and we have Silence Yourself.
Listing "PKD, Mary Shelley, JG Ballard, Kurt Vonnegut [and] Ray Bradbury" as influences, the (albeit somewhat justifiably) kneejerk comparisons to Savages' revivalist sound apparently draws no parallels to their own non-musical urges. Whilst it's not untrue that on 'Husbands' the band's frontwoman, the wide-eyed, short-haired Jenny Beth shrilly introduced herself as fist-clenched offshot of Siouxsie Sioux and Ian Curtis' more rapid purges, the bigger picture extends far and beyond not only post-punk but music in itself. As soon as it crashes into view, opener 'Shut Up' – think Echo and the Bunnymen's 'Going Up' from Crocodiles played at 45 rpm – is a statement itself. By fearlessly commencing on a song of that title on an record called Silence Yourself Savages are all but underlining, "Think before you continue. Don't pigeonhole us. Don't even pigeonhole us as people who say "don't pigeonhole us"."
Of course, the music on offer here is it, hype and yawnsome intellectualisation aside. The lyrics, the feedback-soaked forays and pummeling, post-punk ambushes, the breathless purges and under-carpet-swept doomsday delirium strewn and invested in these eleven songs that gasp to be heard: this is well and truly the point. Whilst the aforementioned opener surges forth via drummer Fay Milton and bassist Ayse Hassan's indomitable charge, its possessed breakdown explodes from a crescendo into an apogee defined by Beth's delirious litany, "To the sun, to to the sun, to the sun". By the time one absorbs its trouncing follow-up, 'I Am Here', it becomes clear that tautology is one of Beth's most enviable weapons. As post-punk pioneers the Fall once sang: "Repetition, repetition, repetition."
The best tracks on offer here masterfully strain under the tension of an unspecified malevolence, unilaterally (at times hysterically) conveyed by Beth. Positing (at times vaguely harrowing) scenarios of female protagonists and their set-ups – regurgitated visions of the night, burrowing memories of unspeakable truths, backwashed desires from past lives lived – it almost feels like Beth is speaking for someone or something more than just herself or another individual at all points. Whilst you might doubt where she is coming from (or indeed what she is actually saying) one would find it difficult denying the sheer breadth of conviction contained within her notes – the bellows, cries, whimpers, squeals, shouts and every other vocal attestation and plea that voraciously steers the fair ship Savages.
Whilst the sparse, enraptured force of 'Strife' and 'Waiting For A Sign' stand out – the latter making extraordinary use of near-silence and feedback to cast mesmerising spells – 'Husbands' itself remains very much a highlight. Here, as in the aforementioned tracks and in places elsewhere, Gemma Thompson's guitar playing (and indeed, non-playing at points) reaches levels of virtuosity. Very much a musician who channels just as much as she plays, she has a commanding voice throughout Silence Yourself – a style that breaks through the expectation of merely living up to archetypal post-punk shapes and sounds. Whereas the rhythm section is never more than a few paces away from a sense of precedent, Thompson constantly excites and intrigues, leaving no room for explicit comparison, positive or negative. That said, above all else, there is a very real synchronicity at work here, where all four women subsume their own individual praxis to ensure an almost entity-like cohesiveness that has undoubtedly come into being as a result of the band's heavy gigging schedule ahead of recording.
Having been all but manhandled by the net's growing plethora of ivory towered tastemakers and reactionary naysayer contingent for the guts of a year, Savages have refused to bow down to pressure or negate their motives or music as a result of expectation. Indeed, whilst their debut record is far from a perfect artifact – i.e. a sense sense of sameiness protrudes in three to four songs after a few listens – their fundamentally musical defiance of the (digital) column inches, hip pub chat and innumerable doting blog posts has seen them arrive wielding an album that yes, justifies "the hype" – and then some. Here's just hoping they can continue in this way to consistently deliver the goods. Brian Coney
Out now on Matador records | savagesband.com/
Watch Savages perform 'Husbands' on Later With Jools Holland below

‎