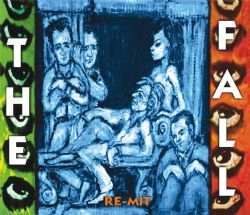 It's never easy reviewing a new Fall album, mainly because – in the experience of this reviewer at least – Fall albums always sound terrible on first listen. You hear it and think "Boysadear, but this is a lot of ramshackle crap". Then, insidiously – almost sneakily – some angular guitar hook or muttered guttural utterance embeds itself in your brain; you find yourself inexplicably returning again and again to this record that so baffled and frustrated you; fast forward a few weeks and you're telling anyone who'll listen that the new Fall album might just be their best ever – yes, even better than Levitate. This period of frothing-at-the-mouth enthusiasm usually wears off eventually, leaving you with the ultimate realisation that, y'know, that last Fall album wasn't half bad.
So first of all, the good news. The new Fall album isn't half bad. Re-Mit features several slices of pummelling garage rock that rank with the best of the group's latter-day output. 'Sir William Wray' roars into life, Peter Greenway's guitar scything away over Elena Poulou's rubbery synth before Mark E Smith hilariously announces his presence with a vocal ejaculation that goes a little something like this: "G-g-g-g-g-g-g-g-g-g-Gish! Gish! W-w-w-w-w-w-w-w-Waaaaa!". Mysteriously, this complete drivel sounds utterly compelling. Such is the way of The Fall.
'Kinder Of Spine' is another case in point – a superb mid-tempo stomp, with Smith apparently very agitated by some spiders. "Spider! Why have I got spiders!" he bellows. Elsewhere, the eastern-tinged 'Hittite Man' is a flawless exercise in simmering tension, Dave Spurr's rumbling bass underpinning Smith's gnomic declarations. The synth-led, pounding 'Victrola Time' is a relentless rush, while the taut, muscular 'Jetplane' is notable for featuring some actual, in-tune singing. Best of all is 'Loadstones', a magnificent, rattling behemoth of a tune and a fitting closer.
It's not all good news. 'Noise' and 'Jam Song' are as uninspired as their titles suggest. Then there's Mark E Smith himself. The great man's approach to vocals is laudably singular, but by Christ it's getting harder to listen to. On this occasion, in addition to his tried-and-trusted arsenal of growls, rasps and loose-denture gurgles, he introduces (on 'Kinder of Spine' and 'Victrola Time') a sort of thin, high-pitched whinny that is so downright strange that it almost sounds artificially pitch-shifted. Even more unnerving is the conclusion of 'Hittite Man', when the listener is treated to a good 20 seconds of Smith wheezing and gasping asthmatically. He doesn't sound overly healthy, it must be said.
Then again, you didn't come here for easy listening, did you? This is rabid, deranged, scabrous. This is nonsense babble and impenetrable prose. Not half bad? This might just be the best Fall album ever – yes, even better than Levitate. Neill Dougan
Out now on Cherry Red Records