Artwork
Published on May 8th, 2013 | by Loreana Rushe
0
Under Cover: Sonny Kay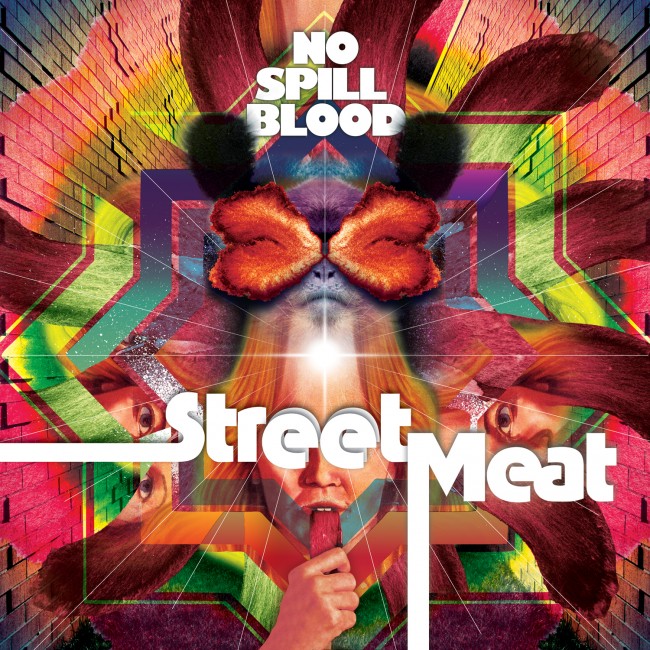 In the first of our regular features on the importance of  cover artwork, Loreana Rushe talks to L.A based visual artist Sonny Kay about the work he did on Street Meat by No Spill Blood and gains some insight into his creative process and inspirations.
Hi Sonny. Tell us about this cover.
It's a digital collage created in Photoshop from photos I found online as well as some textures I made on paper with india ink and water, which I then scanned.
Can you describe the process? 
I began with the frame since I knew I wanted something that felt in some ways like a mandala, radiating out from the center. The other images were layered-in using Photoshop, some filters were applied here and there, and a lot of experimenting was done with transparency and muting certain color channels. It was all basically trial-and-error.
What inspired the artwork for this record? 
The book cover the band sent me (HP Lovecraft) coupled with my own interpretation of the music and the vague concept of "street meat". It sounded like slang for some kind of drug, which led to the idea of a kind of psychedelic meat snack, like beef jerky or something crossed with LSD. I was inspired to try and portray the moment when the hallucinations begin, hence the mandala and the kind of geometric quality.
Separated images from the Street Meat cover.
How much say do bands have in the work you do for them? 
It depends on the band and the project. Some have a lot of say, some are very hands-off. I always welcome their opinions since ultimately I'm trying to make them happy as much as myself.
Do you feel your art relates to the record? 
Yes, I feel that way about every record cover I design.
What were your inspirations in terms of creating the work? 
Well, I wasn't given very much time, so I was inspired to work quickly, make quick decisions, and again, interpret what I heard in the band's sound.
What has been your highlight so far in terms of your work? 
That's difficult to narrow down to one thing. Being associated with bands I respect and admire greatly is something that never loses its appeal.
Who are your favourite artists?
I'm discovering new ones all the time who blow my mind, particularly fine artists (painters, in particular). In terms of designers who I would consider my influences, then definitely Storm Thorgerson and Hipgnosis, Roger Dean, Gee Vaucher, Sam Chirnside, Peter Saville.
What's your favourite album cover?
I don't know if I have an all-time favorite but Squawk by Budgie (below) is high up on the list.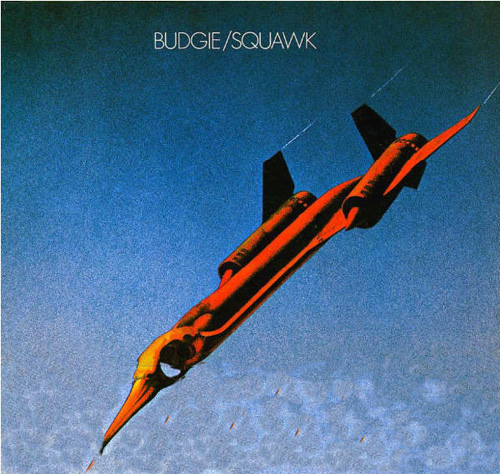 Are there any album covers that blow you away so much that you wish you could have made them?
Yes, thousands. Squawk, for starters. The Sky's Gone Out by Bauhaus. The first three Peter Gabriel albums are almost like the holy grail for album design. All of these ideas are very, very simple, but those are usually the most successful.
Are there any bands you think are amazing but have terrible cover art?
I can't say anything by Queens of the Stone Age has ever impressed me much, but the band is flawless. On the other hand, I think The Killers are terrible, but their cover art is usually great.
What would be your dream commission?
Some massive ad campaign that would put my finances into the black for a couple of years. Or maybe that's my nightmare, haha.
What are you currently working on?
A new album for The Glitch Mob and a new DVD for Omar Rodriguez Lopez.
Any bands you'd like to work with in the future?
If I could pick five I'd say Tortoise, Tama Impala, The Horrors, Queens of the Stone Age, and… Pussy Riot.
To view more of Sonny's work check out his website sonnykay.com and follow him on twitter @PXLR8R