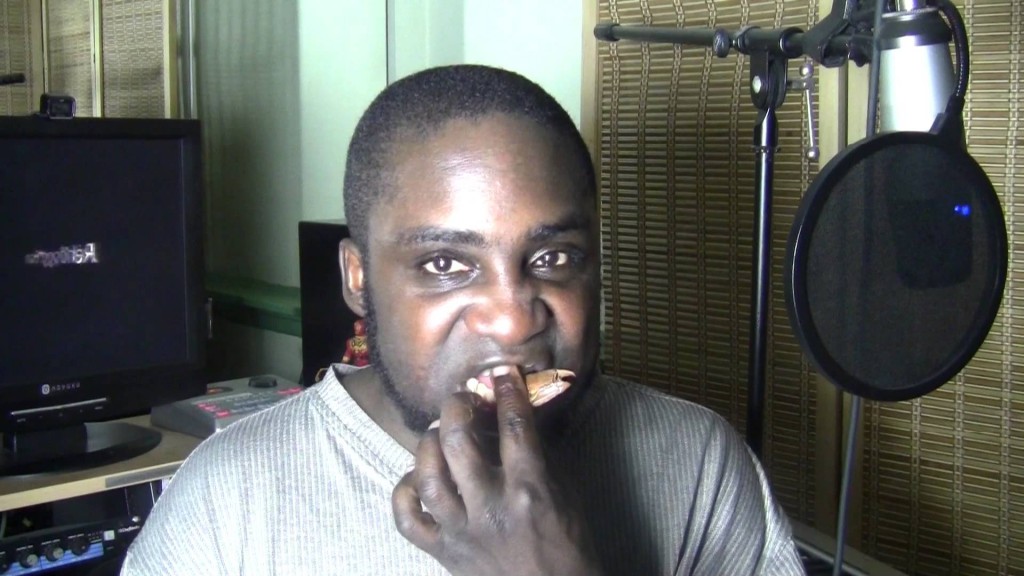 So, now that we're a few weeks removed from the colossal pant-wetting that happened online in the wake of Birmingham teenager Danish Ghaffar (or D4NNY, if that's your thing) uploading his seminal masterwork 'Goodbye' to YouTube and its garnering of over a million views, let's take a minute to consider the phenomenon of shit music videos before the next one arrives, shall we?


I'm as guilty as the next asshole of laughing at people who perhaps didn't think their career choices through. I'm currently sitting on Drop-d.ie, a site I run, until we reboot it at some point in the future, where we had an absolute field day for about a year on the exploits of Connecticut religious fundamentalist weirdo Reh Dogg (pictured above) and his adventures in music videos, conservative rants and monumentally self-centred vlogs. I can't claim any moral high-ground on this issue. What I can say, though, is this. Reh Dogg, R.A.E.D., and the rest of the clowns online putting what little resources they have to questionable use are full-grown adults. Perhaps not playing with the full deck, but responsible for their decisions and able for the consequences. If you post a video of yourself scrubbing your arse in the shower before airing your dirty, dirty laundry in what might be tenuously called rhyme, you're going to get what you fucking deserve. I have no sympathy for you if you want to stomp around naming people's names in your music and posing with a gun to your head while addressing young children in your lyrics. That is how you have chosen to deal with your problems, and you deserve all the ridicule you attract.


Likewise, it's quite obvious that Indian YouTube sensation Vennu Mallesh is also suffering from delusions of grandeur. His song, 'It's My Life Whatever I Wanna Do', while being excusable for being written in Second-Language English, still harbours a lot of unwarranted hubris. A full-grown man took the time and energy to put this into the world, and the resultant surge of lulz-seekers that resulted went straight to his head, as evidenced by his cod-philosopher horseshit on Facebook and Twitter. His follow-up single, wherein he moves around a floor à la Michael Jackson, and his apparent movie, apparently in production, pay testament to the ongoing expansion of this guy's head. The joke's already over, but let's see how long it takes him to figure out who the punchline is.


If you were sensing a "but", here it is. These dudes, as stated, are full-grown adults. This is where the argument ends. Like Rebecca Black and the Ark Music Factory girls before him, D4NNY is a kid. He doesn't know any better. He's doing what all fifteen-year-olds do on their initial excursions into composition: suck out loud and put his own scant life-experience into lyrics. So far, so every writer's initial foray into lyrics. Right? Right. But here's the catch…
Look at the pop-culture that surrounds us today, as opposed to when, say, today's average twenty-something, laptop-wielding, coffee-guzzler would have begun venting onto paper. Ideas can and do go viral overnight, exposed to millions and millions of people via vast, over-reaching networks that span a good percentage of global population. If this had existed in 2003, the same way it pervades society now, you and your shitty pop-punk or domesticated nu-metal band would be rushing to the nearest grassy field you could jump around and look frivolous/tortured in.
The second prong of D4NNY's malfunctioning shit-tunes pitchfork is the more troubling. Kids. Monkey see, monkey do. In a culture of instant gratification, mainstream hip-hop/pop in particular has been more than responsible for its share of stupidity, objectification, etc. etc. It's an old argument. We exist in this vacuum where any old shit will do for radio now so long as it gets attention or is relatively cheap to produce. This vacuum extends to reality TV and talent shows by dint of offering the same escapist entertainment/freakshow value as both radio (songs Joe Public knows getting covered) and online outlets (the deluded first-round twerps that get auto-tuned to sound worse), thus remaining easy to market to an already braindead casual listenership and appealing to big media, thus remaining ubiquitous in said media. Long story short: mediocrity is everywhere, and the riches are vast and boundless for the first year, at least, until you're forgotten with the advent of the next series, and gig venues refuse to pony up when you laughably call yourself an independent artist and ask for two grand to mime your way through a "show". Conveniently brushing that part aside, because it would NEVER happen to THEM, kids see the big red X and the millions of YouTube views and see that as the brass ring to reach for.
D4NNY is simply doing what he sees around him as a means of becoming "big" and "successful", according to a recent interview. That's not his fault, it's the fault of the generation before him for passively accepting this horseshit in the first place, rather than voting with their CD sales, remote controls and doing something constructive with themselves on a Saturday night. "Big" and "successful" are two words that stick in my craw, though, mostly because, logic dictates that the "biggest" and most "successful" bands are the best and most skilful songwriters, something we have long ago accepted as a pipe dream and gotten on with circumventing through DIY music distribution, the blogosphere, etc. That the all-encompassing goal of a poor, innocent youngfella that simply fell victim to viral culture, without a hint of irony, is merely to be "big", regardless of how he gets there, and how much ridicule it will now cost him throughout his life as a result of his misgivings, is the saddest part of all.
He got what he wanted, alright. Now let's see if he can handle what happens next. And if that's the attitude of an innocent, imagine what will happen when Simon Cowell's next show takes exclusively to YouTube. Mike McGrath-Bryan