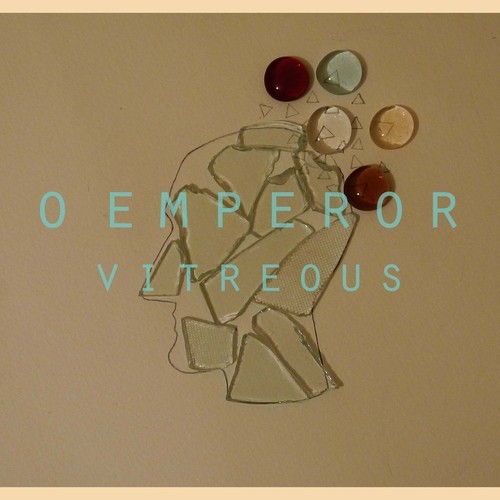 Beginning a career with a great debut album is a mixed blessing. On the one hand, you've come out the gate running, kicking and shooting wildly into the air. People will take notice and, at least for that moment, everything will seem to fall into place. On the other hand, if you come out too well, then there will be no bullets left and, when it comes time to make your next record, you'll appear more like John Cleese's bureaucratic silly walker. Acknowledgement of one's past and real, internally motivated growth is key to avoiding a Python-esque fate. So when faced with following up their Choice-nominated debut, Hiter Tither, how did Waterford's O Emperor do to overcome this hurdle? Well… in Vitreous they've made a pretty decent prog-rock album.
From the word go, the progressive and psychedelic elements are kicked to the forefront with 'Grandmother Mountain'. It feels as though Hunky Dory Bowie is covering Wilco's 'I'm Trying to Break to Your Heart'. It's a great album opener and, with help from the Oppenheimer-inflected 'Holy Fool', fights off the feeling of decay quite successfully. The pace doesn't let up until the midpoint of the album, where much of the initial energy is reflected inwards onto piano balladry. It's towards the end that the album hits its true high point with the beautiful 'Soft In The Head' and the phenomenal album closer 'This Is It', which sounds like Radiohead's 'Subterranean Homesick Alien' as played by ELO. It's on these moments of greatness that the album's deep-seeded issues become so much more apparent.
The lack of time and space for the development of sounds really takes its toll on the album. For example take 'Grandmother Mountain' – it's incredibly lively and energetic whilst still having an overbearing feeling of deep sadness. In the space of just over three minutes, we traverse more than four major different movements and unfortunately there just isn't enough time for any other these movements to reach their zenith. Just as things seem to be heating up and really working, we're jerked through into an entirely new sound. While this can be really exhilarating, without the space to grow, the song just comes off as inconsistent and annoying after a point. This is an absolute shame because the structure is there, it's just not properly used. This feeling of disappointment becomes much more apparent as the more psychedelic elements of the album begin to come in. It's not bad album at all, it just seems rushed, clocking in at a mere 29 minutes – which, for music that seeks to create these huge expansive soundscapes, is a mortal sin. If granted a little bit more breathing room, this album could have been so much better.
Of course the flipside to this criticism is that the heavy layering of the music encourages devotion amongst listeners to find and appreciate every sound hidden in the mix. If you want music that is to be analysed more than enjoyed, then Vitreous is a great choice. There is a huge amount to find in these songs. Some might find a neat half hour treasure trove of goodies that pays back dividends immensely. What remains is a solid – if not rushed –  follow up that left me wishing that the final track, 'This Is It', wasn't being entirely honest. Will Murphy
[soundcloud url="http://api.soundcloud.com/tracks/82966176″ params="" width=" 100%" height="166″ iframe="true" /]