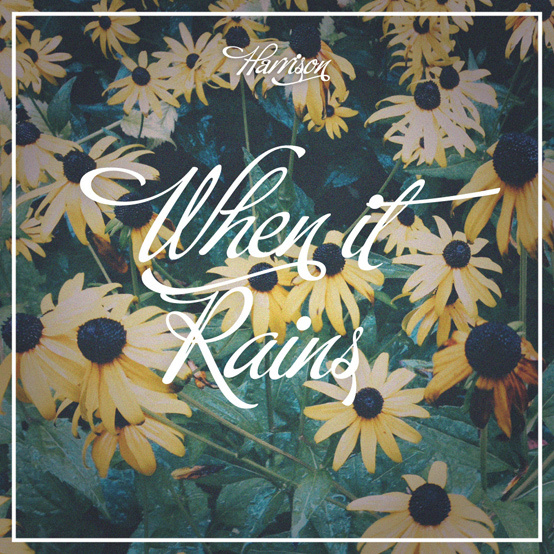 Hip-hop, for me, is music to be enjoyed and considered. It's unfortunate though that what most would currently call hip-hop is dominated by the kind of backslapping lyricists that appear to only pander to audiences willing to accept alienating stereotypes, or utter musical tripe. Either that or it's about swag, whatever the hell that is.  On a brighter note, all is not lost. J Dilla is still being released and re-released posthumously; Madlib is still going strong and Peanut Butter Wolf and his Stones Throw label are the gifts that keep on giving. These guys are the true music makers. They are the architects of the considered, soulful hip-hop compositions that defined a still relevant and, more importantly, influential sound.
Enter Harrison. The young Toronto-based producer has been tipping his sonic cap to these old masters for a few releases up to now, albeit in a pseudo-electronica vein, but his latest full-length When It Rains is an all out, blatant amalgamation of the best of the experimental hip=hop style. With an average track length of around two minutes and the overall runtime of the album falling short of the twenty minute mark, this is an effort that is a throwback to the underground beat-tape sound popularised by J Dilla with his groundbreaking Donuts.  The beauty of the album is perhaps its simplicity; it's sound could well have been constructed with an old cassette machine, a loop station and a selection of obscure 70's jazz and soul records (although it probably wasn't).
Opening track 'Get Up' sets a laid back Booker T. Jones vibe with a mellow, scratchy beat. The fact that it's thirty five seconds long should be frustrating, but isn't. 'Bay Windows' with its stop/start breaks and piano repetition is short and solid, if not slightly clean. To see the full potential of Harrison as a producer, skip forward to 'Come Closer (edit)', 'Grade A' and 'Alright. Solid.' These are the tracks that showcase his considered, soulful approach to  composition.  Melodically, they have a warm, mature sound that is somewhat surprising given Harrison's youth. Layered with uncomplicated beats and samples, there is a relaxed bounty to be found here that somehow feels organic, even within the confines of the album's time frame.
When It Rains is certainly thoughtful and the overall feeling achieved with the record displays Harrison as a promising talent, if not a pragmatist.  Despite the album's strong production however, it's nothing that hasn't been heard before from the class of '94 – '06.  Aaron Drain
[soundcloud url="http://api.soundcloud.com/tracks/107507709″ params="" width=" 100%" height="166″ iframe="true" /]
(Download When It Rains here)