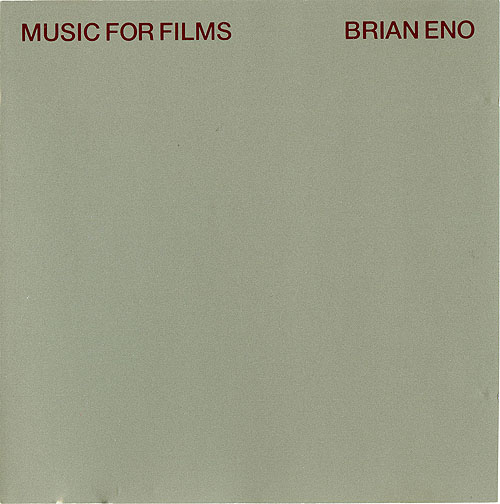 Lesser Known Pleasures is an overdue hurrah for albums that live in the shadow of an artist's more renowned or successful work. Great records, that for one reason or another, failed to tear up the charts or wow the critics, yet on further inspection are undeniably damn fine indeed. Lesser Known Pleasures are the albums that demand that the scales of justice be re-calibrated.
This time around it's the turn of Ambient pioneer, Art Pop legend and all round musical genius Brian Peter George St. John le Baptiste de la Salle Eno. But you can call him just plain Eno. The album in question, Music for Films (1978) is 18 short tracks to soundtrack imaginary films. His early, more rock based albums such as Here Come the Warm Jets (1974) and Another Green World (1975) retain a hefty percentage of the plaudits for his work and Music for Airports (also 1978) steals the thunder for his ambient material. Music for Films though is a powerfully emotive gem that deserves more heed.
Eno left Roxy Music in 1973 after their first two albums and wasted little time kicking off a solo career. He began by ploughing a similar glam-tinged, art-rock furrow to his former group, but grimier, less flash, and with unusual and often dark lyrical themes. Across several more solo albums, Eno gradually introduced more and more instrumental passages, slowed down the pace and embraced a more minimalist approach. Concurrent with these releases Eno worked on a number of collaborative efforts with emphasis on experimental approaches and avant garde ideals. This combined with an interest in Krautrock all contributed to Eno's development of a style of mood enhancing, atmospheric music that he dubbed Ambient.
The first fully fledged and full length example of this new style was released in early 1978. Ambient 1: Music for Airports, is graceful, delicate perfection consisting of four lengthy tracks designed to be played on permanent loop. This formula became a familiar one for his ambient releases over the years (and for ambient music as a whole). Music for Films on the other hand, whilst sharing some of the same audio palette, is a quick-fire blanket of exquisite musical sketches, each with their own vignette to relay, or scene to set.
Airports was clearly conceived and executed as a singular, fully-formed project. Conversely, Music for Films, although released later the same year, was in fact an assembly of works from a three year stretch. As such, it provides a fascinating insight into the birth of a genre and into Eno's development as a composer at a time that surely ranks as the most interesting and varied of his (or any?) career. His résumé of the period (1975-78) suggests a calendar so full thatMusic for Films must have been recorded in his sleep. During it's genesis he also recorded 2 albums with Krautrock group Cluster and produced many others including The Penguin Cafe Orchestra, John Cage and Ultravox. He invented several tape manipulation methodologies to aid composition and recording. He developed, with artist Peter Schmidt, a deck of cards called Oblique Strategies designed to help artists and musicians surmount creative blocks. Additionally and most famously he forged a creative association with David Bowie which resulted in his "Berlin Trilogy"of albums, two of which (Low and "Heroes") were released during the gestation of Music for Films.
The type of film music we are dealing with here is not that which might accompany Vin Diesel as he blows up a helicopter, whilst BASE jumping over a volcano or whatever. Instead, imagine a deep sea diver gliding through underwater caves and drifting in and out of oceanic light and shade. Think of a gentle, slow reveal of Planet Earth from an unspecified location in space as a billion stars genially twinkle their belated messages as backdrop. The magic in this music is it's suggestion. Close your eyes and each piece offers a dozen visuals. The tranquility drips endlessly from each sketch and yet Eno manages to avoid blandness throughout. Constructed from a broad range of sounds the tone is nevertheless usually set by textural synth and acoustic piano with phasing, reverb and other effects applied. Percussive touches are only occasional but eventually include some more ethnic sounds that anticipate his later collaboration with David Byrne. As Side 1 comes to a close we are treated to three takes on a track called Sparrowfall during which we feel privy to the writing process itself. The music grows from a gently ominous melody into a more fully realised execution that could be an excerpt from the famous second side of Low.


While it's difficult with music so innovative to cite precedent, moments arise, from the album's beginning to it's end, that reveal an ever broadening sweep of influence over almost 40 years since it's release. Eno himself was no doubt inspired by the likes of Stockhausen, the aforementioned Cage and early Kraftwerk and their contemporaries. His bridging of the experimental with pop has seen his creativity echoed and expatiated by generations of admirers over the decades.  From new wave synth pop of Gary Numan and Japan through post punk of Joy Division and The Cure. From soundscapes of shoegazers like Slowdive and MBV to the 90s Ambient stars like The KLF, The Orb, and Aphex Twin. Onwards with Godspeed and Sigur Rós to Boards of Canada and Tim Hecker, Eno is godfather to them all across the blueprint of Music for Films. Jonathan Wallace