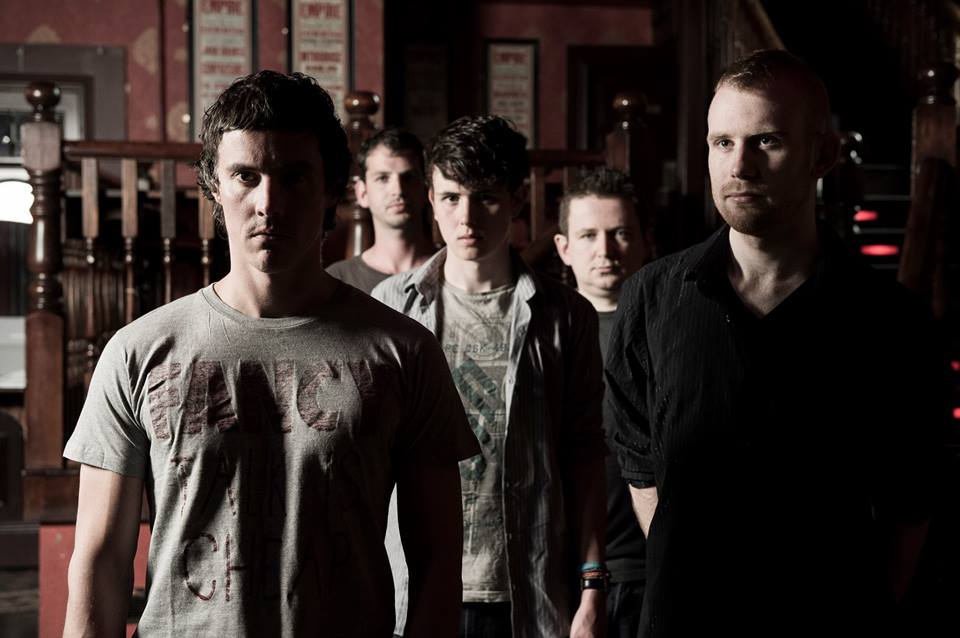 One of a few up-and-coming Northern Irish bands whose music straddles vehement punk and straight-up garage, underpinned with straight-up, socially conscious lyrical content, Belfast-based four-piece The Twenty embody the rigorously no-frills approach that they've bestowed upon their music. In the latest installment of Inbound, we catch up with their frontman Colm Warren to learn where he and the rest the band stand on influence, success and the so-called scene.
Hi Colm. Firstly, how did the band first come together?
Well, Paul (Leggett, guitarist) and I have been mates since school and have been writing songs together more or less since then – we've a bucket load! Having done nothing with them for a long, long time, we really came about once they started looking for some like-minded individuals – who also needed to vent.
Why "The Twenty"? Is there a significance to the name?
Agreeing a name was a nightmare. At one point we were throwing about various plays on the type of corporate bullshit you hear at work every day – you know, crap people come out with like "blue sky thinking", "thought share", "let's take it offline", "let's touch base" and someone happened to say something about "the 80-20 rule" (or the Pareto principle applied to business that suggests 80% of your sales/profits are as a result of just 20% of your customers – so focus your time on those). Not that we're saying we're the 20% (!) but The Twenty ultimately derived from that ridiculous conversation.
What are the band's collective influences, musical or otherwise? Any particular bands or albums that have informed your sound?
It's a bit of a stock answer but the musical tastes within the band are wide-ranging. The bottom line though is that it has to be real and genuine – no posing, wannabe bullshit or musical wanking. From-the-heart, raw, street music is our kind of thing but as long as the artist means it, that'll do. Don't worry about the genre. In terms of our own sound, obviously it's come out kind of punky but we didn't necessarily intend it that way. Our starting point is no messing about, no gimmicks, nothing computer-driven, auto-tuned or faked.
Given that and the subject matter, maybe the punk element was inevitable but we didn't sit down in advance with a load of The Clash or Pistols records or anything like that. We try to write honest songs about real things going on in our lives or in the world about us. But we try to keep these accessible to the 'casual listener', who usually won't give two shits about whatever it is we're banging on about – and that's fine! So they need to be full of hooks. It's all about the overriding emotion, though; the music has to reflect the lyrical themes and the thoughts behind these. When I bring in a song, for example, I'll usually just describe the overriding emotion it's meant to convey and we'll go from there – it's just I haven't brought in any romance-laden, joyful, happy ones as yet!
What do you think sets you apart from other bands of your ilk, both in Belfast and Northern Ireland generally?
We're not going to sit here and say we're any better or worse than any other band locally because we genuinely just don't look at it that way. It is what it is. We're not claiming to be, or interested in being, the best or most polished musicians out there – we're not. But when we play, we mean it. That's it. It probably took us a bit to find our sound and especially to feel comfortable among other bands and what people might describe as the music 'set'. But we're there now and have been for a while – largely as a result of experience and because we're much more confident in what we are now. As a result, you're much less concerned about what anyone else thinks of what you're doing, especially anyone with a multi-coloured baseball cap on sideways in a bar in Belfast.
None of us had any contacts in the music industry locally when we started. Equally, we're not going to beg to be 'accepted' into the clique – we haven't the time! Fuck that. We're not starry-eyed kids, desperate to 'make it' or appear to be popular. Maybe that's a difference, don't know. But we probably do sound quite different to a lot of what you hear locally. There's a more garage-y, rawer feel to our stuff maybe? Whatever, we've played with some unbelievable bands locally and it's just a pleasure to have the craic with them and to listen to them doing their thing. Ultimately, we have the utmost respect for anybody who goes out and does it because they love it, despite the challenges.
There is a certain straightforward quality to your sound that really works in your favour. Is this is a conscious decision – to strip it back to the bare bones, as it were?
Absolutely. Like we said before, the music has to reflect us and the emotions we're interested in conveying or else we're just posing. We're straightforward people – like most people! When we're frustrated, hurt, angry or pissed-off, we drink, we curse, we lash out, we feel bad about ourselves, we wonder what the fuck we're at with our lives. The emotions are raw – expressed internally or externally. We don't paint a picture, book a session with the psychiatrist or sit down with our mates to discuss and explore the full extent of our disillusionment over a latte and smoked-salmon cracker, know what I mean?
Do you identify or associate yourselves with any other bands? Any local acts gaining your attention recently?
In terms of identifying ourselves with other bands, not really is the honest answer. Locally, we definitely seem to have more in common with guys that are genuinely in it because they love the music and who aren't just posers. I can't do bands (or people in any walk of life) who take themselves too seriously or think they're the shit – invariably, they're not. But without doubt our favourite band in Belfast is The Sass. They're nothing like us musically but if it's catchy rock n' roll you want, these boys do it great! And they're super fellas at that.
What is your "mission statement" as a band, so to speak? Fame, acclaim, money, touring, recognition?
All sounds great but, in reality, no. If you don't get it from the music, we're not prone to notions of grandeur and, unfortunately, we have full-time jobs we're trying to hold down to pay the bills. Music ain't gonna sort those any time soon. So, although we'd love to have the opportunity to focus on music 24-7 and develop that bucket load of songs with the time and effort they'd deserve in a studio, we come back to where we started.
First and foremost, this is an outlet for us. An avenue to get this music, this frustrated creativity, these emotions, all this shit, right out of our system. So as long as we can keep getting songs recorded and released, keep playing gigs, keep playing music together and with other like-minded musicians, we'll be happy. In all fairness, we could never have imagined even the wee bits of modest success we've (accidentally) managed to achieve to date when we started. We've had a song picked up and played on a New York City punk radio station for crying out loud ("an excellent motherfucking little tune from Belfast!") and have even managed to get one on the TV for about ten seconds (if you turned your set up really loud!) What more do you want?
Your Camarilla EP is one of the best attitude-laden EPs to be released in the country this year. How well do you think it serves as a snapshot of the band right now?
Well, thank you very much for saying that! We'd have to agree with you. Yeah, in many ways, Camarilla is a real good introduction to The Twenty. It's no-frills, raw and sounds like we'll sound if you come to see us play. There are a couple of songs dealing with tough personal issues and three that are more inspired by events in the world about us.
'Take A Penny' is intended as a deliberately ambiguous dig at what we see as the myth of corporate-social responsibility in global multi-nationals (think Starbucks' tax deal); 'Parapet' was inspired by the various scandals that exposed the blatant hypocrisy at the heart of so many of society's long-trusted institutions (most specifically, the church); and 'No More No' was first conceived of after Mohammed Bouazizi felt he had to set himself on fire in Tunisia in December 2010, so frustrated was he at the injustice shown him by officialdom there. Many saw that event as the catalyst for the wider Arab Spring but we were even looking at a lot of the stuff going on in Ireland and the UK at that time and wondering where all of this turmoil was being reflected on the radio. At one point London, Birmingham and Manchester were burning, private banks had taken billions of pounds of our money, people were losing their jobs all over the place, while MPs were taking the piss with expenses, and everyone seemed more worried about who was going to win the fucking X Factor!
Maybe that song in particular is the essence of the band, as it also reflects the personal feelings we all had in getting this thing up and going – No More No of this mundane, submissive bullshit and not doing the things we want to do in our lives. Anyway, given those themes, if we hadn't managed to inject a bit of attitude in there, at the very least, we'd have been in trouble!
In terms of upcoming material and gigs, what is there on the horizon?
We're back in the studio in Dublin in November to record a double-single we're planning to put out, hopefully before the end of the year. It's one of our own songs along with a cover called 'You Can't Be Lonely Forever', originally recorded by a big influence of ours, a brilliant punk, nu-wave band called Bam Bam & The Calling who were kicking about Derry in the early 80s around the same time as The Undertones. We've been playing it live for a while now and wanted to get it on record somewhere along the line as a nod to those guys and some of the other lesser-known but still amazing bands from Northern Ireland that were leading the way in the late 70s/early 80s.
It was a real honour when Paul McCartney from the band, who wrote the song, said he'd be happy for us to attempt to do it some justice in the studio -so we'll be working very hard to ensure we don't let him down! Gigs-wise, after a busy summer all around the North, we'll likely play some shows in Belfast and Derry before Christmas. We're a man-down to a wedding/honeymoon at the moment and have recently had to turn a couple of things down unfortunately so the focus just now is on getting the latest recording done and a first video shot to accompany the release.