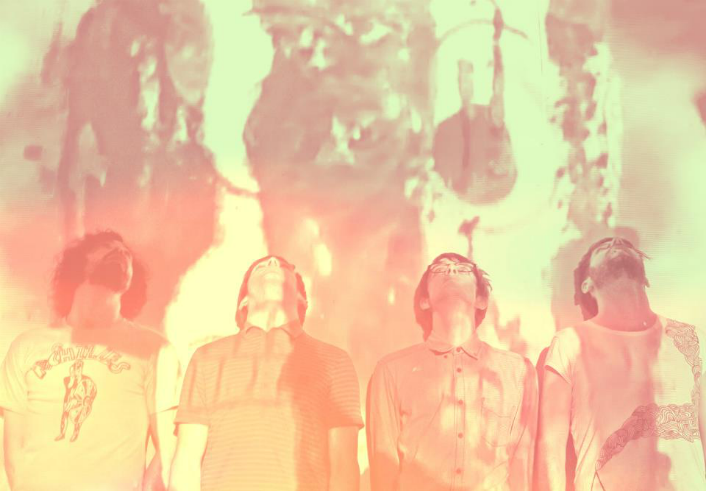 In advance of its release on February 3, we have the honour to bestow upon your lovely eyes a track-by-track preview of Wired, the momentously-anticipated debut album by Belfast-based indie/electro-pop quartet Ed Zealous.
Having released 'Thanks A Million', 'Telepaths' and 'Medicines' from the ten-track release, over the last couple of years the band have given us a steady taste of what their full-length debut album has in store. Let's just say: if you enjoyed any of the aforementioned singles to date, there's a very good chance Wired will leave you intent upon an immediate second listen.
Check out the artwork and our track-by-track preview below.
Very much starting as they mean to go on, the insatiable '147' opens on a synth-drenched overture somehow managing to morph the likes of The Rentals and Trans Am. Giving way to a positively seizure-inducing polyrhytmic groove courtesy of drummer Paul Irwin and ardent refrains from vocalist Steve McAvoy, the track unravels superbly over four minutes, its ridiculously anthemic chorus seducing your potential resistance to bust a few shapes into ultimately very willing submission.
2. Thanks A Million
Beginning on a shimmering arpeggiated synth line, single 'Thanks A Million' is a more spacious but no less infectious affair, Irwin and bassist Pete Lloyd fusing impressively from the off. With a chorus evoking the wistful of 'This Is Such a Pity' by Weezer, the song is a perfect example of Ed Zealous' seemingly effortless ability to meld radio friendly hooks with a desire to really expand upon any accepted facets of their genre. Top-drawer stuff.
3. Medicines
Reminiscent of the most excellent Dutch Uncles, both in terms of shifting rhythms and the underlying darkness in their choice of chord inversions, 'Medicines' boasts yet another earworm of a chorus imbued with the band's comprehensively distinctive starry-eyed shtick. Perhaps best of all, though, is that it really underlines the Belfast-based band's knack at writing an electro-rock banger that, just as easily as it could fill a dancefloor, works its magic upon a lone listener just as well. Just what the doctor ordered, etc.


4. Telepaths
Upping the decidedly banging electro-pop ante some more, the recently unveiled 'Telepaths' is a real mid-album peak. With McAvoy echoed the right honourable Lionel Ritchie on the chorus – "I'm dancing on the ceiling…" – the band forge an unashamedly unbridled party anthem propelled by a wide-eyed, pheromone-soaked, synth-driven chord progression in C minor. Ecstatic and restless in all the right places, with the subtleties and effects in production shining through throughout. And what a video:


5. I Will Destroy You
Despite being led by a distinctive dub step beat, 'I Will Destroy You' is a markedly more subtle affair from the band. With McAvoy expelling observations in typically intent-drenched fashion – "This is who we are – don't get it. This is what we do" – the inherent intelligence of the band's songwriting is more than apparent; furiously arpeggiated synth lines underpinning sublimely laconic guitar/bass work. Better still, McAvoy continues to wonder where "your head's at" and, if you've been paying attention, it gets you thinking.
6. Talk With Your Hands
With guitarist, Andrew Wilson, opening on a nice and bare guitar theme, you might mistakenly consider 'Talk With Your Heads' to be positively lulling in comparison to the general breakneck majesty of Wired. That said, the track emerges as a properly solid and wonderfully danceable track over the course of three and a half minutes. Yet again, each member is given space and time o flaunt their individual talents – lines, crescendos and fuzzed out themes coalescing to produce a real gem.
7. Diamonds For Eyes
Of all their tracks, 'Diamonds For Eyes' surely best distills the very essence of Ed Zealous. Propulsive rhythms, an impossibly infectious chorus, hugging washes of irresistible synth, bass and guitar and superbly self-aware vocals that tap into that ever-present niggling voice inside that yearns for altogether aimless and resolutely restless adventures into the night. If 'Diamonds For Eyes' doesn't make you want to lose your shit on the dancefloor, chugging a couple of White Russians like there's no tomorrow…


8. These Words
'These Words' perfectly illustrates how well the four members of Ed Zealous can read and intuit each other after almost a decade together. Once more calling to mind the likes of Dutch Uncles (and to a lesser extent, the almost necessarily accompanying Everything Everything), it combines shifting tempos, brilliantly bobbing bass and scattergraph synth lines to produce a latent single bursting with a youthfulness of spirit and an exceptional compositional maturity.

9. Videohead
"I'm a mess, I'm a mess but I'm trying my best. Take me to the bar and I'll do the rest" professes McAvoy on the penultimate slab of electro-rock glory of 'Videohead'. Defined by the vocalist's most directly stirring and confessional lyrics to date, it carries on from where 'Medicines' left off in terms of an implicit malevolence underlying the song's otherwise patent kaleidoscopic surge. Amongst other reasons (its breathless urgency, Wilson's fantastic guitar work on its chorus) it's probably my favourite track on the album.

10. It's Only The End
Concluding on characteristically idealistic fashion, 'It's Only The End' veers between the wistful and the rapturous in exquisite fashion. Boasting a chorus that weaves its contagious web via Nile Rogers-esque guitar triads and a gloriously galloping bass line, the song is imbued with a nostalgia for the recently-lived past and an almost romantic air via McAvoys closing repartee "No one will ever see me like you do." An extremely convincing closer on an album that is inevitably set to simultaneously hearts aflicker and smitten limbs flailing. Brian Coney