Articles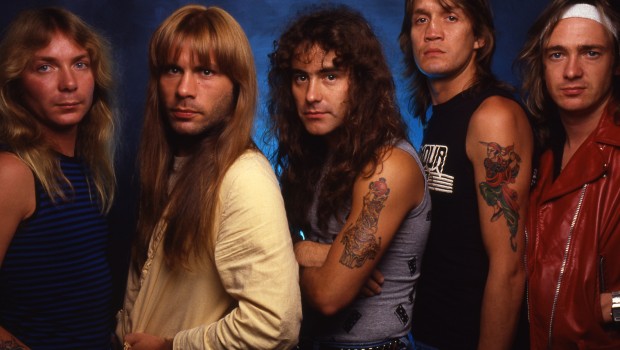 Published on January 20th, 2014 | by Steven Rainey
0
Ten Reasons Why You Should Love Iron Maiden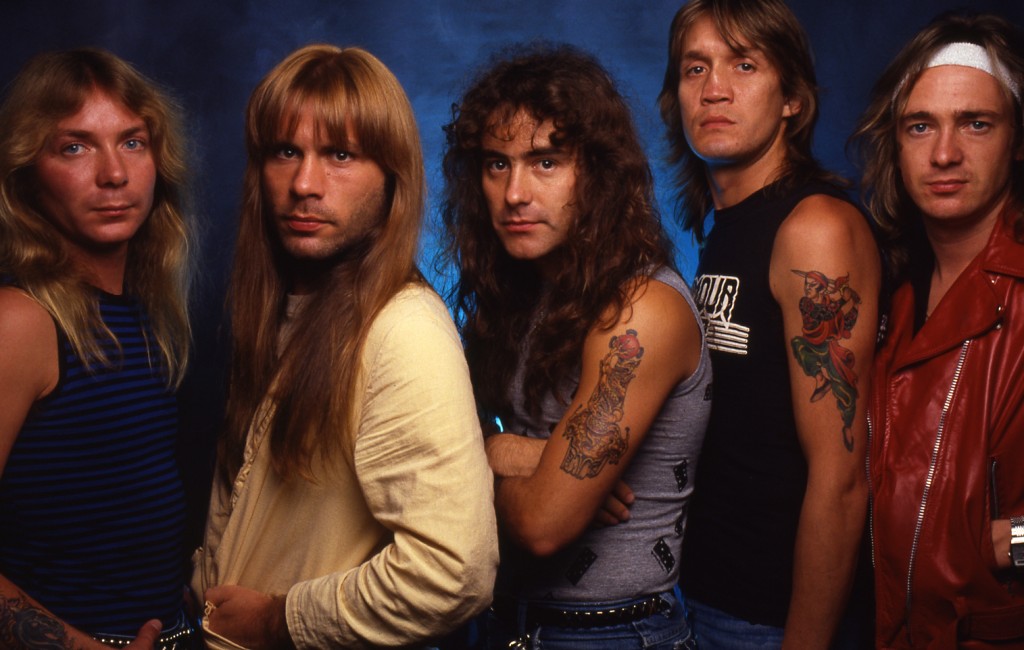 Whether you like it or not, Iron Maiden are one of the most successful British bands of the last 35 years, ignoring traditional methods of support to stay at the top of the pack. They've (fairly) consistently managed to stay ahead of their peers, and even after all this time, still manage to pull out a few surprises.
They're going to be spending a large portion of 2014 on the road, effectively laying rest to their 80s legacy in a series of epic gigs all across Europe. But for those of us who've never appreciated the unique charms of the band, here's ten solid reasons why you need to get on board now.
1. Time Shall Not Wither Their Appeal
Trends come and go, mountains fall and oceans rise, but Iron Maiden will remain true to their mission. The sound they perfected on their self-titled album back in 1980 has proved remarkably resilient, and the 2014 vintage Iron Maiden sound eerily similar to their original incarnation. But far from a signpost of artistic stagnation, this just proves how well crafted their sound originally was, the basics worked out in a way that would never grow old. In a sense, they're like the British equivalent of The Ramones.
2. Edward The Great
Central to Maiden's appeal has been their mascot, the legendary Edward T. Head, better known all over the world as simply 'Eddie'. Gracing the cover of every single album they have ever released, Eddie has become an internationally recognised brand, a mark of quality, letting you know what's in store. Be he a futuristic bounty hunter, a soldier in some unending war, locked in a mental asylum, or piloting a fighter plane, Eddie has seen off all comers, and shall outlive everyone currently alive on this planet.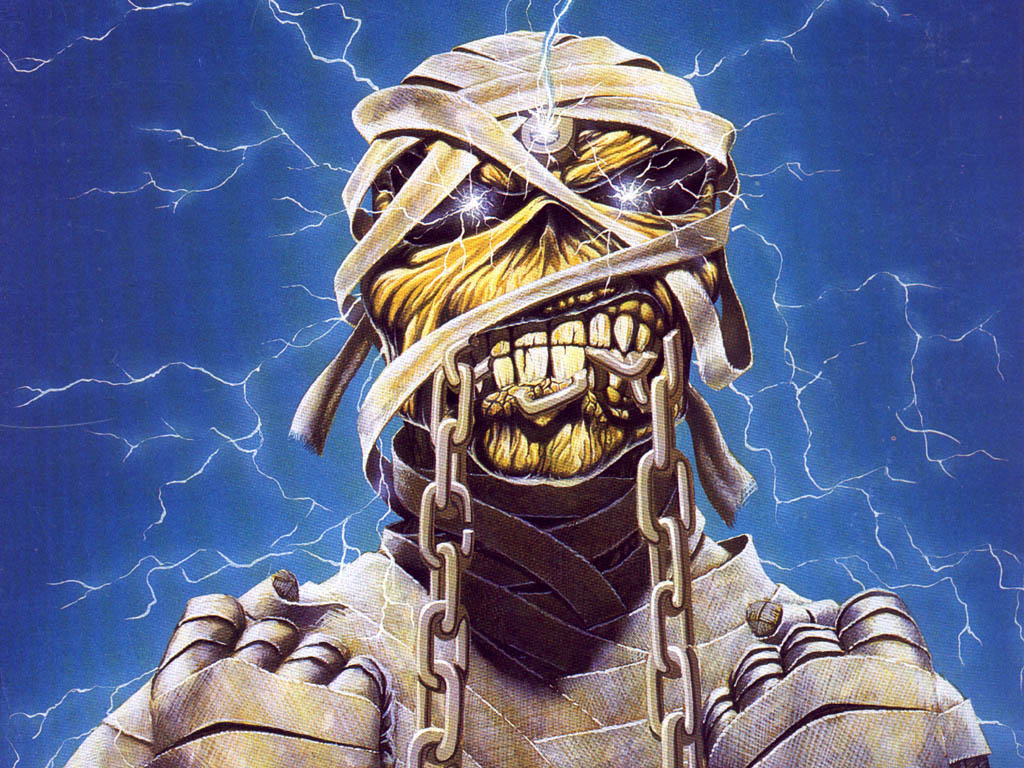 3. Twin Guitar Attack
They weren't the first to do it, but Maiden have made it their own, utilising the sound of dual harmonising guitars to unleash a tightly coiled, yet highly melodic sound. It manages that amazing trick of being heavy enough to get your head moving, and tuneful enough for the milkman to be whistling it in the morning. Everything about Maiden is based on melody, and after 39 years, they keep finding new ways to make it work.
4. The Best History Lesson, Ever
Heavy metal frequently gets criticised for its lyrical content, be it perceived as misogynistic, or relentlessly upsetting, but once again, Maiden do it differently. Right from the beginning, their albums have been peppered with the tales of yore, epic songs drawn right from the annals of history. Want to know about the First World War? Check out 'Passchendaele' from Dance of Death. Interested in the Vikings? Then 'Invaders' from Number of the Beast should sort you out. Doing a history report on the Native American Indians? Spend your time researching 'Run to the Hills', and impress your teacher.
5. The Greatest Show In The Galaxy
When you go and see Iron Maiden, you're going to see pyrotechnics, you're going to see a gigantic animatronic Eddie wreaking havoc on society, and you're going to see Bruce Dickinson in a beany hat, running around for about an hour and a half. Honestly, the man does not stop, and his continued levels of endurance must be one of the miracles of science.
And you'll hear some music as well.
6. Two Words: Steve Harris

Steve 'Bomber' Harris has been the mainstay of the band, forming the group on Christmas Day 1975, and dominating the band with his highly melodic, yet thunderingly rhythmic basslines. This is a guy who had a vision of what rock should be, and then set out to make it reality. Over the 39 years of the band, he had led from the front, becoming as visible a presence as any of the band's three frontmen, and sticking true to that original vision. A long time West Ham fan, he singlehandedly introduced the football jersey into rock apparel, leading to the Maiden fan's battle earth shaking battle cry, "UP THE IRONS!"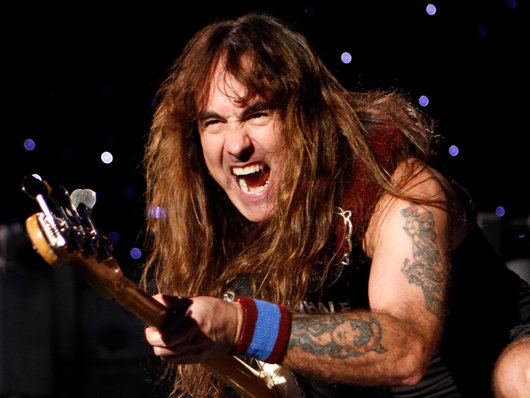 7. The Gallop
Until Iron Maiden, rock music stomped and clomped, and it pounded and hammered, but Maiden introduced a new pace – the gallop. With Harris' bass locking in with Nicko McBrain's drumming, Maiden assumed the spirit of a charging thoroughbred, tearing towards their enemies. So distinctive is this sound, that if anyone else even attempts it, they're just ripping off Iron Maiden.
8. Film Soundtracks
Have you ever seen the movie version of Frank Herbert's Dune? Don't worry if you haven't, just fire on 'To Tame a Land' from Piece of Mind, and you'll get the gist. And this isn't the only time Maiden have used the world of cinema as inspiration, with 'The Clansman' tipping its sporran to Braveheart, 'Man on the Edge' capturing the rage of Michael Douglas in Falling Down, and 'The Wicker Man' going up in flames like … er, The Wicker Man.
9. Ed-Force One
Iron Maiden toured the world in their own private aeroplane, which was flown by Bruce Dickinson, who is a fully qualified pilot.
If you need any more than this, you're probably not alive.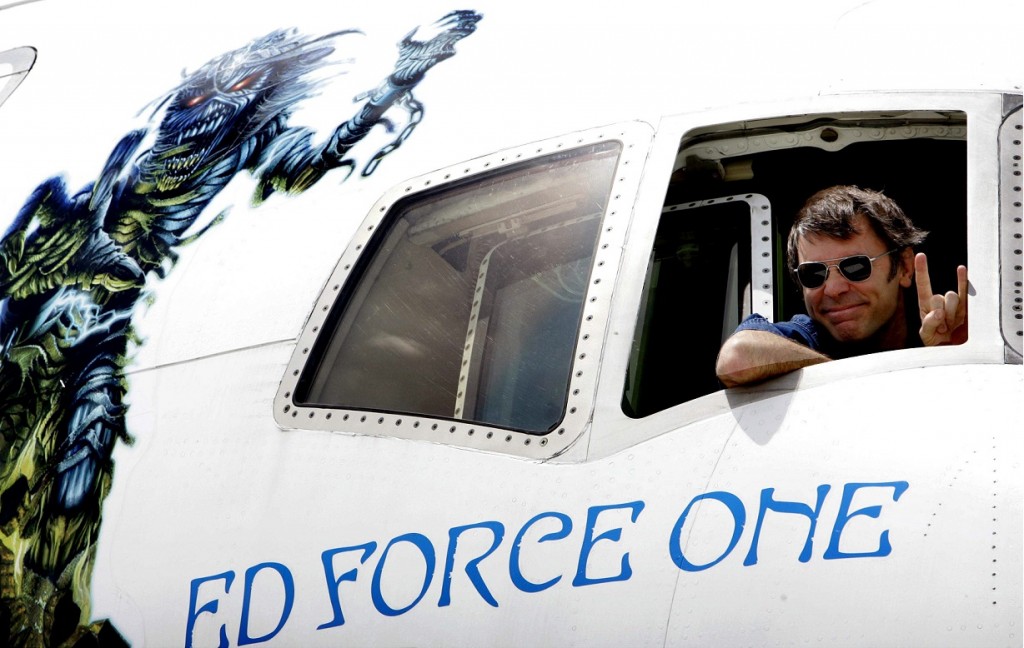 10. Legacy
They just keep on rolling, and it seems that nothing can stop them. When Bruce Dickinson left in 1992, he said the band had run its course. They ploughed on with Blaze Bayley as a replacement, and released two underwhelming albums. But then, as if by magic, Dickinson returned, and without changing anything at all, they returned to their former glory, almost forcing reality to come to heel at their behest. The second 'Bruce' period has been enormously fruitful, both critically and commercially, with the band achieving more commercial success in America in a period where most bands would be thinking of calling it a day. On top of this, albums like A Matter of Life and Death or The Final Frontier sound as fresh as a daisy, with Maiden's signature sound standing up proudly against all contemporary challenges. As incredible as it seems, Iron Maiden seem to be growing in popularity all over the world with every passing year, showing no sign of a decline.
And on top of this, they have a frontman who can sing about living in "The final frontier", and make it sound like he's actually been there.
Long may they continue, and UP THE IRONS! Steven Rainey