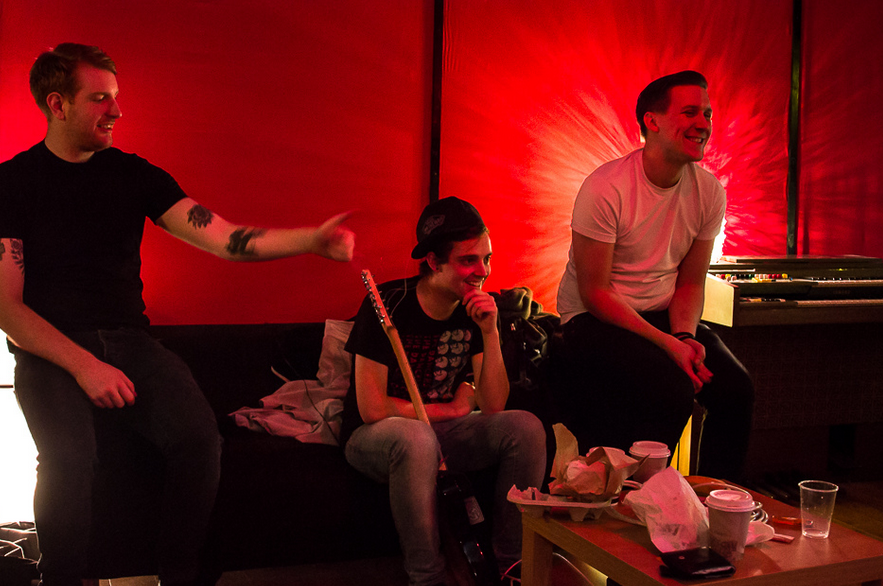 In the third installment of The Record, Liam Kielt tottered along to Belfast's Start Together Studio to capture alt-punk band Empty Lungs laying down some new songs for a forthcoming release. Have a gander at those shots and Brian Coney's interview with Kevin Jones from the band below.

And once you're finished, feel free to check out our in-studio pieces with the equally excellent Bouts and Jape!
Hi Kev. Liam captured you guys recording at Start Together studio late last year. What were you guys recording and when can we expect to hear it?
We were recording two new tracks called 'From Russia With a Lack of Love' and 'Cabin Fever'. They will be released as a double A side single on a limited run of 7" vinyl and also as a digital release – hopefully in early April. We're working with a small Irish label on the finer points of release right now so we'll have a more solid plan with dates soon!
Who produced the session and how was the recording process itself?
The session was engineered by Rocky O'Reilly and produced by Rocky and ourselves. The band has worked with Rocky a load of times already. He's really great at pushing us to try new things and getting the best from us, we always learn from him every time we work with him. At the same time though we're friends so we have the craic while we're "working" and always keep the atmosphere light hearted! It was a time for first's also, the first time this current lineup has done a studio recording. It was great to finally get in a studio with Mykie and Sam and they both nailed it. It was also the first time I've ever played bass on a recording ever. We're between full time bassists at the minute so for ease I just tracked the bass myself.
In terms of the songwriting – namely the lyrics – found on the new material, what can we expect to hear?
The first track 'From Russia With a Lack of Love" is a song about the international struggle against homophobia. The track references the awful and inhumane treatment of the LGBT community in Russia and as well as being a protest song it's a pro-love song. Denying a person the right of love in this day and age is deplorable and I know (er… I hope) human beings are better than that. Those are basically the issues explored in the song.
'Cabin Fever' is a about getting sick of the same old surroundings. Whether your sick of your hometown, your dull job or certain people in your life, it's just a song about striving for something more. A better more fulfilled life. Pretty cliched but it's a very real issue in many regular people's lives, including mine.
How did your first European tour last year influence the new material?
Touring always inspires me to try and be a better musician, a better song writer and generally a better person. You meet so many good people involved in positive things and it always reminds you that there are a bunch of people with the same outlooks as you everywhere in the world. Touring outside Ireland and the UK in particular you get to learn about other peoples culture and history and hear their stories. Eastern Europe always really interests me, the ex- soviet countries always have a unique vibe about them and the people there are so tough man, but also so generous with great stories to tell! More than a few new songs have been influenced by experiences on the road. Hopefully we've managed to capture the sense of urgency and positivity that we thrive off on tour and put some of it into the new songs.
How do you reckon the Empty Lungs sound has evolved over the last couple of years?
I think we've tried to branch out a bit and not get stuck writing the same few punk rock songs over and over again. Some of the new tracks we've been working on are even more melodic and have a lot of pop sensibilities in the music but some of them are more rockin and raw than ever before. The more we write the more we begin to carve out our own sound. Well that's what I hope anyway. At the end of the day I just write songs that id like to hear so it's hard for your influences not to shine through.
From a more general perspective, looking back, how was 2013 for the band?
It was like a roller coaster man – it had its ups and downs. Awful jokes aside, we had a pretty fucking eventful year. We toured more than ever before, finally getting to mainland Europe. We made loads of new friends from other countries. We released an EP we're really proud of and did a bunch of music videos for it. We opened up for Alkaline Trio who are a band we've loved since we were kids. Low points were not getting as much new material written and recorded as we'd liked because of the bassist troubles and I guess Sam Chadwick (guitarist/vocals) and I's house burning down wasn't too fun either but "if it doesn't kill you", right?
Finally, what can we expect from you guys over the next six months?
Releasing a 7" before the end of spring and hopefully a couple of music videos to go with it. I hear the kids go wild for YoutTube. A tour to promote said 7" and then we're going knuckle down and finally get a full-length written and recorded!