Articles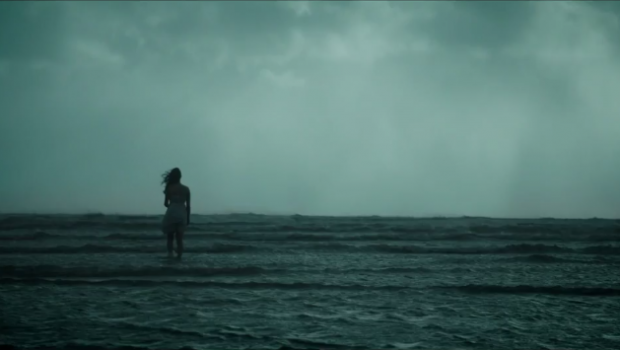 Published on February 17th, 2014 | by Colm Laverty
0
Frame by Frame #003: Feet For Wings – Cathedral St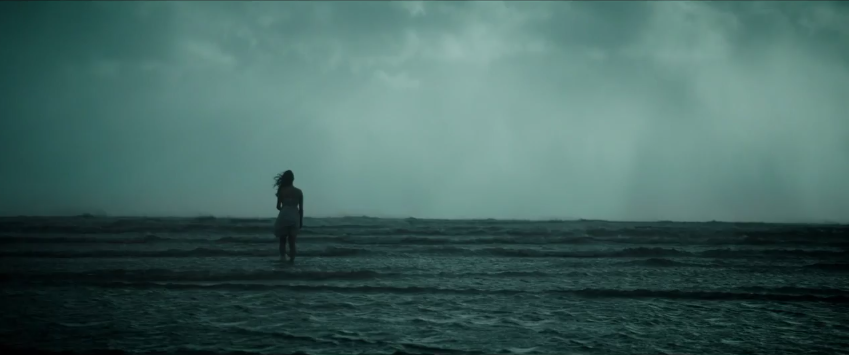 Having just unveiled the stunning yet subtle video for their new single single, 'Cathedral St', Belfast acoustic-folk band Feet For Wings talk to Colm Laverty about its production, the thematic and inspirational impetus behind its creation and their individual thoughts on music videos and the making thereof.
Warning: contains a single reference to Miley Cyrus. Proceed at your peril.
First off, tell us a little bit about each of your roles on this music video.
Dave: The whole band contributed in finding the location to shoot the performance and generally sort things like dates, gear etc out. Apart from that we all just turned up on the day and played Cathedral St what felt like a hundred times whilst trying to look good at the same time! It was great fun though.
Mal: My role was to develop the themes and ideas presented by the band and to then decide what was achievable. Once we had finalised our idea I pulled together some very talented cinematographers and we set about shooting the video.
In a sentence, what sets 'Cathedral St' apart from other Northern Irish music videos?
Dave: It's clean cut and professional, but with an overriding air of honesty and simplicity.

Stephen: I wrote the song, which emerged from personal experience into its broader, more accessible themes of isolation and belonging – both of which are clear in the video.
Dave: From there we just brainstormed ideas that revolved around those themes. We wanted to convey the constant longing for somewhere you can call home and the inner struggle that everyone has in terms of finding that place of acceptance. Quite quickly, we came up with the idea of portraying that mental journey as a very real one. In the video, this is Daniella's journey to the sea.
What were your major influences coming into this project?
Stephen: In terms of music videos, I was definitely influenced by the Bon Iver videos for 'Towers' (below), 'Holocene' and 'Beth/Rest'. When it comes to film, I tend to appreciate cinematography that captures something raw but with a crisp and polished finish.
Dave: The first time I truly realised the power and influence a music video could have was while watching Kodaline's video for 'All I Want'. My first watch of the video was also my first time hearing the song and now it feels like the video is just as much a part of the song as the music. That was a massive influence for me as I would love to achieve that with our own material.

How large was the team working with you on the shoot?
Dave: It was literally just a few guys. Mal, who directed the project, and then a cameraman; Paul Christie shot the performance scenes and Kevin Treacy shot the narrative. Simple but effective!
Mal: We realised early on that we would be much more efficient in terms of cost and coverage if we kept the crew as small as possible. I worked with two talented cinematographers who each focused on a separate section of the video, allowing us to bring something fresh to each section.
Where and when did the shoot take place?
Dave: For the performance part of the video we used the old pool in the Templemore Baths in east Belfast. Stevie and I had booked flights home from university to shoot it just before Christmas and finding the right location had proved a bit of a nightmare so we weren't even sure if we would find somewhere in time! Luckily I stumbled across the Facebook page of the baths, where Stevie and I used to swim when we were kids and saw that they had an old disused pool that looked like it would be the perfect setting as it tied in with the rest of the song and imagery. So it all worked out in the end but I have to say it was a bit surreal shooting a music video with swimming lessons going on a few meters away.
Mal: For the narrative piece we mainly shot at Tyrella beach outside Newcastle. Having shot there before we knew we could have both isolation and the beauty we required for the video. In retrospect a windy, raining Northern Ireland beach in January wasn't the nicest thing to put an actress through but it looked great.
To what extent does the imagery of water represent the aesthetic of the band?
Stephen: Water imagery is a common motif found in all art forms, perhaps for the very reason that it is an example of the 'sublime': its beauty is clear but, in its vastness, isn't fully comprehensible; it is erratic, transmuted in the blink of an eye from calm to perilous. In their album The Alchemy Index (Water), Thrice hit the nail on the head in expressing the sea's propensity to stand metaphorically for the depth of human experience, or even something beyond that. In terms of Feet For Wings, I guess you could say we aim to create music that is not wholly predictable; that is immediately pleasing on the surface while coffering a real depth; a complexity of truth and intent.
Dave: What he said!
Are there any references or homages to a piece of art that we may have missed?
Stephen: I wrote 'Cathedral Street' a good year or two ago. Having just read Hemingway's The Old Man and the Sea – being utterly besotted by it – the song sprung into being alongside a few similar songs. Isolation is a major aspect of the novella and it was undoubtedly in mind at the time. I'd also been considering a number of paintings as part of my university course, namely Beautmont's 'Peel Castle in a Storm' (bel0w) and Montague's 'Night Suspect' – again, the sea was very much on my mind. These references are in no way a tangible part of the video, but they were certainly integral to my own creative process. You could say I see them in the song and so, for me, they are in the video.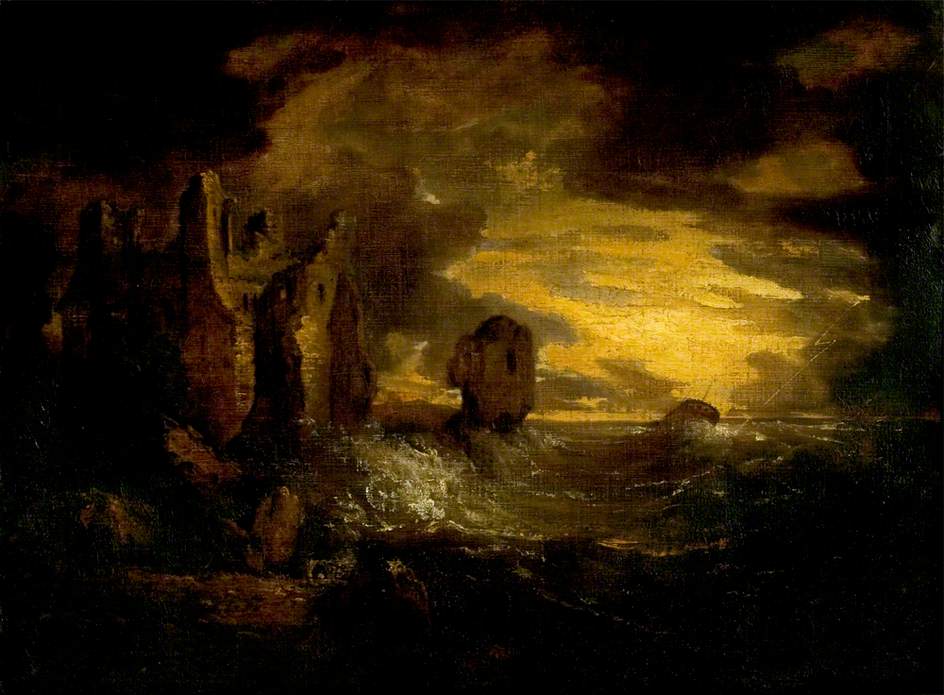 How well were you able to find the right balance between artistic freedom and compromise?
Dave: To me, this video is the perfect mix of the two. As Stevie mentioned, when we had just got in contact with Mal about doing the video, we all met up for a pint and had a good brainstorm. This was perfect because it meant that right from the off we knew what was achievable and what we could expect. I actually think that if we had tried to pull off some of the ideas we originally had then the video wouldn't have turned out as professional looking as it did, so I think 'refinement' is probably a more apt word than compromise!
Mal: I think this was an extremely easy balance to find. The band had some themes and ideas they wanted to portray but were quite relaxed about how we presented these themes. They had complete confidence that we would give them a video worthy of the track, which made our job a lot easier.
How was your experience performing on camera?
Stephen: I've never been one to enjoy being on that side of the lens. At first I thought it would play out like the obligatory photos at a family wedding, where I grow increasing awkward and find I can track the progression quite easily through the end product. I have to say, I was pleasantly surprised! Mal and Paul were able to play back the footage on a monitor and seeing the quality of the shots, thankfully, relaxed me a fair bit.
Dave: It was great! We filmed the performance at double time and then halved the speed of the video to match the song, meaning we had to try and be as energetic and over-emphasised as possible. At points I definitely think I got a little too into it.
Take us through the process of shooting Daniella's scenes. Were the band present for this?
Mal: For Daniella's scenes it was just Kevin and I. As we were asking Daniella to push herself and work in extreme conditions in very little clothing it was best that we had a small crew who Daniella knew and was comfortable with. Before shooting Kevin and I plotted our path to the sea and shot it quickly and sequentially to minimize the amount of time we exposed Daniella to the elements. The sequential nature also served the story and helped Daniella focus on what we were trying to represent.
Stephen: As myself and Dave had to head back to university for exams, we weren't able to be there for Daniella's scenes. We were, however, more than happy to let Mal work his magic without us. It was a great feeling watching the scenes for the first time, seeing how the setting and Daniella's role translated the dreamy quality of the song perfectly.
Tell us a little bit about the editing process.
Mal: The editing process was relatively straight forward. Due to travel and work commitments both sections of the video were shot about six weeks apart. We cut the narrative section as the entire video then distributed it among the band. This gave us six weeks to analyze and pull it apart. By the time it came to shooting the narrative section we knew exactly how much footage we would need and where it was going to be seen within the video.
Has producing videos affected the way you now perceive your own music?
Dave: As I mentioned before, I think music and video together make a very powerful tool. The video for 'Cathedral St.' definitely made apparent a more mature side to our music that we may not have been totally aware of before. If anything, it was a real confidence boost to have your own music video – who doesn't think that's cool?
How do you feel Northern Irish music videos have changed over recent years?
Dave: They have definitely become more frequent and more professional. Music videos used to be only for the bands that have already made it, but now its just another tool to make yourself heard. Making a music video is a no-brainer in the digital age and its now possible to make a really good one on a tight budget.
In what ways has new technology affected your attitude toward music videos, and the industry as a whole?
Mal: I think technology has elevated Northern Irish music videos to another level. The abundance of cheap or free software and cameras means there is no excuse for bands not to be delivering high end music videos on a frequent basis. Bands can no longer use having no money as an excuse for producing unprofessional music videos or worse none at all.

Do you have a favourite local music video?
Stephen: I thought Darren Lee's video for Joshua Burnside's 'Black Dog Sin' (above) was a superb rendering of the song's tone and content. As an accompaniment and individual work, it mesmerises in a way I like to see in any music video. Also, New Ancestors' video for 'If You Let Me'. It'll draw you in and carry you along like a good Pixar movie. Superb stuff.
Dave: For me it has to be 'Animals' (below) by The Cast of Cheers, it's unlike any local video I've seen and is just a really great piece of art. Plus, the song is annoyingly catchy which always helps.
Mal: For me the best local video I have seen recently was Little Bear and 'Night Dries Like Ink'. It takes a performance video and adds an extra artistic element. A great video and a great track.
What would be your nomination for the greatest music video of all time?
Stephen: Miley Cyrus' 'Wrecking Ball' … I kid. I can confidently say Manchester Orchestra's 'Simple Math' (below). I can't listen to that song without wanting to watch the video.

Dave: This is a tough one! I reckon for me it has to be Biffy Clyro's 'Biblical'. Since Puzzle, a lot of their videos have been massive productions with crazy costumes and lots of extras. 'Biblical' is a massive sounding song, but the video is much simpler in terms of its production with a great underlying concept which really leaves you thinking afterwards. For nostalgia's sake I'd also have to go for Sum 41's 'In Too Deep'. They just don't make videos like that anymore!
Mal: Audioslave – 'Cochise' (below). Another great performance video that mirrors the track by building the tension until the music fully kicks in. Each time I watch it I struggle to fight the urge to fast forward to when the track drops. A great video.